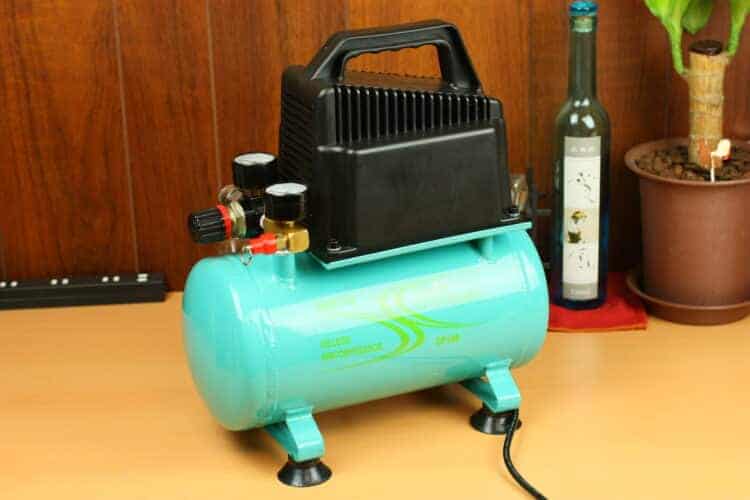 If you are either a serious DIY hobbyist, a moderate mechanical fiddler, or a part-time tinkerer, you will need a complete toolset to make your technical dreams into a reality.
The best tools available in the market today are of the pneumatic or air-powered variety, and you need the proper air compressor unit to power them.
But a crucial question will likely spring up: What size air compressor do I need?
Before answering that question, you need to know everything about it, like how it works, its different types and sizes, big and small. This way, you can get a thorough background about it and what kind you need.
Air compressor basic info
An air compressor is a mechanical device used to enhance pressure in many compressible elements like gas or fluids, and the air is the most prevalent.
Many of its types and subtypes are utilized throughout industrial, commercial, and even household environments. Examples include providing energy to air-powered tools like nail guns or paint sprayers. Another is refrigeration and air conditioning through phase changes, or to propel gas through pipework and many more.
Its types are usually available is in small and compact sizes and only need a small motor to function. Some are portable and mobile, make less noise, and very durable. Almost all types are supplied with power from gas engines or electric motors.
Most compressor units are included in the positive displacement variety. You can see them in many shapes and sizes. From smaller tire inflator types that can fit inside a glovebox. Or humongous turbo or reciprocating ones used in massive pipelines.
Positive displacement types are distributed into subtypes, which include reciprocating, piston, rotary screw, rotary vane, etc.
Main compressor components
A basic compressor unit has these:
Drive- There are two kinds of drives in a typical unit: direct driven and belt-drive.
Pump- The energy created from the drive is used by a pump to draw in and pressurize the air. It is then directed to tubing and ends up in a storage tank.
Storage tank- Its main function is to temporarily store the air, which you can then use for all sorts of operations while it is still not functioning. It also provides extra air to the system throughout periods of constant usage.
It is outfitted with a one-way check valve to halt pressurized air from adding compression to the pump. It acts as a buffer that does away with any potential wear and tears happening to the motor and pump for constantly operating.
Most common compressor types
Sliding vane compressor
Piston compressor
Diaphragm compressor
Helical screw compressor
Rotary lobe compressor
Scroll compressor
Axial compressor
Centrifugal compressor
What size air compressor do I need? Bigger or smaller?
Now you have some background details about an air compressor. Now, we go to the center of the issue. Why is a bigger unit not always better?
As you already know, compressors are available in many varieties, some are large with a low air output, and there are smaller ones with high air output. Some manufacturers have focused on creating the best one they can design that provides maximum potential in a lightweight and compact package.
However, not all of them concentrate on size alone, so it is difficult to determine the unit's capability by its size alone.
Compressed air system sizing
Rather than measuring the capability of a particular unit by how big or small it is, you should focus on how air is rendered, and CFM or cubic feet per minute is used to measure that.
You might be asking how to calculate CFM for the compressor? As a rule of thumb, most compressor units specially designed to power pneumatic tools conform to a ten to one-hundred-ten CFM range.
Units that have lower CFM ratings are made for smaller tasks like inflating car tires and powering smaller air-powered tools like sanders, grinders, or chippers. Higher CFM ones are designed for massive industrial uses and larger pneumatic tools like rock drills, ninety-pound jackhammers, or one-inch impact wrenches.
Here is how you can pin down your CFM requirements:
First, get the most powerful pneumatic tool in your garage and find out its CFM requirement.
Check if its CFM rating must comply with a one-hundred percent duty cycle. It's because many tools that are meant for continual usage are rated like it is intended for only fifty to sixty duty cycles.
If you intend to use high-powered tools continuously, you will need a higher CFM rated compressor.
If you intend to use many tools in unison, add up all their ratings to know what you need.
After learning the CFM requirement your pneumatic tools need, you will also know how powerful your compressor should be. Look for a unit sized to satisfy its air output requirements without going overboard.
Receiver tanks
An air receiver tank in a typical compressor unit is an excellent method to increase the air quantity in a short amount of time. These types of tanks are needed for reciprocating types. While rotary-screw ones do not need one. It's because they already function with a capability of one-hundred percent duty cycle.
Yet, in some situations, some can lower the CFM rating in a rotary screw type. Only if they already have a receiver tank.
In a particular situation when you need pressurized air amounting to forty-five CFM. And you are determining whether to pick a forty CFM compressor or sixty CFM units. You must choose the forty CFM one along with an air receiver tank. It is the most cost-efficient choice.
Air pressure
In selecting your proper compressor, you should understand its airflow and pressure needed. These are the most crucial subject matters when talking about air compression.
The method to measure pressure is either by PSI or pounds per square inch or bar that is its metric system counterpart.
Pressure concerns the amount of force required in doing a particular task at any given time.
It essential to know and understand the amount of pressure is needed to size your preferred compressor, or else you will encounter troubling issues and not perform the task at hand.
Air flow
The airflow in a typical compressor unit is quantified by CFM or cubic feet per minute, l/s or liters per second, or m3/h or cubic meters per hour. Each measurement scale is dependent on geographical position.
Simply put, the required air current amount is known by the duration of time necessary to finish a task.
So whenever you want to provide pressurized air to a particular air tool, it is crucial to know the quantity of pressurized airflow or CFM is required, at a specific pressure or PSI needed for the procedure to function correctly.
One way to learn the total airflow required is to call the air tool manufacturer and ask for its equipment data sheet with the necessary details.
Another way to get the proper airflow needed is to do a compressed air audit that can be actuated by a professional that sells pressurized air products.
You also need to be aware that a rotary screw type can provide more airflow per HP or kW than piston types.
Lastly, it is essential to understand whenever you under-size a compressor will lead to drastic pressure drops. It will result in unfinished tasks.
Oversizing it will result in incoming mechanical issues and possibly destroying it entirely.
If you are uncertain exactly how sizing a compressor works in a particular application like new air tools, you can call and request an audit from an air sales professional.
Air tool advantages
The air compressor is only as good as the pneumatic tool it is connected to. So if you are a DIY hobbyist and looking to level up your workshop, get the best tools available. These are the air-powered variety.
Here are some of their advantages:
Last longer than electric-powered tools
Does not have any risk in catching fire or shocking people with electricity
A lot more power compared to electrical tools
Are mostly lightweight and cuts down on operator fatigue
Lesser heat emissions
Air tool consumption chart
A way to determine the precise measurement of how much airpower you need is to find the specific requirement of each particular tool. But if you are having a difficult time finding it or simply don't want to look for it, you can look up a graph that shows different pneumatic tool CFM consumption.
These chart types provide necessary CFM information concerning the most common air tools.
Thirty to forty CFM air compressor
Three-fourth inch impact wrench
Chipping hammer
Die grinder
Two inch horizontal grinder
Tire inflator
Backfill tamper
Sixty to seventy CFM air compressor
Sander
One inch impact wrench
OTR tire inflator
Three inch vertical and horizontal grinder
Backfill tamper
Sixty pound jackhammer
One-hundred-fifty CFM air compressor
Air knives
Ninety pound jackhammer
Rock drill
Post pounder
Pneumatic saw
Trenchless piercing tools
Selecting a smaller air compressor
If you are shopping around for a small compressor unit to attach to your pneumatic tools and look at one, you will see specifications affixed at the bottom, something like two HP, three gallons, 2.8 CFM, etc.
You might be confused, but that information is necessary for selecting the right unit that fits your needs.
If you have powerful tools like paint sprayers, sanders, or pneumatic wrenches, smaller types are not compatible with them. These need bigger compressor units with larger air pressure capacities.
As mentioned in previous segments, CFM is the determining factor if a smaller unit has enough pressure to power your tools. It is the most significant quantified number to regard whenever choosing one to purchase.
If a particular tool uses air quicker than the unit provides it, you will have to halt its operation and wait for it to catch up again.
Most compressor manufacturers use an average setting of ninety PSI, which is the exact pressure needed for a nail gun.
Regarding tank sizes, the larger it is, the more it can store air, right before the pressure will drop and the motor restarts to fill up the tank again. But you have to remember, if you need more air for your DIY hobbies, a big tank is still no replacement for enough CFM.
About the PSI, it isn't a factor. Since most compressor types already supply a lot of pressure for pneumatic tools to complete your tasks.
However, there is one advantage of a high PSI rating: it enables a smaller tank to trap a lot more air and function like a larger tank. For example, a tank that can hold two gallons at one-hundred-fifty PSI holds an almost equal amount of air as a three-gallon tank at one hundred PSI.
How much a unit weighs is not the only determining factor to know if it is not difficult to carry and how it is shaped also matters. A slender and compact unit is easy to bring around, and the wide ones would be cumbersome.
Most compact and smaller compressor units are oil-free. It means you do not need to check or even change the oil.
An oil-less unit usually wears out quicker than oiled ones, but it would not be an issue if you only use it infrequently for your DIY hobbies.
Horsepower is not something you need to think about when selecting a smaller unit. CFM is still the most significant component to give careful consideration.
Here are some features to look for when selecting a smaller unit:
Cord wrap- It is an accessory to wrap around the power cord to make carrying it easier.
Ball valve drain- It functions like a faucet when draining accumulate water from moisture.
Two-outlets- Choose a compressor that has two outlets for two air hose connections.
Additional kit and accessories- Purchase a unit with extra accessories like an extra hose or inflation add-ons.
Conclusion
Everything you've read will guide you in picking the best and small-scaled compressor type to fasten to your air tools. Which one have you chosen?