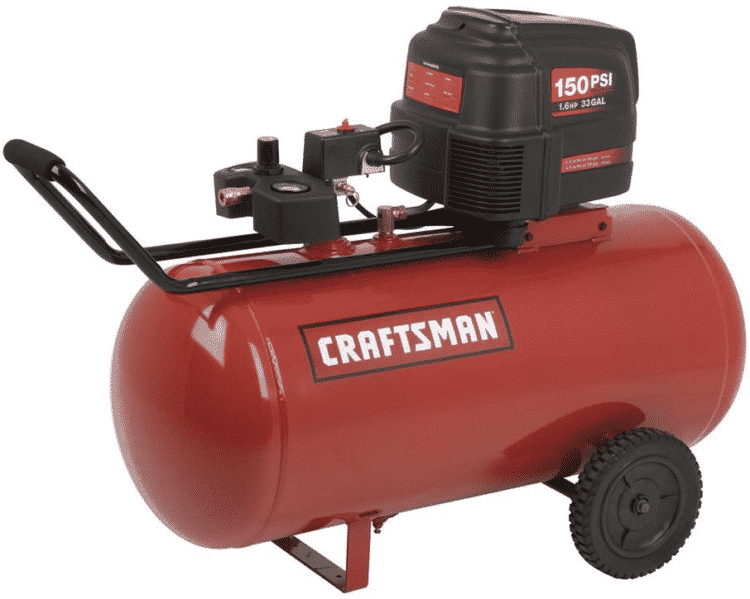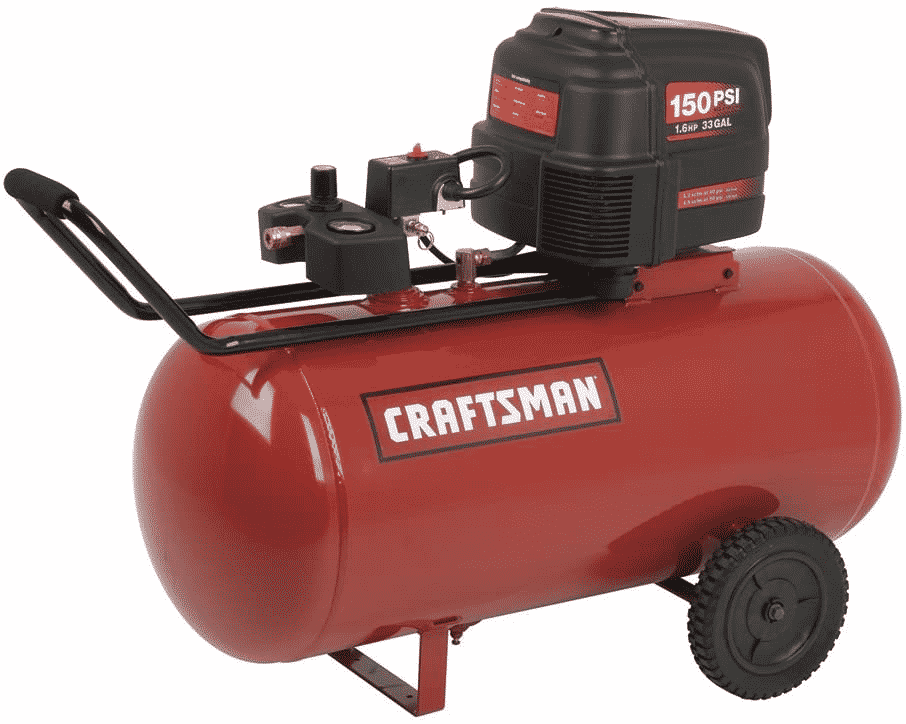 A great air compressor should offer not only enough airpower but also feature tough construction and compact design. These characteristics define the Craftsman package air compressor. Learn more!
Do you have a lot of inflation tasks in your household or do carpentry from time to time? You need to invest in an ideal air compressor that can help you conduct easy applications. One of the quality and affordable air compressors that comes highly recommended for residential use is Craftsman pancake compressor. You can use it on different types of nailers or inflate things such as bike or car tires at home.
Most of the pancake compressors have a unique design compared to the rest of the compressors. They are mostly small and come in a circular shape. Choosing the Craftsman pancake air compressor can help you enjoy a high performing tool that is quite portable. Find out what makes this compressor stand out from the rest.
What you should expect from Craftsman pancake compressor
If you are searching for a pancake air compressor that you can use to perform different jobs, the Craftsman package air compressor will not let you down. This is a versatile compressor that works at home and various job sites. Unlike other pancake compressors, you should expect a lot of accessories by choosing the Craftsman pancake compressor.
It comes with a kit that contains up to 13 different accessories. Including various accessories in the package prevents you from spending more cash looking for small items. It, therefore, saves you cash as well as time. Most users reveal that the compressor, therefore, gives them value for their money.
Apart from that, it is designed with a pancake shape not only for aesthetic purposes. This shape provides it with maximum stability during use. This is a lightweight air compressor that is quite user-friendly. It only weighs 30 lbs. Even if you have never used such a piece of equipment before, you will not spend a lot of time learning how to use it. It comes pre-assembled for you to start using it immediately after delivery.
What are the key features included in the Craftsman pancake compressor?
CFM rating and power
Craftsman pancake compressor has an air delivery of up to 2.6 SCFM @ 90 PSI. Such high figures, therefore, lead to a fast compressor recovery time. This air compressor delivers enough power to inflate high-pressure car tires. Its motor works with the standard power outlet of 120 V. Feel free to use it with an extension cord.
Most users also like the fact that the motor does not consume a lot of energy. It also starts quickly, even when the weather is too cold. You only need to use the power button every time you want to utilize this compressor, and it will start automatically. The motor also comes with a maximum pressure of 150 PSI, thus prolonging run time.
Portability
The manufacturer of this air compressor ensures that you can easily move it from one station to the next. Apart from its compact design, the Craftsman pancake compressor also features a handle that enhances mobility. You don't need too much space for this pancake processor.
Construction
You can tell how keen the manufacturer is on detail by focusing on the construction of the Craftsman pancake compressor. It is a well-built compressor that is made up of quality materials designed to enhance its durability. The compressor also comes with some rubberized feet that protect the legs from wearing out quickly. The rubber materials also prevent this compressor from leaving scratches on the floor it sits on.
During operation, the rubber footpads of craftsman pancake compressor prevent excessive vibration. Ensure that you use this compressor at least a few inches away from hindrances. This air compressor does not start corroding or rusting with time. It is made to last for long without needing too much care.
Air capacity
Craftsman pancake compressor comes with a 6-gallon tank. This can hold enough air that is needed for light applications. It can quickly produce compressed air that allows you to perform various workshop applications. The pancake shape of this compressor provides a large volume for the storage of compressed air. This makes the motor of the compressor to run less.
The tank design also enhances stability and maneuverability. On the front part of the craftsman pancake compressor, you should notice two gauges that show the tank's air pressure as well as air delivery. Feel free to adjust the air delivery based on your needs by utilizing the regulator.
Some users, however, feel that the gauges are quite small, thus making it difficult to read. You should also see a release valve on the bottom part of the tank. Ensure that you close it before you start using this air compressor for the first time. To maintain this compressor well, you should ensure that you drain the moisture from its tank using a drain valve.
Accessories
We mentioned the inclusion of accessories in craftsman pancake compressor. The strong toolkit facilitates a smooth performance. Some of the accessories you get from choosing this compressor include tire chuck, blowgun attachments, tire gauge. You can use the two included couplers at the same time to boost air tool performance.
Noise factor
When inflating tires at home, you don't need a compressor that produces too much noise since such can disturb your neighbors. Choosing the Craftsman pancake compressor enables you to enjoy low noise levels at all times. The low noise level also gives you a chance to focus on the task at hand.
Oil-free pump
The problem with some of the compressors is that they need a high level of maintenance for them to remain in pristine conditions. Craftsman package compressor is easy to maintain thanks to the use of an oil-free pump. It also has an extended life span. Most users also find this compressor easy to control due to the inclusion of features such as the front twist knob. This allows you to adjust the output. You can also use the NPT ports to connect different tools to the compressor.
Pros
Offers a relatively quiet operation
Tough construction
It is lightweight and does not take up a lot of storage space
Easy to maneuver
The motor does not consume too much power
Affordable
Cons
It is not ideal for applications such as grinding, drilling or sanding.
Final thoughts
If you have some free time on weekends and love fixing things at home, you can start by inflating tires in your garage or conducting cabinetry assignments. You can conduct such tasks easily with the craftsman pancake compressor. This provides enough power to handle light applications at home and in small work stations. It comes with a 6-gallon tank and is oil-free, thus making it easy to maintain.
Most users also like the durable construction of this compressor and its mobility features, such as a handle. Since it is a light compressor, you can quickly move it around. The included rubber-foot pads prevent too many vibrations during use and protect the legs of the compressor. Craftsman pancake compressor assures you efficiency and reliable performance. You even get a 1-year warranty for your purchase.