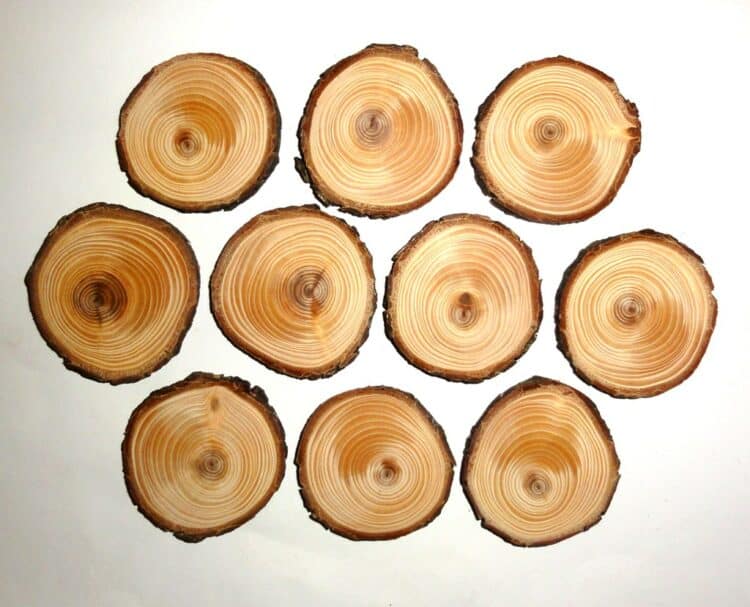 A lot of homemade DIY projects use wood slices for various things around the household in order to give the home a "rustic" feel. Wood slices can be used as decor, coasters, tabletops, and centerpieces! And the great thing is, they're really easy to make once you get the hang of the whole process.
Why buy your rustic decor from a crafts store when you can just make your own?
One of the methods to make your own wood slices is through the use of a chainsaw. It may seem a little daunting to use such a powerful machine for an adorable project, but chainsaws make it so much easier to cut out wood slices. Most especially if you're using a larger chunk of wood such as a log or a stump to make your wood slices.
The trick is cutting them all down to the same size. This article will show you different methods on how to cut wood slices with a chainsaw as well as give you a couple of safety tips. You'll learn how to correctly handle a chainsaw and by the end of it, you'll know how to make your own rustic decor for your home.
What is the best chainsaw size when creating wood slices?
The best chainsaw size will have to be chainsaws that measure between 16 inches to 18 inches. Chainsaws within these sizes are neither too long nor too short because they can cut through tree logs to make wood slices.
What materials will I need to cut wood slices with a chainsaw?
Before you begin this project, it's best that you already have all the equipment you need close to you in order to make everything go smoother.
Chainsaw
Obviously, you can't get started on this project without a chainsaw of the right size. Make sure the chainsaw you're using is between 16-18 inches. This allows you to make the right cuts without the threat of experiencing kickback.
Wood
The wood you're going to be using for this project may come in many different forms, depending on what you already have. This may be raw wood such as a tree stump, or wood that has already been cut such as a tree log.
Safety Equipment/Protective Attire
No matter how small you may think a chainsaw project is, you must always use safety equipment when you're cutting with a chainsaw
Thick gloves
These gloves should allow you a better grip on your chainsaw to prevent slipping and they also protect your hands from blistering if you're going to be holding up a chainsaw for a long period of time.
Eye goggles
Eye goggles protect your eyes from any debris that comes flying once you start cutting into the wood. They also have the added benefit of allowing you clearer eyesight, so you know where your chainsaw is cutting despite the dust and debris.
Earmuffs/Ear protection
Even with all the technology that has muffled the sounds a chainsaw may make, prolonged exposure can still be damaging to your ears. Not to mention the dust and debris that could lodge themselves in your ear canal.
More safety gear
If you have any one of these, then they will serve as additional protection to prevent or lessen any injuries:
Steel-toed boots
Face mask
Long-sleeved shirt
Jeans
Chainsaw chaps
Other Tools
These are tools that can help you make the whole experience easier, but they aren't as necessary as the tools and equipment mentioned above:
Wooden jig
Level
Orbital sander
Tape measure
What are the safety precautions while using a chainsaw?
The first safety precaution is wearing the appropriate attire while cutting wood with a chainsaw. Here are a few more tips about chainsaw safety so that you can avoid any untoward accidents from happening:
Make sure you're holding your chainsaw properly
The proper way to hold a chainsaw is with both hands. If you are right-handed, the most common position is by placing your left hand in front and wrap your thumb around the front handle.
Your left hand should be straight, and your elbow locked tight to counter the force of the chainsaw cutting into wood. Your right hand should be on the rear handle, with your arm bent slightly.
Maintain this stable position by keeping your feet apart. You may find it easier to place one foot in front of the other so that you can maintain balance.
Stay on the left side of the chainsaw in case there is kickback.
Stay away from the "kickback zone"
The kickback zone is found on the nose of the chainsaw. Make sure this part of the chainsaw never touches the ground or the wood you're cutting.
Do not try to cut anything positioned above your shoulder
When you raise a chainsaw to cut something that is above shoulder level, you are not in full control of your balance. Even if you are on solid ground, it is very easy for a chainsaw kickback to smack you in the face.
How can I cut wood slices with a chainsaw?
There are a few methods you can use when cutting wood slices with a chainsaw. Choose the one that works best for you.
Method 1: Freehand
This method is the quickest way to cut out wood slices, but it can't guarantee you accurate, uniform sizes. But if you're going for an "every piece of wood is unique" theme in your rustic decor, then this might just be the right method for you.
Step #1: Lean the tree log against something
Never cut wood slices when the tree log is on the ground. Should your chainsaw hit the ground, the chainsaw blades will dull easily, or you put yourself at risk of kickback. We recommend positioning the tree log a little over knee height.
This means propping it at least 15 centimeters (6 inches) off the ground so that you can slice through without risking kickback and avoid dulling your blades. You can use a chainsaw horse, sawbuck, or even another piece of wood to hold up the tree log.
Step #2: Find the tree knots
A tree knot is an imperfection found in a tree caused by the continued growth of wood around a dead branch. It is important that you find these tree knots before starting to saw because cutting through them can damage the chain of your chainsaw. They are significantly harder than the rest of the log and can put you at risk for experiencing kickback.
Once you've located the tree knots, you can make a plan to avoid cutting straight into them. For some, you can probably use a chainsaw to snap it off so that you can smoothly do your work without constantly looking for them.
Step #3: Mark the log after measuring
In this step, you are going to mark your log with the precise thickness you're looking for. Most slices are between 1 to 5 inches. To do this, you're going to need measuring tape in order to get an accurate thickness.
If the wood you're using is too dark, then you can mark the log using other materials such as chalk or masking tape. For lighter barks, a marker may be enough. Make sure you mark the entire circumference of the tree so you can cut as accurately as possible.
Step #4: Turn on your chainsaw and start sawing
Get a good grip on your chainsaw and turn it on. You have to keep it about 4 to 5 inches (10-13 centimeters) above the markings you made and slowly lower it to start cutting. There's no need to push down hard as you cut. The chainsaw will do most of the work for you.
If it's not cutting properly, then you may need to resharpen your chainsaw's blades before starting again.
Step #5: Finish sawing that wood slice and start again
After you finish sawing that first slice, you will have to mark your next part of the trunk and repeat. You can either let the first slice drop to the ground, or you can stop the chainsaw and set the first slice aside before repeating the whole process.
Method 2: Using a Jig
This is probably one of the best ways to cut wood slices that are of the same size and thickness. A wooden jig can either be bought or you can make one yourself. It is about a few pieces of 2 x 4 sized wood that you nail together.
Make sure you follow steps 1-2 from the previous method before proceeding with this one.
Step #1: Building the jig
You're going to have to find the measurements of the tree log's diameter. Once you have it, cut a 2×4 into two pieces that are the same length of the tree log's diameter. We will call those two pieces A.
Do this again with two more pieces, but this time, add 4 inches to the original measurements from your tree log. These next two pieces are called B.
Then, you're going to nail these four 2×4 pieces in the shape of a box. Start with the ends of one of the A pieces, and one of the B pieces. Nail them together and slide them along the log so that you know where to nail the second A.
When you figure out where to nail the second A piece, nail it to the first B piece. Lastly, nail the final B piece to create a box made out of 2x4s.
Step #2: Prepare the blade of the chainsaw
In this step, you have to find two thin wood scraps that are the same size and are about an inch thick. One of these has to be glued by the right side of the blade, and the other has to be glued near the nose on the same side.
These strips allow the chainsaw to move without cutting into the jig.
Step #3: Place the jig on the log
Position the jig on top of the log and move it until you have the right thickness coming out the other end. Then, add an inch to make way for the pieces of wood you glued onto your chainsaw.
Step #4: Turn on your chainsaw and start sawing
Grip the chainsaw firmly and switch it on. The chainsaw will do most of the work for you so don't apply too much pressure.
Step #5: Finish sawing that wood slice and start again
Keep moving the jig down as you continue creating more wood slices. Just repeat these steps over and over until you get your desired goal.
Method 3: Cutting then Levelling
This is a straightforward method wherein you eyeball the measurements and cut the log directly without marking the wooden log.
After you finish cutting, you have to use a sander so that you can get the wooden slices down to an acceptable level.
However, it is recommended that you still follow Steps 1 and 2 from the first method so that you still observe the appropriate safety precautions. Maintain a firm grip on your chainsaw before turning it on, and remember that you shouldn't apply too much pressure as you're cutting,
Ensure the blades in your chainsaw remain sharp. Sharpen them if they're getting dull so that you can finish quicker.
Conclusion
Chainsaws are easy to use once you get the hang of it. As long as you follow safety precautions and have the right equipment (including an appropriately sized chainsaw bar), you should be good to go.
If you're getting tired from holding up your chainsaw, then you have to give it a rest. Fatigue leads to mistakes, and you don't want to make a mistake when you are not in full control of yourself and your chainsaw.
Learning how to cut wood slices with a chainsaw allows you to start your own DIY projects and gives you a sense of fulfillment because of the effort exerted in making your rustic wood slices decor.