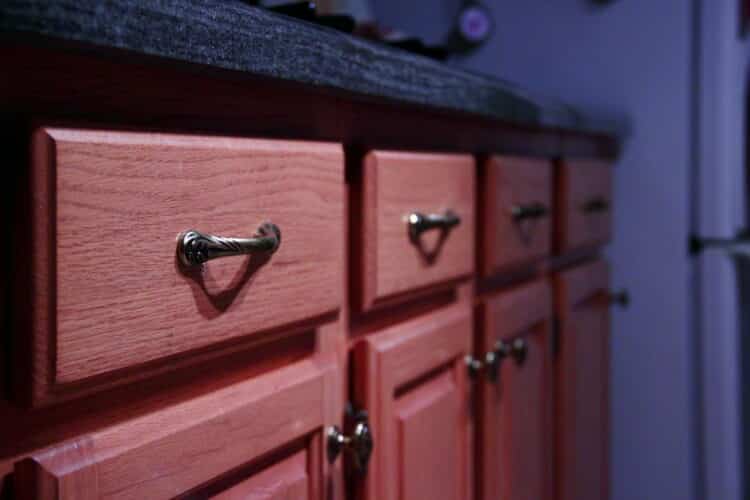 Want to remodel your kitchen and need assistance with kitchen cabinet knob placement? Do you want to upgrade your old cabinet knobs to spice things up? Then, this blog post is for you.
We'll guide you on the different types of kitchen cabinet hardware, how to choose them, and lastly, how to position and install them.
Know the Different Types of Kitchen Cabinet Hardware
Kitchen cabinet hardware is an accessory that brings cabinets more character. Before we proceed to the nitty-gritty of kitchen cabinet knob placement, we need to know the different kinds first. Knobs and pulls are probably the most common ones, but there are other designs like cup pulls and edge pulls.
Cabinet Knobs
They are round or circular, though recent styles include different shapes like square or T-shaped. They are mostly suitable for cabinet doors giving them a classic look. Other advantages of using round knobs are that they are less likely to scratch than sharp-edged ones, and they still look the same even when rotated.
Bar Pulls
They are bigger, more slender, and more expensive than knobs – frequently used for drawers. They are easier to grasp and can even be used to hang rags while cooking in the kitchen. Achieving a modern and contemporary look can be done by using them.
Cup Pulls
These were popular in the 19th Century Victorian Era, shaped like upside-down cups placed on drawers. To grab it, you will slip your fingers under the cup and pull. So if you were going for something vintage and traditional, this is something you can add to your kitchen.
Edge Pulls
They are also known as finger pulls which match minimalist and contemporary designs. In terms of kitchen cabinet knob placement, edge pulls are probably the easiest to place. Just mount them to the top or bottom edge of the drawers or doors of cabinets without the need to drill holes.
Pick the Right Kitchen Cabinet Handles
Finding the right kitchen cabinet hardware among various options might seem like a daunting task, but selecting cabinet hardware and kitchen cabinet knob placement shouldn't be tedious. Generally, you want them aesthetically pleasing without sacrificing their functionality. Here are other tips to help you simplify the process.
Choose the type of kitchen hardware.
The first step is to decide what kind you will be using. It could be a knob or a pull or a combination of both. Mixing knobs and pulls on kitchen cabinets can also add a refreshing look to your kitchen.
Choose a finish.
It's best to come to the hardware store with an idea about the finish that would complement your space. It's easy to get overwhelmed after seeing a wall filled with various knobs and pulls with finishes like oil-rubbed bronze, gold, copper, etc. To eliminate decision-making fatigue, come prepared.
Look around your kitchen and take note of your appliances, sinks, faucets, or lightning. Check what type of finishes they have and select hardware that will complement them to give your kitchen a coordinated tone.
Choose the right size of hardware.
You might be asking yourself, "How to choose the right cabinet hardware size?" Well, it shouldn't be too hard. Doors or drawers that are larger and heavier would use a larger handle or pull. To make sure that your kitchen cabinet knob functions well, you have to use the right scale.
Usually, a drawer that is 12 inches in length would use a pull that is 3-4 inches or a knob that is 1 inch in diameter. A 4-8 inches pull or 1-1.5 inches diameter knob is best suited for drawers within 12-30 inches in length. Big ones, around 30-48 inches drawers, would use pulls longer than 8 inches. If it's a knob, then 1 inch or higher in diameter.
Hardware sizes also affect the ease of kitchen cabinet knob placement. Remember to keep the scale in mind. Another tip is to bring size samples so you can compare them to the actual product sizes.
Choose hardware that is comfortable for your hands.
Since we will be using these handles more often, make sure they are easy to grip and have enough room for our hand movements. You wouldn't want them to be too rough or slippery to touch. Nothing is more frustrating than having trouble opening drawers when we are in a hurry.
Choose quality cabinet pulls or knobs.
Think of them as an investment. Buy something that is durable and would last for years without spending too much. The last thing we want is to break the product during the kitchen cabinet knob placement. That way, you wouldn't have to spend more time, money, and effort replacing them.
Position the Kitchen Cabinet Hardware Correctly
Where to put knobs on kitchen cabinets?
Knobs should be opposing the door hinge. For a hanging cabinet, start from the base corner, and measure 2.5-3 inches. For a bottom cabinet, start measuring 2.5-3 inches from the top corner. For a drawer, knobs are in the middle.
Where to put pulls (with two screws) on kitchen cabinets?
Knobs should also be opposing the door hinge with vertical orientation.
For a hanging cabinet, start from the base corner, measure 2.5-3 inches, and this is where you will place the bottom hole.
The same principle applies to the base cabinet. However, you should place the upper hole 2.5-3 inches from the top corner. The pulls are placed in the center of the drawer front as well.
Learn Simple Kitchen Cabinet Knob Placement
Kitchen cabinet knob placement is pretty simple once you are familiar with the steps. Prepare the tools needed like the cabinet knobs or pulls, screws, screwdriver, and a drill if you need to make holes. Position the knobs and pulls.
Mark the spot where you will be putting holes. Then, drill. During kitchen cabinet knob placement, remember to tighten the screws to avoid unnecessary loosening when opening and closing drawers.
Conclusion
Easy kitchen cabinet knob placement starts with knowing the kind of hardware, finish, size, comfort, and quality that would suit best your needs, both aesthetically and functionally. Don't be afraid to mix metals, and be creative with how you want your kitchen to look. Remember, there are no set rules when it comes to kitchen cabinet knob placement.