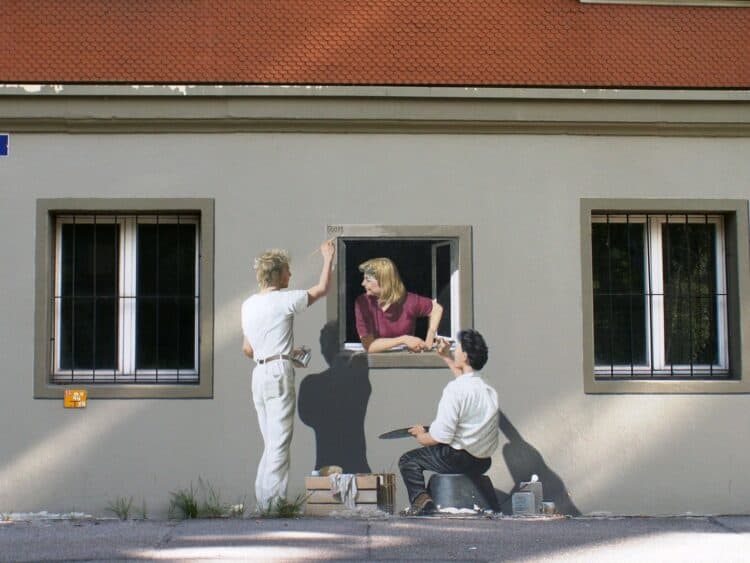 Why do painters wear white? The ultimate question about this celebrated profession, now explained in detail
Why do painters wear white, anyway? You have always seen them while doing their job wearing white overalls and wondered about the reason. You may think it is also strange for them to select that type of color since the paint tends to spatter, and their clothes will eventually get stained.
It is a question that many people like you have thought about but usually does not bother in finding the answer to. Well, now you will find out.
Most of the professional painters you see will wear any form of white in their work outfits. Maybe they have a painters' dress code, or perhaps they have a standardized painters' apparel that only they know?
To get into the nuts and bolts of this particular conundrum, you need to start at the beginning.
A brief history on why do painters wear white
This unconventional painter attire started in 1887. A group of painters decided to organize officially and called themselves the "International Union of Painters and Allied Trades." Their main goal was to differentiate themselves from painters not included in their union organization. So it was mandated that all of the members wear white while practicing their craft.
They were merely following in the footsteps of other established craftsmen and sports-men like railroad workers wearing pinstripes, a farmer wearing brown or blue, and golfers wearing trendy knickerbockers. Painters now had a look that separated them from the other tradespeople at that time, which made them look unique. The appearance was quickly adapted and remained to this day.
Painter's whites
The whole set of painters' work clothes is called the "painter's whites." It is their distinctive worker's uniform that comprises of different clothing pieces.
When you notice a painter in action, you will typically see him wearing comfortable painter's pants that are usually overalls. On his trunk, he will be wearing a shirt that is either long-sleeved or short-sleeved. The trendiest of painters will then wear white hats to complete the look.
Why do you think that painters put too much emphasis on their splendid achromatic attires?
Here are a few reasons why painters wear white:
It is cooler
Why do painters wear all white?
If your wear anything of the darkest hues under the intense heat of the sun for a long time, there is a good chance you are going to get hot and sweat a great deal.
Compared to someone wearing light-colored clothes, he or she will remain calm and cool despite the harsh rays.
Painters, whose line of work is always tedious and laborious, spend a majority of the time under conditions that are not comfortable and uncool.
Professional painters of the old days realized that there was a good reason that people wanted the color white painted on their houses. It was to keep their homes cool in hot climates. They adapted this correct assertion and adapted this to the "house painter outfit" used until this day.
It is the color of their international organization
Why do painters wear white clothes?
The IUPAT (International Union of Painters and Allied Trades) is a union, which currently has more than 100k members. The different tradespeople that comprise them are drywall finishers, flooring installers, glaziers, trade show and convention decorators, wall coverers, glass workers, asbestos workers, hazmat technicians, display and sign workers, and lastly, painters. Most of the people involved in this organization are construction workers living in Canada and the USA.
Their original name was "Brotherhood of Painters and Decorators of America." One of their first mandates was to wear white as a membership color and quickly came into fashion.
White means off-limits
Why do painters wear whites?
When you arrive into what seems to be a clean and sparse area, then lean on a wall but do not realize that it was, in fact, newly painted. It is an unfortunate occurrence that could have been avoided. There was no signage whatsoever to convey to people that there was wet paint.
However, you see that the painters painting the walls are all wearing white. That was supposedly the "wet paint" sign to let people know that the area was out of bounds for everyone except them.
Paint stains on white
Why do painters wear white pants?
Professional painters who have become total masters of the craft are proud of their profession and expertise. To show this to people without boasting or saying anything, they display their paint-splattered clothes to everyone to see and admire, like a Jackson Pollock painting.
The more paint is splashed on their painter's whites, the more trustworthiness they subtly give off to people.
Many painters adopt this strategy as a way of self-promotion.
For example, if you are a prospective client, would you hire a painter who wears spotless painter's whites, or someone whose work clothes are drenched with different paint colors? You choose that latter because it is evidence that he has done that kind of work many times before.
It is not expensive
Why are painters' pants white?
Another reason, which has nothing to do with the painters' external appearance, is for financial reasons: it is among the cheapest type of clothes that painters can afford.
Painters do manual labor, and in return, only earn regular blue-collar earnings, which are slightly above minimum wages. They do not have a lot of money, so they need clothes that are comfortable to wear and are very cheap.
They can go to any dollar store and go to the cheapest section, and most likely, they would find white pieces of work clothes that they can buy. Since their clothes will eventually get splashed with paint, the cheapest clothes are the most ideal to wear.
Light-colored clothes are inexpensive for clothing manufactures to make, which in turn are great to sell in retail stores. These are ideal for many kinds of people that like to buy cheap clothes to wear, as a fashion choice or for work, like painters.
White: The basic color
Why do house painters wear white?
Among all the different colors in the color chart, what do you think all of them similarly possess? It is the base coloration of white.
If you want to make a new tinge or hue from the primary colors, you have to incorporate a great deal of white to create the one you desire. It is the way professional painters do when they want to make many shades of the same color.
In the olden times, when house-painting was considered a noble profession, if painters want to make a new color, they would do a different process. They would take paint paste and blend it thoroughly with whitish lead powder.
This amalgamation procedure emits massively white dust clouds, which would scatter everywhere and get smirches all over the painter's whites.
To conceal all the dirty white particles of dust, painters began wearing white garments. It was the most sensible attire to wear, and at the same time, make them look more trustworthy. So the color scheme stuck.
Uniformly white
Why are the painter's overalls white?
It has become the uniform for everyone in the painting profession. It is the most basic reason, like military personnel wearing army fatigues on the job or construction workers wearing hard hats.
It is the painters' way to distinguish themselves from the others and also have some semblance of protection from hazards of the job.
This has been the established practice for more than a hundred years, and there is no reason for any painter to break this tradition. So painters will stick to this well-worn custom.
Like all other professional tradespeople, professional painters desire recognition and want to be distinguished by their customers. They want to be known for what they wear and the type of service they provide.
This color-concept has been accepted throughout the world as a sort of emblem of their occupation. Painters wear their distinctive clothing design with pride in their hearts. Thus, they begin their busy day of work with their heads held up high.
To hide paint
When you Google "why do painters wear white," one reason you would find is that they want to conceal the paint and other carpentry products spattering on their attire.
A long time ago, when the paint was invented, white was the only color available to paint the insides and outsides of living spaces. Other materials besides paint that painters also use in their job are also white: namely plaster, spackle, caulk, and dust from drywall repair.
Many kinds of white
You might think that white is not even color because it is the absence of any hue that distinguishes it from the others. Think of a TV set. When the color format is set to "black and white," that means that the colorization is taken away. When you set it back, then the color returns.
There is a clear dividing line between black and white and color. Yet despite that, there are one-hundred shades of this achromatic "color."
So, whatever side you may believe, just be grateful you have a wide variety of pickings of white paint for your home.
DIY attire
You have an upcoming painting project, and you are intent on doing everything correctly, even down to the painter's whites. So you ask yourself: "Where can I buy white painter's pants?"
The good news is, you do not need to necessarily follow this monochromatic tendency for a professional painter to wear white. They abide by different rules borne out from the mandate of their international union and many years of tradition.
As a DIYer, It all comes to your personal preference. If you want to remain comfortable while doing this arduous task, then white is a good preference. You would like to stay cool and feel comfy while doing manual labor.
Be sure to include these as part of your total painter's apparel:
Pants. Choose cheap painter's pants that have a relaxed and loose fit. It does not have to be a new pair. Pick something old that you would not mind getting paint stains on. Comfort should be the first thing on your mind when selecting a good pair of pants. You would do a lot of standing, kneeling, and stretching. So be sure the pants would fill all those requirements. Carpenter's pants, cargo slacks, and overalls are ideal for this type of laborious work. They are not only loose-fitting. They have many pockets to fill up with tools and also have belt loops.
Shirt. Your upper body is the closest area for the paint's splattering range. No matter how careful you are, sticky paint will eventually make its way to your trunk. So you only need to follow what you have decided to do with the pair of pants: pick an old, comfy, lightweight, and preferably light-colored one. Choose something breathable, preferably made of cotton, and has long sleeves to shield your arms from dripping paint.
Footgear. Comfort again is your ultimate concern when it comes to footwear. You will be standing, walking, climbing, tiptoeing, and kneeling. Your shoes need to comfortable as well as durable. Use a pair of shoes, which has flat and low heels, close-toed, and soles that have a great deal of traction. You will need this while climbing ladders, walking on slippery floors, and standing on uneven surfaces. Work boots are a phenomenal choice and appropriate for this line of work. However, sneakers are also great but do not use the kind for running since they may be too lightweight for the job.
Headgear. Your head is the most sensitive part of your body, so you need to have adequate protection for it. You might spend many hours under the heat of the sun and exposed to other natural elements. Also, there might be some overhead debris or paint splatters that might reach your headspace. So put on a baseball hat or cover and tie your head with a bandanna.
Eyewear. Your eyes, like your head, are also very sensitive. You might get paint, sawdust, debris, and other dangerous chemicals that might accidentally hit your eyeballs. So you need to wear safety goggles as protection from dangerous carpentry elements.
Paint mask. Paint fumes are harmful to your lungs. So when you would need to use a paint sprayer, it would be doubly hazardous, so you need to wear a paint mask, preferably with an elastic band that would cover your mouth and nose.
Respirator. If your painting task is within an enclosed space where there is no clean air that can come in or does not have proper ventilation, a mask would not be enough. You would need to put on a respirator. It will protect you from hazardous paint mist and fumes. Some air-purifying chambers or hoses can deliver fresh air directly to your mouth and nose.
FAQ (frequently asked questions)
What do painters wear to protect their clothes?
Unlike other manual laborers, painters do not have any specific gear or clothing to protect their clothing from paint. However, some painters wear an apron or smock, which can stop the paint from getting on their clothes.
What are painter's pants, and when did they become popular?
Painter's pants are types of trousers made for workers (painters specifically), much like denim jeans. They became fashionable in the 1970s. People began putting designs on them to make them look prettier.
How can you remove paint from your clothing?
Scrape away the paint on the affected spot while drenching it in warm water.
Pour a strong detergent soap and tiny drops of bleach (only use bleach on white clothes) on the spot and scrub it off with a brush.
Wash the rest of the clothing normally.
Repeat the process until the paint blot is gone.
Do painters wear specific footwear?
There are no particular shoes that painters wear. However, most professional painters prefer a good pair of painter's work boots. They are comfortable to wear, whose soles have great traction.
What is painter's white?
It is different from "painter's whites," which is the typical work get-up of a professional painter. Painters white is one of the many shades of the color white. It has a slight tinge of grey.
Can you wash a pair of jeans that you intentionally painted on?
Turn the pair inside out before washing them in a washing machine. Be sure to dry it out with a dryer because proper heat will cure the painted fabric.
How can you protect the painting design on a pair of jeans?
The procedure is called "heat setting." Turn the pants inside out and iron the portion of the design from the back. Do this for less than then minutes.
Can milk help in counteracting the paint fumes?
Milk has a way to absorb the harmful fumes, so leave out a bowl close to where the paint is drying.