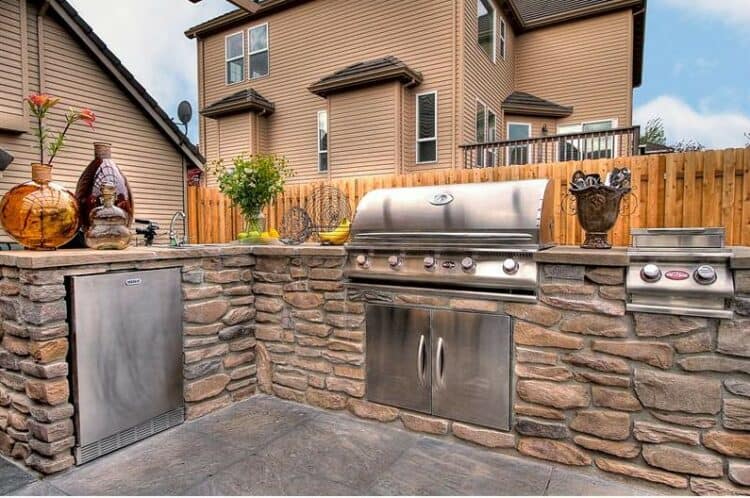 Custom BBQ island ideas for your home
Are you interested in creating the best custom BBQ island for your home? There are certainly a lot of things to consider, but it is a doable concept.
And with your DIY sensibilities, you can make the best prefabricated outdoor BBQ island that you can situate in your backyard. It will be as easy as pie.
Constructing the outdoor kitchen BBQ island of your dreams can be a difficult and time-consuming process. However, you can still inject fun into it. You do not have to make it a worrisome procedure, which in turn, might ruin the whole experience.
You also have to follow a few rules in building an ideal prefab kitchen island:
Do not construct your built-in BBQ island from materials that can easily ignite and burn. A good example would be a countertop made of plywood and tile-covered.
When you are deciding on its dimensions, you have to make your way to include a counter area, no matter how little your exterior space is. You should have a good enough area for food preparation and not have the other components edging closer to each other.
If you are planning to situate it a good distance away from your house, then include in your budget the materials to build for storage. You should have enough space to put in your grilling accessories and other necessities. You do not want to always walk to and fro from your house to get what you need.
Custom BBQ island essential appliances and fixtures
Select an appropriate propane
Most homeowners prefer to run electricity, water, and gas lines to their exterior space. This process costs a lot of money and might not be ideal for some.
Connecting water and electricity might prove to be a challenge. But with gas, there is an easy solution: propane bottles. You can use them as a fuel source for your grilling station and no longer need a gas line connection.
Pick a sturdy grill
If you have a budget already set to create a prefabricated BBQ kitchen in your backyard, then you have to prioritize the type of grill you want to buy. It is the most crucial equipment in any family backyard environment.
If you want your prefab island to be considered a success, then purchase a high-quality grilling mechanism. There is a risk in only buying cheaply-made ones because they can easily be damaged in a year.
The best model is made from top-caliber metal, which is a 304-grade of sturdy stainless steel. The best brands out there are Viking, Texas Pit Crafters, Tec, and Fire Magic.
So make it a precedence for your budgeting consideration and opt to buy the best top-quality pick you can find. It can make or break your entire outdoor family experience.
Choose a brick oven
Any cooking apparatus will serve as a centerpiece for any kitchen but will be doubly apparent whence located outdoors. The grilling station can do that and also an oven.
If you prefer baking pizzas instead of grilling different kinds of meats, maybe focus your time and money on getting the best oven imaginable. The good news is that you do not have to buy one. You can make it from scratch, which is a cheaper option.
It would be quicker and easier to make a wood-burning oven made from red brick. Construct a strong yet medium-sized foundation, including three walls, a shelf for support, and an oven kit of the best quality prefabrication. Then extend to all sides with sturdy masonry. Also, include a roofing and chimney system.
If you are an avid DIYer, you can build this device in a week and save a lot of money. You can also have it made by a professional contractor or a mason, which will take only a few days. But it can cost more.
Seats
When constructing the best custom-built BBQ islands, seating should also be given consideration and proper thought. There are many seat choices you can choose from.
Instead of spending on bar stools, why not try movie director's chairs? They are ideal for outdoor settings. They have detachable slings that can be easily cleaned in a washer.
They might not be durable from the harsher elements in nature, but they are foldable and can easily be stored in a cabinet. They are more comfortable to sit than regular counter stools and better looking to boot.
If you are looking for a set of tables and chairs, a good suggestion would be from wrought iron. Choose a high-quality one that has a great powder coating and undercoat, which will make it rust-proof in the long run.
Another brilliant suggestion is a dining set made from aluminum-based material. Inspect first if they are welded together with a sturdy framework.
For the cushioning, the best and most durable ones are made from one-hundred percent acrylic fabric. They are the best kind because they are repellant to water and mildew and comparably last longer than other cushion-types.
If they become grimy, you can wash them with bleach and a powerful spurt of your garden hose, and it will look great.
Your chief purpose for choosing the right seats should be that they will last long. If you opt for metal tables and chairs, select one that has a fifteen-year warranty. This way you can replace them if they get damaged.
Overhead covering
Your preferred roofing material might be the most expensive portion of your budget. You can opt for a standardized roof, awning, gazebo, or arbor.
If you only want to provide a covering for your eating and cooking area, you can consider installing umbrellas first, until you have enough money saved.
There are such things as "cantilevered" umbrellas that work great in an outdoor setting. You can also get a detachable umbrella, so you can take it apart and wash any grime or bird muck that can fall atop it.
Kitchen sink
If you think that it would be beneficial for you to have one outside, then go right ahead and install one. You have to be aware that you are going to spend a lot of time and money because you are going to deal with plumbing and building codes.
However, you can save a lot of money if you will only use water inside your home.
If you decide to run a water line for your custom grill island, you can set up a below-the-counter water heater, so that you would not need to run hot water anymore.
Plan to add more stuff
If you are limited by a paltry budget and could not make the kitchen BBQ island of your dreams, be forethoughtful and plan when you have enough money.
An example would be to fortify the flooring on the area where you might be installing the island or setting up a foundation for a future brick oven when laying down concrete.
One of the first things to do is to run lines for water, gas, and electricity if you intend to develop your outdoor space in the future. It is because you might spend a great deal more if you end up destroying the walls and flooring of your home.
You can think about adding grilling and smoking contraptions on rolling carts when your budget becomes higher. It will allow you more convenience and make your entire outdoor experience better.
Best BBQ island plans for finishing materials
Brick
It is the best-known material in creating a sturdy, lasting, and timeless finish. It first came into prominence around seven-thousand B.C. in Turkey and is still used today.
However, it not as popular as before but some homeowners still prefer it because of its toughness against nature's elements and its rugged appeal. If your only purpose is to get the most trustworthy construction material for your home, the brick would always top the list.
It is not only tough but ideal for any DIYer that likes to build structures in a backyard. Bricklaying is easy to learn, and along with the proper ingredients, you can make a brick outdoor kitchen island with no difficulty whatsoever.
Two categories of brick
Complete brick
It is what you think of when you hear someone mention bricks. These are rectangular-shaped clay materials that are mortared onto the face of a structure.
You do not lay bricks touching each other but provide about a one-inch space for ventilation. You might need corrugated metal to support the structure.
A skilled DIYer can be a successful bricklayer, but it takes a good amount of skill. So, you are better off hiring a mason to do the job right.
Brick veneer
It is not the real deal, but it can mimic its appearance. It is only about half an inch thick and very light. If you are an avid DIYer, then this will be to your liking. And better and easier to install the real one.
When you use either steel or wooden foundation, you also need a backer board made of cement. It will create a wall so that heat and moisture cannot seep through.
There are many brick veneers-types available. So choose a lighter kind, so that you would not have a difficult time installing it if you prefer to do it yourself.
Stone
A stone BBQ island in your backyard is another great option. Stonemasonry is an especially difficult and rigorous procedure, but once it is done in your home to construct any fixture, it will last for a long time.
It is an ideal building material because it is easy to maintain, is tough, and able to withstand the harsher elements of nature. It has an authentic and natural aesthetic that no other material can duplicate.
It also works great to use stone as covering for any portion of your outdoor space, like your walkway or patio walls. It will make the component stronger and look better.
Stone veneers (natural and manufactured)
Both options are somewhat alike but still have glaring differences. However, it can be said that both look great as cladding materials.
Natural
It is composed of quarried and mined stone, shaped into round forms for easier application. It is a bit difficult to set up but can hold is from for a long time. Its application is best done by professionals.
Being a material coming from nature. It will provide a look of authenticity that cannot be copied since no two stone pieces lookalike. It also looks better as it ages.
Stone is a dense material and provides suitable finishing over concrete. It is also resistant to strong chemicals and best utilized for swimming pools.
Natural stone can hardly absorb liquid and works wonderfully as weatherproofing. It can be affected by the rays of the sun and will fade, but fading will enhance its beauty more.
When you install natural stone, you can either dry-stack it or using metal lath and grout in adhering to the surface.
There is no special price for it and costs about the same as the other materials, same with installation costing. There would not be any discrepancy, and you can afford it for your outdoor space.
Manufactured
This material is made of mixtures of cement and shaped into stone molds. It mimics the look and texture of the real thing. The difference is its weight because it is very much lighter.
It is often used as a cladding material for steel or wooden frames because of their relatively lightweight. You cannot distinguish it from the real thing if you look from a distance.
It is very versatile and is compatible with many structures. But it is sensitive to strong chemicals and will disintegrate.
It works well for DIYers because it is easy to install due to its weight. It costs about the same as real stone but is a tiny bit more expensive. You can still find less expensive versions, but they may not be durable enough.
Concrete
Concrete might sound to be a very ordinary choice, but it has many benefits and would make your outdoor BBQ island stand out. You might have an image of only using cinder block, but you are not wrong. Is merely an element and part of a whole.
One properly finished by a professional mason, concrete can look satiny once polished to perfection. It will make your exterior space look modern.
It is an incredibly dense material yet durable. It only needs occasional maintenance because concrete might crack in time and necessitates resealing. Its application might be too complicated for you, so hire a professional.
Stucco
Many homeowners adhere to this material because it has a wonderfully unique look that is called "Transitional." Also, it is the least expensive material compared to the others and very easy to set up in your interior space.
It weighs relatively less and is a very versatile material to utilize for any component of your outdoor area. It is a wonderful all-around material that is prized and sought after by many people.
Also, it is very adaptable to many ornamental choices. You could either pigment, stain and shape it to any design imaginable. Many schools of designs are compatible with this material, like Traditional, Mediterranean, and Modernistic. If you want the most bang for your buck, Stucco is the one you need.
Wood
Wooden surfaces are ideal for budget-conscious homeowners that like its rustic yet elegant appeal. Yet, wood has the disadvantage of being easily ignited and burned.
Wood can still work for your prebuilt BBQ outdoor space if you know what to do with it. You can install insulated jackets on it to make it tolerant of fire.
If wooden-built BBQ islands are your thing, then get one now! It might not work for some, but it should work for you.
Wood types
Wood might not be an ideal material for custom barbecue islands, and despite that, it has become popular. It is better to stick with strong tropical hardwoods. Here are the better types:
Teak
The best kind of this species comes from Southeast Asia, which already world-famous. It is a sturdy kind of wood and also very beautiful, once properly finished.
Brazilian Teak or Cumaru
This vivacious wood species has the wonderful color red. It is also very tough and can withstand harsh weather. It also ages very well and changes to the color of greyish patina.
Tigerwood
This kind of hardwood is very sturdy and can withstand the wear and tear of natural elements. It does not have a nice-looking patina like the others, but it is cheaper compared to the others.
Wood that you should not use
Softwood
Softwood is not ideal as a base material for custom outdoor BBQ islands. It is not capable of withstanding harsh natural elements and tends to rot. It is also very combustible and highly porous.
Ipe wood
Even though it durable and looks great, it is an endangered tree species and those that cut and sell it are breaking the law. It is also a difficult wood to harness because it is too dense for sawing.