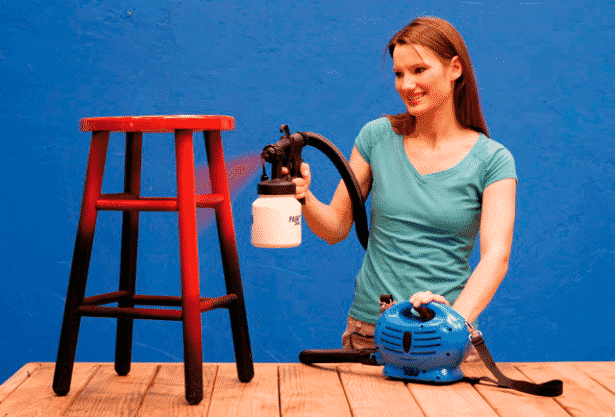 Paint sprayers can finish a painting job in no time at all—no need to worry about dripping paint or uneven coats! It definitely beats doing the job with a paintbrush!
But if you want a paint spray job that gives a superior outcome, you should invest in HVLP (high volume, low pressure) paint sprayers than spend your money on simple, entry-level paint sprayers. HVLP paint sprayers do a professional finish and do the work faster too.
What are HVLP paint sprayers?
Also known as turbo sprayers, HVLP paint sprayers are professional class paint-spraying tools. They are ideal for speedy finish work, furniture staining, cabinet painting, and other detailed painting works that need a high-accuracy and smooth finish.
As the name entails, HVLP guns use a higher volume of paint and lower air pressure. This allows you to control it easily, allowing the painting job to be even and smooth.
As a result, you do not waste any paint through paint splatters and overspray – that saves you money. Aside from that, you also get to spend less time working since you no longer have to clean up your lines.
The purpose of using an HVLP paint sprayer is to be able to paint large surfaces or small detailed surfaces in less time without wasting the paint. HVLP paint sprayers are commonly used in furniture furnishing, automotive industries, marine industries, and other decorative industries that rely on professional paint, stains, and finishes for their product in large quantities.
How do HVLP paint sprayers work?
When the paint comes in contact with the air stream released from the HVLP spray gun, the paint atomizes or gets separated into tiny particles. Because of this, the paint is easier to control whether you want a light mist or a heavy coat.
When you press the trigger on the HVLP paint spray gun, the paint will be released in the air stream, atomized, and then will be shot through the nozzle with the desired spread and pressure that you set your controls in.
The HVLP paint sprayers have paint volume and airflow controls, an air inlet, and a paint basin. The nozzle helps control the spread and pressure of the paint.
The paint is stored in a separate, interchangeable, and sealable container.
Advantages of using HVLP paint sprayers
Less retouching
Because HVLP sprayers atomize the paint and use lower pressure, they are more accurate than traditional paint sprayers. You will create a more even and soft spray, allowing you to paint large areas without the need to do so many touchups.
No wasted paint
The problem with conventional paint sprayers is that they use high pressure, which often results in overspray and paint splatters. That is a waste of money when it comes to your paint costs.
And since the paint gets to be applied accurately on the intended surface, you also get to use less paint as well.
Saves you time
Because of the benefits of working with HVLP paint sprayers, you can be able to finish your job in less time than you usually would with a conventional paint sprayer.
Portability
An HVLP paint sprayer is compact and portable. This makes it very easy to use and carry around.
The small and compact size also makes it very easy to clean and maintain.
Safety
HVLP paint sprayers are safer compared to other types of paint sprayers because it uses low pressure. This makes you safe from accidents that can happen when the air compressor becomes faulty.
Even if the chances of getting injured while using an HVLP paint sprayer is rare, it is still advised that you wear protective gear while using it. Wear eye protection, a pair of gloves, and make sure that you use old clothing,
Low maintenance
HVLP paint sprayers come last longer, so you do not have to do a lot of maintenance. They also consist of fewer parts, making them easy to disassemble and clean.
Some models come with a flush system that makes it easy for you to change colors while working on the project.
Environment-friendly
When you use an HVLP paint sprayer, there is less overspray. The spray cloud is also more controlled.
The HVLP paint sprayer also produces less waste and uses less power. This makes it an eco-friendly and economical device to run.
Most HVLP paint sprayer brands come with a green eco-certification, and they have a high rating too.
Is it better than an airless paint sprayer?
Many contractors still rely on airless paint sprayers since they are cheaper than HVLP paint sprayers. However, they are not as long-lasting, and they do not do an excellent job for detailed painting jobs.
An HVLP paint sprayer may be more expensive than an airless paint sprayer, but they are designed to last.
Basically, you get your money's worth and more benefits with an HVLP paint sprayer.
Factors to consider when choosing an HVLP paint sprayer
Cup size
Most HVLP paint sprayers have a cup to hold the paint, varnish, or lacquer. They come in different sizes so you should think about what type of jobs you will be doing.
If you need to paint a lot of large surfaces, a big cup would be great for you so that you do not need to stop and refill all the time. If you are doing smaller and detailed surfaces, you can go with a small cup.
Just note that the larger the cup, the more difficult it will be to hold for an extended period of time or use it at certain angles.
Control and adjustment
You should get an HVLP paint sprayer that gives you a lot of control and allows you to adjust the settings – especially when it comes to airflow speed. Some painting jobs need more airflow, and more detailed painting jobs need less airflow.
So, when purchasing an HVLP paint sprayer, make sure you choose an adjustable model. A model that can dispense various thicknesses and speeds in different patterns is best.
A good model would be one that has an adjustable spray rate and one that can work with different tips and nozzle sizes.
Quick assemble and cleanup
You should pick out a model that is easy to assemble and disassemble. Taking apart and flushing out an HVLP paint sprayer actually takes time compared to merely washing pans and rollers.
Hose length
If you want an HVLP paint sprayer that comes with a hose, you should check the hose length. A good length should be at least 25 feet long. This will help you deal with out-of-reach places easily.
Budget
Of course, you should consider the budget you are working with when it comes to any type of purchase. Of course, high-quality products will come with a high price tag, and you can not expect products with a cheap price tag to last long.
Work with a reasonable budget that gives you the quality you want in an HVLP paint sprayer.
Last thoughts
As you can see, using an HVLP paint spraying system gives you the opportunity to save on labor and time.
Whether you are a hobbyist or a professional painter, painting can be fun and easy with the HVLP paint sprayer.