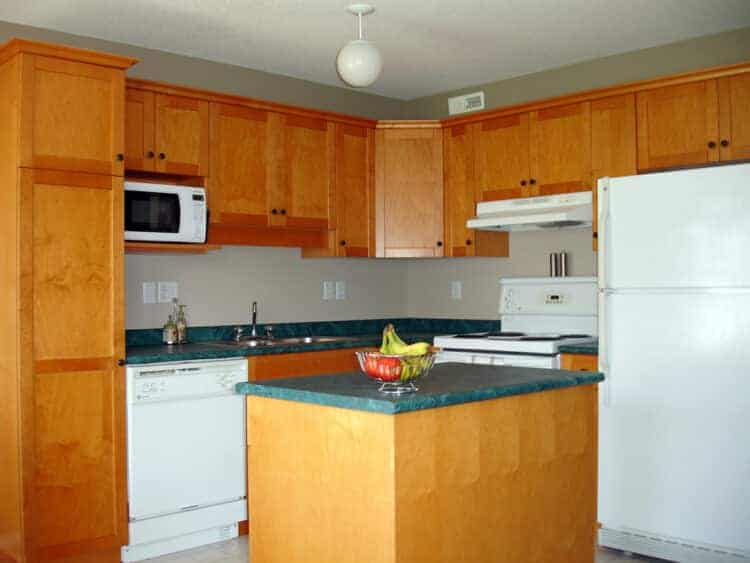 Types of kitchen cabinets materials that you can use for your home
Are you looking for the types of kitchen cabinet materials that you can customize for your home? Where can you get them, exactly? Read on, and you will find out.
If you want to make your kitchen functional and complete, you have to install great cabinets. They do not only serve wonderful storage purposes but also can make an impact on the design aspect of the kitchen. They are also considered to be beneficial investments.
In choosing the best design cabinetry for your kitchen, you should know everything there is about cabinets. Then you can make a valued decision on which would be the best stylistic choice to adapt then bring to existence.
What are cabinets made from?
To get the best out of your kitchen storage space, deciding on the kind of material you will use to build one should be your first decision. The best selection is still one-hundred percent solid wood.
However, there are still many alternatives you can choose from:
Wood
It is the most prevalent option and still very popular until today. If there are many materials or stylistic choices you can pick from, there are also lots of finished wood options:
Light natural wood- Barnwood has a rustic and untreated look that can make you cabinet have that countrified appeal.
Medium-tone wood- Finished hickory wood has that natural and antiqued look.
Dark-stained oak- It has the look of elegance and old-world appeal.
Cherry- It has a mix of traditional and contemporary look.
Contemporary dark wood- Riftsawn oak will look better in a dark-brown finish and will make it stand out.
Light modern oak- A light finish is coated on riftsawn oak and will make it look bright and timeless.
Light contemporary wood- It has a light-brown and modern appeal.
Fir- It has a vintage yet fresh look.
Zebrawood- When lacquered, it shows a high gloss finish that can be glamorous and sophisticated.
Walnut- It has a traditional and warm look that can balance the appearance of other components.
Textured wood- It has a naturally dark and shiny color that can make your kitchen pop.
Alder wood- You can add warmth to your kitchen by applying gray stain.
MDF (Medium Density Fiberboard)
It is a top-quality and very stable material made from a combination of resin and wood fibers. It is quite tough and can withstand wetness and heat.
It is also better than wood in the way that it is resistant to cracks and peels.
Plywood
It is a thin laminate made from thin wooden layers and is very inexpensive. Although it is cheap compared to MDF, it is more water-resistant and stabler.
It is constructed from thin wooden pieces that at laminated to each other. It is then held together by pressure and heat.
Particleboard
This material is made from particles of wood but is considered not very stable. But recent developments have improved this material to be stronger and more durable than it was before.
Steel
Beautiful custom kitchens can be achieved by using stainless steel instead of wood and other options. It can give off a contemporary and modernistic look.
It has advantages over wood because it does not incur water damage or can contract or expand. Yet, it is difficult to remove scratch marks and fingerprints on it.
Two ways of constructing a cabinet
Framed cabinet
Modern custom cabinets come in different shapes and sizes. A framed cabinet can look modernistic but how it is made is not a new concept.
The name comes from the frame in front of the cabinet and is connected to the doorway. It makes it sturdier and allows for the placement of different kinds of door mounts.
Frameless cabinet
Its name is derived from a cabinet that does not have a face frame. Rather than relying on it to become more stable and stronger, priority is made in constructing the cabinet itself to make it durable.
This style has become trendier for homes recently, but not all door mounts are compatible with it.
Door mount
Full overlay- The whole frame face is covered by the doorway. Only frameless cabinets can use this for door mounting.
Partial overlay- Only one to two inches are exposed when the doorway partly covers the frame face. It is the industry standard for all types.
Inset- Rather than the face frame is on top like the others, the doorway is installed within.
Most popular styles of cabinet doors
There are many cabinet door styles available that you can select. Here are the most popular:
Raised panel
This type showcases an elevated central rectangular board and a furrowed framework. It provides depth to the doorway and emphasizes the profile in a textured manner.
These are often chosen for rustic-looking and traditional kitchens but can also work with modernistic designs.
Recess panel
Cabinets by design have different stylistics. With this particular one, a rectangular concave is formed, and encircling edges are raised.
This type can adapt to any style the kitchen previously has and can incorporate seamlessly.
Shaker
This style looks similar to the recessed panel but not too indented. It is simple and not extravagant and can adhere to different designs that the kitchen already has, very much like contemporary, transitional, and traditional.
It is the most popular door style in many households because of its versatile nature and simplistic design.
Slab
This type has been popular in European countries and always utilized in modernistic and minimalist kitchen patterns.
Its main feature is its bare and smooth surface, without any design flourishes, which makes it easy to clean.
Mullion
This style has two combined materials: wood (or any material like wood) and glass. The see-through glass in the center is the main feature. It will allow you to see what is in store behind, like maybe exquisite china and glassware.
You can vary the transparent glass to make it more clear or duller. There is a type of glass used that can create an illusion of greater depth.
Some mullion doors have additional design flourishes like glass grids that have composite or wood framings.
Beaded
This style is very common in rural kitchens. It showcases single or double-beads, which gives it a striped look.
Arched Cathedral
This style mimics the look of a church doorway. The arch is either raised or concaved and frequently utilized in traditional households.
Mission
This style is simple, whose doors are flat paneled. Some designs have central concaves with clear lines.
Custom cabinet design vs. stock cabinet design
As a homeowner, you will correspond to the notion that a kitchen is the foundation of a home, and the cabinet is the cornerstone of the kitchen. Any average family life would not function without the amenities a kitchen provides, and cabinets always contribute to that role.
Cabinets should be perceived in high regard, even though they are only boxes with shelves, doors, and drawers. Even though they serve a significant function, you would want them to have unique display designs.
You want them to be sturdily built and jive with your style. That is what you get when you showcase kitchen cabinets of a customized variety. You have a piece of furniture that is not only useful but appealing as well.
Customized cabinet
The main reason why homeowners prefer specially-built cabinets because they are made by a masterful artisan who specializes in cabinetry. They are created to be durable and last longer the store-bought ones.
These specialized workers utilize the best quality cabinet materials, with a specialized aesthetic that store furniture is missing. The materials are different, from the smaller components like joints, corner braces, and drawer slides to the type of wood itself.
Hand-made cabinets are a wonderfully prominent attribute in a kitchen. They are not only appealing, but you are assisting and supporting the economy by hiring local craftspeople. In a way, it is also ecologically-friendly because you are not using manufactured wood.
What makes customized cabinetry especially wonderful is that your ability to choose among the many styles, sizes, colors, types of wood, etc. Your choices are unlimited and only hindered by your budget.
You can imagine any design that you want for the cabinet, and you will, most likely, be obliged by the cabinet builder. That is what makes them attractive for homeowners, and they are not bound to any conventional design. Thus the creativity is limitless.
With this aesthetic, you can customize your cabinet to your preferred height and achieve maximum efficiency for the many kitchen components like food storage preparation and cooking.
It can be specifically made for the needs of the particular family in mind, making kitchen chores fruitful, pleasurable, and effective.
Stock cabinet
For this option, you have decided to purchase cabinets in a big box store. Some homeowners prefer this because it is a cheaper alternative.
Yet this option, in the long run, would not be considered a better choice instead of getting customized cabinets.
The main feature of stock cabinets is that it is usually constructed without wood, thus the reason for the cheaper costing. Some stock cabinets have fewer options for finishing because fake wood only has a few compatible finishes.
Another disadvantage is you have to install it based on their dimensions, not the kitchen's, which means you have to build around it.
For these reasons, most homeowners prefer customized cabinets rather than stock. It might cheaper initially, but not very durable. So, in the long run, you might need to replace them eventually, thus incurring additional costs.
Knowing what cabinet style to adhere to in your kitchen
When talking about custom cabinet interiors, it should not only be workable, efficient, and adept to storage purposes. It should also serve aesthetic means.
It should also act as a point of convergence for people in the kitchen. Many of the kitchen fixtures depend on the cabinets to accomplish tasks.
There are many ideas for designing your cabinet out there, floating in your consciousness and ripe for the picking. You only have to cut it down to fit your needs.
Here are some tips that you can follow so you can find your style:
There are two popular websites that you can visit to get fresh new ideas: "Pinterest" and "Houzz." Pinterest is a social media site that has many interesting pictures about anything under the sun that you can "pin" on your "pinboard." There are info and pictures there about cabinets that you can take ideas from.
Meanwhile, Houzz is a website about architecture, home improvement and design, etc., which also has wonderful pictures. You can copy your preferred designs on either of the sites and show them to your cabinet maker, which he can adapt.
You should be self-aware of your stylistic preference. You can look at your clothing, color, and artistic inclinations, and preference.
So ask yourself these questions: What kind of clothes do you wear? What type of art do you like to watch? What are your favorite colors, shades, hues, and tinges?
Once you know what they are, you can tell the cabinet craftsman what they are. So that he will be guided and integrate them into the cabinets.
How would you know if your cabinet is good or bad?
The best way to ascertain the cabinet quality is the kind of materials used to create it. Some cabinet makers use the cheapest material as a replacement for wood, like particle boards, to cut costs and maximize earnings.
A better alternative than particleboard is plywood (from either birch or poplar), which is comparatively sounder. These are smoother, and you can paint easily on them.
The best choice for your kitchen cabinet showcase is using top-quality hardwood like clear maple. This type is the best to use for wooden furniture and looks great after finishing.
A good reason why you should not buy cabinets with inexpensive materials is that anything with low quality is not durable. Cheap quality wood develops green spots over time. However, these do not show on the surface. It has the capability of causing damage to the wood.
You can also know that the cabinet is made of better quality by the material's thickness. Poorly-made cabinets often utilize thinner wood of about one-half inch. A functional cabinet should at least be as thick as a five-eighth inch.
The quality of the face frames can also be the determining factor. It is mainly comprised of horizontal pieces (called "rails") and the vertical pieces that you see between drawers and doors (called "styles").
Like the cabinets themselves, the face frames are made of the same material. So if the cabinets are constructed from low-quality wood, the frames are the same.
The kind of wood that is considered low-quality is Ash or Oak. The high-quality ones are Cherry, Maple, or Mahogany.
As a responsible homeowner, you would want to know the kind of wood made for your custom kitchen furniture and usually, the cabinet maker will tell you and even teach you in the selection process in getting high-quality wood.
Another way to know if your kitchen cabinets are bad or good is from how they are built. Companies that manufacture cabinets will take shortcuts in making them. What they usually do is quickly nail each of the pieces together, fill up the nail holes and move to the next one.
If you still prefer the store-bought cabinets and not the customized ones, the first thing you need to check if the cabinets employ tongue and groove instead of nails. It means the company that made them did not skimp on good materials. Thus, making them durable and beautiful.
Also, check on the cabinet overlay. If a cabinet builder has installed another "style" in between the two doors, this means he is trying to make adjustments because the cabinet was poorly structured.
Types of kitchen cabinet materials used for finishing
Once the cabinet is built, the finishing process begins. It is a crucial task in making it top-quality. You can either do it in two methods:
Painting
To make your cabinet creative, a great way is to paint it. You can choose from two paint options: water-based or oil-based.
Professional cabinet makers prefer to use oil-based because it is easier to apply on surfaces. But water-based will look better on any surface once finished.
Stain and seal
The best way to showcase the natural beauty of the wood is to stain and seal it. Like paint, there are two options: oil-based or water-based. And same as before, an oil-based stain is preferred.
However, there is a disadvantage with oil-based stain because it is known to be of low-quality finishing agent, and the result will reflect that.
But with water-based stains, this is better quality. But it is seldom utilized because manufacturers require contractors to have special training and certification to be able to utilize their water-based staining products.
After staining, a sealant is applied. Do not use low-quality sealants made from polyurethane will turn the wood yellow as time passes.
One last thing to consider is the toxicity. Stains and sealants made of high-quality do not smell bad and are not very toxic.
Once the finishing process is over, then install them.