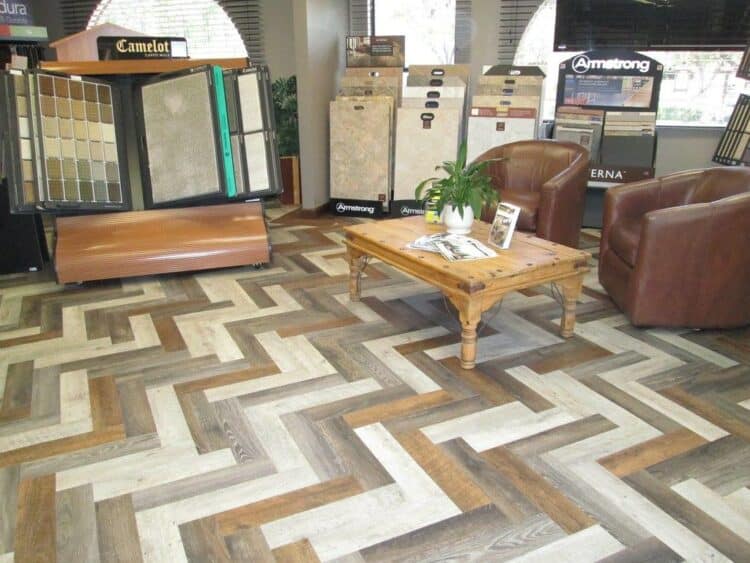 There is a huge variety of flooring options available that vary in terms of design, pattern, and artistry. Resilient flooring has emerged from the flooring industry as the hottest trend today.
Choosing the right flooring is just as challenging and tedious as choosing the right furniture and color scheme for your house.
Without enough preparation and knowledge, we are most likely to choose whatever we think looks good. In this article, we will be covering the basics of resilient flooring including the different types, the advantages and disadvantages, and the process installment.
Get your pens and ready to take some notes for this jumbo of information.
What does the "resilient" in "resilient flooring" mean?
Resilient flooring is a general term that refers to floor coverings that are firm and can "bounce back" and have a slight cushiony-like feel when being compressed underfoot. It's basically a flooring option that is somewhere between carpets and hardwood floors.
There are other types of resilient vinyl flooring that contain an extra layer of cushion for additional comfort. They come in a variety of colors and patterns. Some of it is designed to look like real wood and stone.
Other than coming from an array of colors and patterns, the products require low-maintenance and it is quite easy to clean. This particular kind of flooring does not limit itself to vinyl flooring, as it is often associated with, plank flooring and linoleum flooring.
Another example of flooring material that is resilient is rubber flooring. It is most commonly used in areas with frequent floor movement such as yoga studios and gyms.
For the most part, resilient flooring is used for kitchens, bathrooms, bedrooms laundry rooms, etc. It is also commonly used outside in commercial buildings, schools, health care facilities, and other public spaces.
Is resilient flooring more than vinyl flooring?
The word "vinyl" is commonly associated with consumers with low-quality products which isn't a great marketing factor. Resilient flooring is often used to refer to "vinyl flooring."
With that in mind, when you encounter the term used, it points out to a kind of vinyl floor, mostly vinyl flooring that is luxurious. It is waterproof and it can be designed to emulate other kinds of flooring materials such as hardwood floors and porcelain tiles.
Plus, this option is significantly cheaper than the other materials mentioned.
What are the different types of resilient flooring?
Now that we have discussed where the phrase originated from, we will now proceed to learn the different types of flooring that can qualify as "resilient":
As mentioned by an industry group called Resilient Floor Covering Institute (RCFI), there are six types of floor coverings can fall under the resilient flooring category:
1. Vinyl
This is the most marketed kind of resilient flooring which includes Vinyl Composition Tile, Solid Vinyl Tile, and Luxury Vinyl Tile or Planks.
2. Linoleum
This is made out of natural products such as wood, limestone, linseed oil, resin, and cork. It also comes in three forms: tiles which can be glued down, planks that click together, and large sheets.
3. Cork
This has become a favored eco-friendly option for those who want to use sustainable materials in making their house. It is a product that is organic, made by thinly slicing trees.
4. Rubber
This kind of flooring used to be organic since it originally came from rubber trees, but now, most companies use synthetic rubber. Recycled rubber is an eco-friendlier option that may be found in homes, but this floor covering is most often used for gym and yoga studio floorings for its grip.
5. Asphalt
Called by the RCFI as an "obsolete floor surfacing unit" because it is the least known out of all the other resilient flooring types.
6. Seamless Floors with Poured Polymerics
This isn't as common in residences because they require experienced professionals for installation. As the name goes, liquid polymeric is poured on the floors and as it cures, it hardens to create a seamless floor.
What are the other benefits of resilient flooring?
In this section, we are going to provide more details as to why this flooring is a must and why other traditional materials pale in comparison.
As beautiful and aesthetically pleasing natural-looking floors are, people often forget the advantages that come with resilient flooring:
1. Durability
Linoleum can last for forty years if properly maintained. It is also quite eco-friendly. Linoleum is made from renewable materials which makes it biodegradable and won't take up a lot of land spill space.
Aside from its durability, it is also great for noise reduction if you don't want that echoey vibe going around your house.
2. Flexibility
This quality in resilient flooring is less likely to crack and break into pieces unlike other materials such as stone and ceramic. The flexibility factor also bridges bumps and gaps when applied to a surface. It is also flexible in terms of maintenance.
It can be swept and mopped by any cleaning products as opposed to tile and wood.
3. It is inexpensive
Vinyl is the one type of resilient flooring that is the cheapest amongst the other materials and quite easy to maintain. You can benefit so much from installing resilient flooring in your homes.
For rooms with heavy room traffic, it is much easier on your feet than tiles and hardwood. With a few exceptions, resilient flooring can handle water and moisture way better than any other flooring material.
Water and moisture are the biggest problems in the flooring world so this is one of its major benefits. Other than being less costly than traditional options, most of the materials used in resilient flooring are very eco-friendly.
What are the disadvantages of resilient flooring?
Despite its amazing benefits and popularity, resilient flooring is considered more of a flooring alternative. It is important to note that other floor coverings such as ceramic, solid hardwood, and laminated coverings aren't as durable either.
Ceramics break and crack, solid hardwood expands, and the laminates delaminates, which forms bubble or humps. And they aren't a pretty sight. Here are a few disadvantages of resilient flooring:
1. Indentions
Pressure points caused but table legs and other appliances can leave a permanent mark on resilient floorings.
2. Inconsistent Value
In the case of perceived buyer value, resilient flooring is all over the map. You can install types of vinyl that can either be high quality like premium luxury vinyl brands namely Shaw, Mannington, Karen, or cheap and low-quality vinyl squares that can peel away.
However, for the most part, resilient flooring is still a great option to consider and it is so convenient for everyone.
Hard to Remove
Even though it doesn't need to change frequently because of its durability, it is important to note that once the glue of the vinyl has stuck to the surface, the glue is incredibly hard to remove.
What is considered "luxury" in vinyl flooring?
If you ever wondered why it's called luxurious even though resilient flooring is known to be affordable, then read on to find out.
Just like the other floor coverings, luxury vinyl flooring is durable and waterproof but has the appearance of hardwood or stone (and it's cheap). The majority of people are choosing LVT (Luxury Vinyl Tile) and LVP (Luxury Vinyl Plank) over other materials such as ceramic and wooden floors.
Compared to a hardwood floor that costs on an average between $8.00 – $25.00/square foot, the luxury vinyl is only at $2.00-$5.00/square foot. It is a great option to go for considering that it captures the same aesthetic of hardwood in the most inexpensive way.
But if that's so, what makes it luxurious? The thickness and composition of the tiles AKA planks consist of five different layers of material:
A strong bottom layer
A vinyl core
A print film layer
A clear wear layer
A clear protective coating
Just how luxurious is it?
Its "luxuriousness" depends on how thick the wear layers are and how long it will last. An average DIY plank on the market has a 3-mil to 8-mil layer. Another pro is that these plans can either be waterproof or water-resistance.
The more resistant it is to water, the better. And one of the factors that affects its waterproofing abilities is the material it was made from such as PVC, fiberglass, and other plastic materials.
LVT is an excellent choice for bathroom and kitchen flooring where a lot of spillage tends to happen. These are also the two main areas in the house which is constantly in need of an upgrade.
Are there patterns to choose from in LVT?
Luxury vinyl flooring has a high-value aspect so yes, there is a vast array of patterns and colors that are available. A lot of the patterns incorporate heavily textured grains that replicate the look of wood and stone.
How is resilient flooring installed?
Now let's get into action by pasting the vinyl onto the floors of your home. Thanks to years of innovation, vinyl-sheet flooring is DIY-friendly. Before we only had the perimeter-bonded vinyl which had to be glued down around the room's perimeter.
While these kinds of glued-down products are still being sold today, the latest innovation of the vinyl sheet is just as easy placing a throw rug.
How do you glue vinyl to your floor?
Step 1: Prepare the Subfloor
Remove shoe molding found throughout the entire room but avoid the baseboard. If you want to remove the shoe, remember to carefully remove it so that it won't break.
To scrape off leftover glue, blobs of paint, and other things that roughen up the surface, use a six-inch-wide drywall knife. Afterward, remove all the nails heads jutting out with a hammer. Push down any screws that have moved up with a drill.
Remove as much of the entire floor as possible so we have a pristine sub-floor to start with. But if old material such as vinyl and linoleum is covering it, nail the plywood underlayment 1/4-inches above it then place down a new vinyl sheet.
Make sure to check the plywood subfloor if you wish to take out the old floor in case any obstructions will get in the way of the new floor. There must be no bumps on the subfloor and it has to be pristine.
Step 2: The doorways must be trimmed
For the floorings to slip underneath the doors, you need to trim the casings and the doorjambs. The tiles are thin, but this is more convenient instead of trying to fit the flooring around every doorway.
Step 3: Create a template out of paper
To be sure that the vinyl fits well, make a template of the room using paper and use it as a guide by placing the traced paper over the vinyl sheet.
Roll out the paper and start in one corner, situating one edge about 1/8" from the baseboard.
Using a utility knife, take your paper and cut a flap shaped like a V that is three inches long every 3 feet. With painter's tape cut into strips that are 2 inches wide, stick the paper template to the subfloor.
Once you're done, peel and remove the template into a manageable size. Do this slowly to avoid tears. Then, fold it and carry it over to your vinyl flooring.
Step 4: Unfold the template and start tracing
Position the template down the middle of your flooring. At the edge, place it about an inch inside. Make sure that the edges are parallel to the pattern you chose.
With the template in place and secured, trace around the template using an indelible marker. Once you're done remove and discard the template.
Step 5: Trimming the flooring to size
With a hook blade, cut the flooring using the same utility knife. Place the hook of the blade over the edge of the flooring and pull it.
Direct the hook blade down on the center of the line. The cut doesn't have to be perfectly straight because the shoe molding will cover it.
Step 6: Laying down the flooring
Place the vinyl flooring at the end of the room and then unfold it across the subfloor. Make sure to check if it fits the walls and the doorways of the room.
Go around the room's perimeter and do a final check. Trim away any spots and excess flooring with a utility knife. Now, put in the shoe molding by nailing it onto the baseboard.
Conclusion
One does not have to compromise function over style or vice versa to achieve a beautiful home. There are always options out there that would cater to our interests and taste without draining us financially.
The challenge of choosing the right type of resilient flooring can be exhausting. Once it gets overwhelming, take a breather and relax. It is a lot of information to take in but with practice and a little bit of research, your hard work will finally pay off.
All it takes is a measuring tape, a pen, and paper and a little imagination. Best of wishes!