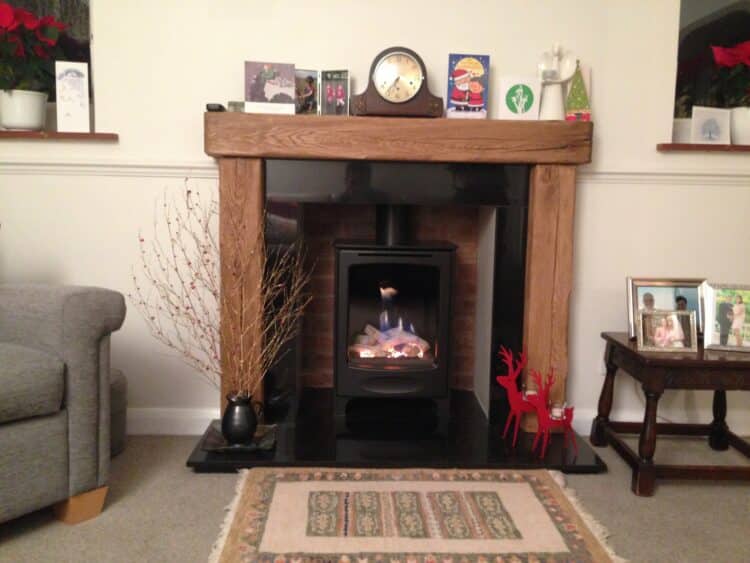 Are you intending to get a direct vent gas stove and also asking yourself the question: "Does a gas fireplace need a chimney?" Your queries are warranted and will soon be answered.
Even though the costs of natural gas often vacillate from high to low, gas-powered fireplaces are still the top choice among homeowners. Surprisingly, people choose this over wood-sourced hearths.
These types are often preferred because they prohibit any possible entrance of stove smoke into a home space and keep the quality of air fresh and clean. It keeps the environment warm and has freshly breathable air.
Homeowners are becoming more environmentally friendly in recent years and would often choose home appliances that help the environment and conserve energy.
This energy-conscious trend has been prevalent for a few years, not only with homeowners but with the general populace. There has been a drastic lowering of utility bills because people have the option of turning off the thermostat and instead utilize gas-powered heaters.
Here are some recommendations that professional contractors and builders say about this growing trend of gas-fueled direct vent system:
This kind of fireplace functions well with zoned heating.
Brick or stone-made fireplaces that utilize wood for fuel are not ideal to heat homes because eighty-five percent of the heat from this fire would be lost through the chimney.
You can easily install a gas-fueled fireplace insert directly in a brick or stone furnace. There are many styles available that you can select that may fit your current interior design.
Experts and fireplace manufacturers only recommend the gas-powered appliances and units from the other types and further rate them higher on the Annual Fuel Utilization Efficiency scale.
Types of gas fireplaces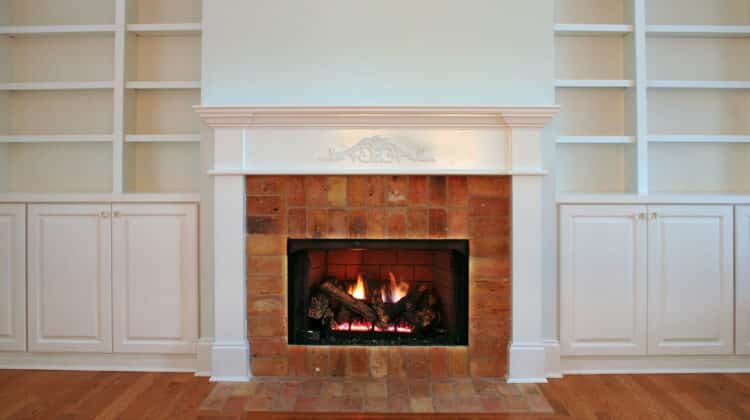 Even if you like zoned heating or not, the kind you will most likely select depends on the climate of your region, your house structure, and the heat amount needed. Here are the different kinds:
Direct vent stove installation
These consist of most of the gas-fueled fireplaces available in the market today. Air is directed from the outside to feed the fire and combustion gas is channeled into a vent mounted on the wall.
It comes highly recommended for its efficacy, and more than seventy percent of the heat stays indoors. These types are also easy and cheaper to set up in your house, in comparison to old-fashioned wood-fueled stoves.
Natural vent
This type is also called "Class B" because of the kind of conduit that carries the smoke outdoors.
Class B has specific doorways and vent that goes through the roofing and lets out combustive gas.
Pellet fireplace
This type is also called a freestanding stove that utilizes wood-based pellets made from compacted sawdust. These were invented in the 70s from excess wood, which was considered waste and fit to be thrown away.
These instead were repurposed and made usable and now widely utilized for homes. They can be bought in bags weighing forty pounds of pellet tubes.
Some fireplace makers even make their products the only fit with pellets as a fuel source.
FAQ (frequently asked questions) about direct vent gas fireplace
How can I release the smoke if I do not have a chimney?
A chimney is not necessary for this type of fireplace, unlike the traditional ones.
You only have to connect vented piping from the fireplace itself, across the wall, and end up on the roofing or an outer wall.
This particular design permits you to choose wherever you feel the fireplace has to be inside your house.
Alongside the use of piped vents, will there be other structural considerations required for it?
You also need to have a gas line running and leading to the direction of the fireplace, of either propane or natural gas.
It requires an electrical socket of one-twenty voltage. Also, stove and fireplace makers will have instructions and other necessary info about this in the manuals.
What will happen to the glass barrier when it gets too hot?
These fireplace types have a glass enclosure all the time. This aspect assists in its overall functionality and effectiveness and ensures the room does not have combustible air.
It is also mandatory for all fireplace manufacturers to have barriers in their products for safety purposes. It sometimes makes the acquisition bulky and not user-friendly for homeowners.
Newer models have top-grade and exquisitely designed glass enclosures. Some are made from steel mesh. Or a double solution called a "glass screen barrier," which looks like an aquarium mounted on the counter, but instead of swimming goldfishes, there are dancing flames instead.
I live in a warm area and do not need a fireplace that is too hot. What should I chooses?
If you already live in a relatively hot area, then the heat in the fireplace may not be desirable anymore and not needed. However, you still need it to keep up with appearances because it has a stylish aesthetic.
Most fireplaces powered by gas have knobs to adjust the warmth and flame turnout. Some recent models have thermostat controls built-in to manage the temperature and regulate the fire.
If you want a fireplace that does not emit heat, you can opt for an electric fireplace. With this, you can have the option of getting heat from it or not. There is also a fake fire display that looks like the real thing that you can also utilize for decorative purposes.
Can I put my TV or any item on top of the fireplace?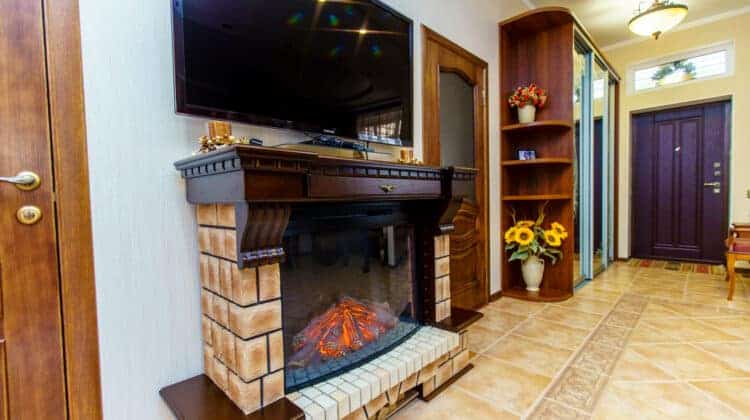 You might think it might be dangerous to place a TV set or any electronic device atop a fireplace. On most occasions, you are right, but with older masonry fireplace-types.
Some newer gas-powered models are specially made so that any item you can think of, be it electronic or not, can be situated on top without any worry of accidents.
There are guidelines in the manual that the fireplace installer must follow for the sake of safety.
If you are planning to get this for your home, you have to plan and set a lot of time for this because you have to make sure that all your other appliances and stuff will be safe, and no potential accidents might happen.
Also, make sure if the kind you have purchased for your home allows for this type of installation since some brands permit that kind of service.
Is the direct vent heating system good for the environment?
If you compare this type that either uses propane or natural gas, from the other types that utilize coal, oil, wood, or gasoline, the former is always better. They burn clean fire, emit less smoke, and have an overall lesser extent of the impact on the environment.
Throughout the combustive stage, this type even lets out water and carbon dioxide, which are safe.
Propane does produce carbon monoxide during combustion, which is harmful to breathe. However, it is vented directly outside the house, which no person from the household will even get to smell.
Does a gas fireplace need a chimney?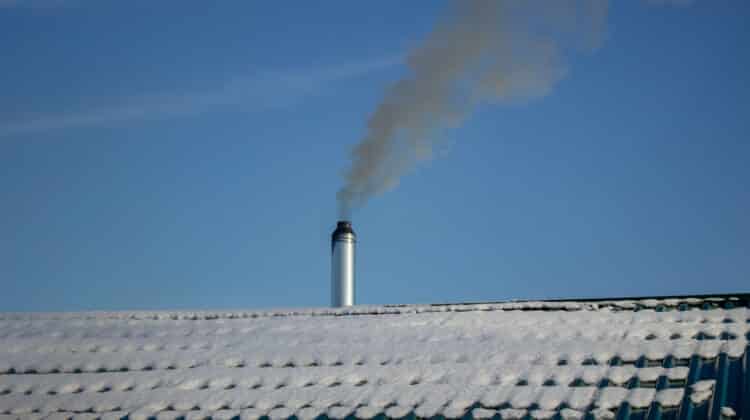 Some vent-less types do not require chimneys anymore to discharge combustion gasses. However, some that use gas logs still need a chimney to disperse the heat emissions rendered by burning.
Some gas hearths need to follow strict building codes to install a complete chimney system.
Making an important discovery about gas hearths
The proliferation of the direct vent gas fireplace installation is because of inventor brothers from Minnesota, named Dan and Ron Shimek.
They loved tinkering around the house when they were younger and soon became fascinated by combustion. They began fiddling with fireplaces in general but then focused on gas fire air vents of the 70s.
After further developing it, in 1987, they invented and patented the first direct vent type ever made. What was first a home-made invention became a breakthrough in fireplace technology and further transformed the industry.
Soon, homeowners and contractors wanted to incorporate this fantastic and functional heating accessory in homes and establishments.
Today's new models are from companies like Element4 that have taken the concept and reinvigorated it to newer heights. They have infinite choices of styles and designs and transformed the traditional look for an old-fashioned fireplace into a modernist aesthetic and highly efficient and functional.
Its advantages
These fireplace types do not only look great but are also versatile. If You like to add something extra to the aesthetic appeal of your home in a manner that does not break the bank and not renovating your home, then you should consider these stunning heating installations.
The best thing about it is that it is easy to set up in your house. You already have an ordinary wood-burning kind. You can even have it installed beside it for added heat.
You make it a point of convergence in your household and a new favorite corner to hang out. You can also set up a sofa and just lounge around the warmth and comfort it provides.
It functional and charming appeal
The old-fashioned cast-iron fireplace has a rustic countenance that is enhanced by its simplicity. It calls upon the characteristics of a different time and place but can still provide the necessary heat.
There are great-looking design accessories available, like wood made from a ceramic material that looks real, or other materials that can mimic the look of a wood-burning fire.
This aesthetic value cannot be imitated by a regular, old-fashioned hearth that utilizes the real deal, which can be hazardous and dangerous if not careful.
Also, gas-fueled stoves can be used for cooking, which the old-fashioned wood-burning ones could not do. You also do not need to look, cut, and store firewood anymore.
Overall, it trumps the old-fashioned ones by a long shot. It looks and works better like nobody's business.
East to install and maintain
You might have planned before installing a good heating system for your home but were discouraged by the lot of prep work and maintenance it demanded. So you lost interest and decided otherwise.
The good news is these types are not at all complex to install and only need minimal work done to your house to set it up. A professional installer can do it in a few hours.
Once set up properly, you hardly ever need to maintain it and only require moderate cleaning now and then.
Great heat source when blackouts occur
It is a great comfort for you if there is still a wonderful source of heat once you lose electrical power since it does not need electricity to turn it on.
This kind of heating system guarantees continuous warmth and light source, which cannot be matched by other types of hearths, stoves, fireplaces, or even electrical heating systems.