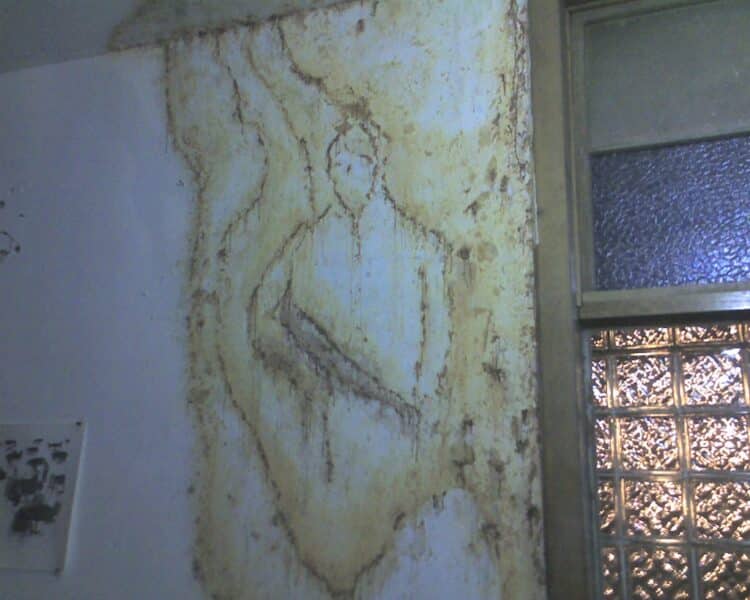 Let's face it: water stains are gross and they don't make a good sight to look at when you're looking up at your ceiling. What does a water stain on the ceiling look like? They can be rings or blotches that ruin the surface of your ceiling and there are many reasons for it.
It is usually caused by a leak that found its way into your ceiling and then evaporated, explaining the ring-like mineral deposit that just ruins the beautiful surface of your ceiling. And the thing is, you can't just cover it up and hope for the best.
Water stains have to be addressed because the leak might just come back again next time and intensify the stain. It can even affect the wiring and plumbing within the walls of your house. In extreme cases, the ceiling could cave in because of structure damage.
Better to nip it in the bud so that there are less financial expenses on your end. The sooner the better. This article will help you figure out what you should do with a water stain on the ceiling.
Can I just paint over a water stain immediately?
No, you should not be doing this because the water can still seep through the paint. The water stain could also be weakening your ceiling and ultimately cause a cave in that won't be prevented by simply painting over it. Find out what's wrong before starting to clean up the stain.
What are the causes of water stains?
The first thing you have to figure out is what is causing the water stains on the ceiling. Once you pin this down, then it will be easier to fix the issue and prevent it from happening in the future.
Listed here are some of the most common reasons for water stains:
Condensation from the attic
It goes without saying that this should only apply if you have an attic. But sometimes, there is still a small crawlspace between the roof of your house and the ceiling that's full of pipes and insulation. Make sure you know the ins and outs of your house so you can figure this one out.
Condensation usually forms if excess moisture is formed up there and trickles down. Attics without a proper ventilation system are more likely to develop this kind of condition. You should make sure there is enough ventilation up there because moist, humid areas are known growth spots for mold.
If you have an attic with condensation and mold, then that's two problems you need to fix. Prevention is better than cure, and it's easier on the bank account.
Leaky pipes
Leaky pipes are a serious matter that has to be addressed by a professional. Pipes that are old must be replaced before they burst and cause a flood. This is one of the most common reasons for water stains appearing on the ceiling.
Other than pipes, you should also do a check on other bathroom or water fixtures from an upstairs bathroom or shower. Toilets, sinks, and shower drains can easily get clogged and drip down excess moisture.
You can usually give an estimate on where the problem lies by envisioning what room of the house is above the water stain.
Issues from grout, caulking or the radiator
A shower pan can deteriorate over the years and send water down the floor instead of the drain. Similarly, if the grout or caulking around your bathtub is starting to wear out from years of use, this may be opening up small places where water can seep through and into the floor below.
You can try fixing this by re-caulking.
If you want to ensure that your shower pan is the reason for the water stains, you may have to examine the subfloor beneath it by crawling underneath your house and checking the joists of the floor. Any major leakage is evidenced by an outward spread of water that drenches other areas including the wall.
You can try fixing a shower pan leak by replacing it with a new one.
Radiators are also prone to causing water stains if there are any joints that have rusted over or are worn out. This depends on the kind of radiator you own. Try going over the body of your radiator and make sure all parts are in working order.
The roof
The most obvious place to look: the roof. If you notice that your water stains usually appear over the winter, then it's possible that an ice dam is forming up there during the cold weather and then melting down into your ceiling as the weather gets hotter.
In this case, you need to redo the insulation and not touch the roofing of your house. If your water stains are not seasonal, then you could be looking at an issue with the roof vents, a missing shingle, or a weak roof vent seal.
Compromised weatherproofing materials can be a source of leaks that are coming from the roof. Replace these problem areas in your roof if it's beyond repair.
How do I get rid of a water stain on the ceiling?
All right, assuming you've figured out where the stain is coming from and you've repaired it so that it doesn't happen again, you move on to the next step which is covering up the water stain on the ceiling. Follow these steps below so that you can get the beautiful ceiling you once had:
1. Clean the area and prepare it for repainting
To clean the area, prepare a solution consisting of three parts water and one part bleach. In the absence of bleach, you can use any other chemical or solution that contains bleach. Afterwards, apply this solution to the ceiling with a rag until it's as clean as can be.
Since you will be painting over the area, it has to be as dry as possible. If you have a dehumidifier, let it do its work and leave it on overnight to make sure the stain is completely dry.
Take note that if there is too much damage to the ceiling, no amount of bleach will fix that and you will have to replace the materials completely.
2. Cover up the stain
Once the stain is good and dry, mark the spot you will be painting over. Use painter's tape to and make sure the color you choose is as close to the color of the ceiling as possible. Obviously, don't use red paint if your ceiling is white unless that's a design choice you're willing to make.
After marking the painting spot, apply a specialized primer meant to block stains onto the area you will be painting over. This ensures that any minerals or grease that you were unable to remove with bleach don't just seep through and show through the fresh coat of paint.
3. Start painting
Once you've got your primer on and it's dry as it can be, you can start painting over the water stain. The type of paint you will use depends on the texture of your ceiling.
You may need spray paint (and spray primer) if your roof is textured. If your roof is smooth, then go ahead and use a roller or a paintbrush to paint over the water stain. The paint you will be using can either be latex or alkyd as long as you're using paint that is meant to be used for the ceiling.
Ceiling paint is thicker than the normal types of paint and when it dries, it's usually non-reflective to hide any other issues that could pop up if you use normal paint.
4. Let dry and make the finishing touches
Let the first coat dry for a few hours before going back in with a second coat. Afterwards, take a look at the entire ceiling and make the necessary adjustments so that your new paint job blends in well with the old ceiling color.
Conclusion
A water stain on the ceiling is an annoying sight to look at. To ease your troubled mind, look for the source as soon as possible so you can nip it in the bud and stop the stain from growing or weakening your ceiling.
Prevention truly is better than cure and it's better to prevent a massive ceiling cave in rather than dealing with its aftermath. Don't just paint over the water stain and think that it's all over. Find the source and repair it before busting out the ceiling paint.
Exercise caution when crawling into tight spaces or when walking out to your roof as you try to pinpoint the cause of the leak. If you are having a hard time narrowing down the reason for the leak, it is a good idea to call a professional to help you figure it out and then assist you in repairing it.
This DIY project should only take you a few days at most depending on the severity of the problem. And that's all for fixing a water stain on the ceiling. Best of luck!