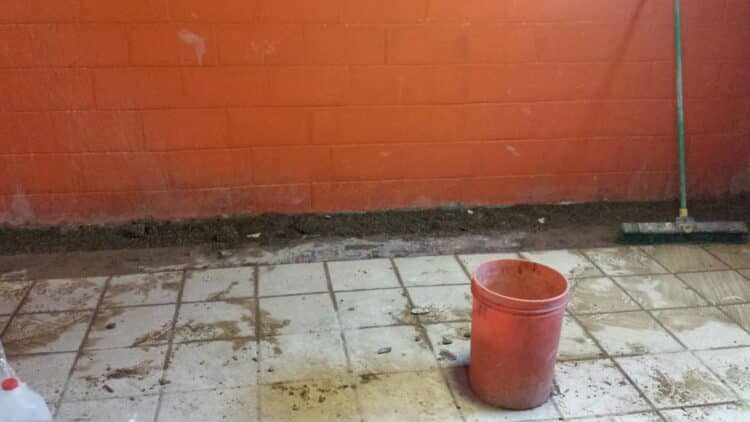 Most basements are built way below grade. That's why your basement may feature overly moist walls or have water puddles.
Some homeowners report their basement flooding as well when the rainy season comes. Such situations can damage your basement walls and everything else you store there.
That's why you mustn't let that happen. If you do, your basement walls start peeling the paint off, the wood will rot, mold and mildew will grow, and your stored items will go to waste.
So why not waterproof it right at the time of construction? Well, most builders ensure to do that. But with time, your basement walls can start cracking, and water can leak into your basement through these cracks.
If your basement is in excellent condition, but it's still humid and damp, the walls may be absorbing water directly from the soil, making your walls wet.
The easiest temporary solution you can use is using a high-quality humidifier to get rid of the excess humidity down there.
But if you are considering a more long term solution, installing interior basement waterproofing systems is your best shot.
You can either do it yourself or hire a professional to handle it if the moisture problem's cause is beyond your DIY skills.
If you plan on turning it into a DIY project, here are tips you should keep in mind.
The Dos for waterproofing your basement
There are a couple of things you should do before and during waterproofing your basement walls.
DO:
Find the source of the leaks
Concrete walls are porous. That makes it easy for you to see the wet streaks. These can lead you to the source of water.
The most common areas to find these streaks are between motor joints, in window corners, along wall cracks around sewer or supply line pipes.
If your entire wall is wet instead of just wet steaks, you can carry out a condensation test to determine the source.
All you need to do is use a rug to dry out a small area of the wall. Use duct tape to attach at least one sq. ft. of aluminum foil to the area.
Now, let it settle for at least a whole day before you peel it off. Once you do, check the underside for any wetness by running your finger through it.
If it's wet, then your source is outside the house. If it's not, then the source is somewhere inside the basement. Start by checking out the basement shower as a more probable source.
If that's your culprit, you can fix it by installing a vent fan to carry out the steam when the bathroom is in use.
your research thoroughly
There are numerous types of basement waterproofing that you can choose from today. You can use an interior sealant, building exterior or interior drainage system, or consider exterior waterproofing.
While all these methods are effective, success levels will vary immensely considering your home or basement type.
For example, a waterproof sealant may not be an excellent choice for your basement the way a foundation draining may be.
Look beyond the basement
Sometimes, your basement water problem may have a source outside the basement. It would be best to cross out external factors if you fail to find the leaking problem in the basement.
That includes checking out the roof, foundation, landscaping of your property, the gutters, spouts, and the slope of your property. All these can be culprits to your problem.
With a thorough inspection, you can determine where the issue is coming from and what you can do to fix it. That way, your solutions can be permanent and not band-aid solutions that don't last.
Clean your gutters regularly
A clogged gutter can cause more problems for your basement. The most common issue is gutters overflowing after failing to redirect rainwater.
That water can then start seeping into your basement walls, making it even damper. You need to inspect and clean it regularly to get rid of all the debris, leaves, and dirt build-up forming there.
That way, you can effortlessly fix your basement walls.
Thorough clean your basement after a rainy and flooding season
A poorly waterproofed basement can flood during the rainy season. Even a little storm can make water seep in through the cracks.
Instead of postponing the cleaning, take immediate action. That can save the wood in your basement from damage, among other items.
You can start by removing all the items from your basement before giving it's a good scrubbing. If mold already started forming, you can use bleach to eliminate it or everyday household cleaner.
Also, remember to put out wet or soaked items to dry before setting the basement once more. The sooner you handle this issue, the better your basement will fair.
Fill cracks with Hydraulic cement
Cracks are not just an eyesore but also the biggest culprits for leaks in the basement walls. So how do cracks form?
Usually, footings in poured before the concrete, and the concrete comes later when the footings harden. Although this is the right way of doing this, it forms a weak spot that can make the walls crack with even slight shifting from the foundation.
That's why you should always check the bottom parts of the basement floors for cracks and fill them immediately.
Filling or sealing these cracks is not difficult. You can use hydraulic cement for the job. All you need to do is mix it with water into a putty consistency before applying it to the cracks with your gloved fingers.
You can read the instructions for a more professional finish. Also, don't mix too much since this type of cement sets in less than three minutes, and your mixture can go to waste if you don't use it before then.
Apply a masonry waterproofing product
You can use high-quality waterproof paint for the interior of your basement. This seals the walls and prevents water from seeping in from outside and leaving the walls wet.
You can buy a premixed product and thickly brush the paint on the walls. Once it dries, you can apply a second coat of paint.
Take additional waterproofing measures
There are still a couple more measures you can take to ensure that water doesn't leak through the outside walls and into your basement.
One such measure is getting rid of all the plantings near the foundation that you water often. It is one source of water that can make your walls wet in time.
Another measure involves inspecting and repairing any damage done to your downspouts and gutters.
Additionally, always grade your yard away from the foundation. And if possible, install an external drain tile system.
This is pricey, and you can part with a little over $10000. A foundation contractor you hire will have to excavate the soil outside your basement before installing a perforated drain at the footing level.
Afterward, they have to install a waterproof membrane and a below-ground sump pump to collect water before pumping it to the surface.
It's the best option you have for reducing your basement water issues and having a humid free basement.
the don'ts of waterproofing your basement walls
There are a couple of things you should never do while waterproofing your basement walls.
Don't:
Make repairs with standing water still in the basement
A flooding basement is usually the worst-case scenario for any homeowner. However, this is most common during rainy seasons, and you are more susceptible to it if you have cracks in your basement.
Repairing the cracks without first draining the water is a mistake that most homeowners make. You should avoid this to prevent being electrocuted or receiving electric shocks.
First, cut off the power to the basement, and get a utility pump to get rid of the water. The pump should have a long enough extension cord that reaches the outlet upstairs.
Using the pump, you can discharge water from the basement to the yard. Once it's free of water, you can inspect the cracks and fix them before you waterproof your basement walls.
Forget to fix the window well leaks
If you dint install a proper drainage system beneath the well during the construction phase of your home, then your basement walls are more prone to start seeping in water from the window wells.
That's because water can pool below the basement windows before leaking in. you can consider digging in the well area (not less than two feet lower) before filling the space with gravel.
This method works well in dispersing rainwater to prevent it from pooling beneath the window wells. Afterward, you can use masonry caulk to caulk around the window.
Additionally, installing a sloped cover on your window well can direct the water away.
Apply sealer over painted walls
If your basement walls are painted, you have to scrape away the paint before applying the waterproof sealer. Or you can sandblast the walls to get rid of the stains.
That's because it works best on bare walls than on painted ones. Another DIY alternative is using a wire brush to remove the paint.
It's a tedious and time-consuming option. But if you don't mind the work, you can do it. Besides, it's also an affordable option.
Apart from the paint, efflorescence consisting of white deposits forming on basement walls due to constant moisture exposure is another nuisance you need to fix before sealing your walls.
You can use muriatic acid for this.
Forget other interior drainage solutions
By installing a drainage channel right underneath the floor inside your basement, you can attain drywalls.
The drain is quite similar to the exterior drainage, but this one has walls built inside the basement. It will cost you at least $5000 as the cost for hiring a contractor to carry out the job.
That way, any residual seeping water through the old walls can go through the drain channel and then pumped out, leaving your new walls dry and humid free.
Ignore the leak
The worst thing you can do is ignore the basement leak hoping it's an intermittent thing. That can compromise the overall foundation of your basement and home in general.
For starters, if there's a crack causing the leak, it will grow with time, making the problem more severe.
With time, your basement and all the things stored there can start damaging, mildew, mold, and fungi will grow, and you will feel the humid air heavily in the air.
That can compromise your health and that of your loved ones.
Use DIY sealants
These sealants don't fix the problem permanently, and your leaks will recur over time. If you use DIY adhesives, only do so and a temporary fix while working on a more permanent solution.
Allow downspouts to pour water on the foundation
If your downspout is shooting water directly over your foundation, you will have an even bigger, damp problem. The best way is to prevent this from happening by directing the downspout away from the foundation.
Use waterproof paint as a permanent solution
Waterproof paint is a great temporary option. But it's just that- temporary. Use it only to buy enough time to finish fixing the other issue your basement may have, like cracks.
That's because water can still seep in with minerals. These build up right behind the paint and, with time, cause it to flake away or peel.
That can send you back to the start with a flooding basement. The longest time waterproof paint can hold up for you is two years.
Use plastic or tar for waterproofing
While plastic peels easily, tar will grow brittle and crack with time. That's why you should avoid these at all costs as waterproofing materials. There are other better options you can use.
How long does waterproofing your basement last
A number of factors can determine how long your waterproofed basement can last before you need to waterproof it once more.
These factors include the climate of your area, the type of solution you used, the waterproofing material you used, and the severity of the damage before waterproofing.
Usually, for most homes, it takes at least a decade for the waterproofing to wear out.
is waterproofing your basement worth it?
A wet basement is not appealing to anyone, and it can cause significant damage if not fixed soon. And sadly, your insurance may not cover the damage cost.
If you put your home on the market, a wet basement can be a turn off for many potential buyers. And if you sell it, it will be at a lower price than what your home is worth.
Final thoughts
waterproofing your basement walls can ensure that you protect and improve the overall health condition of your home's foundation as well as your health.
Plus, it can save you the nuisance of a flooding basement. With these tips, you can quickly fix your basement and waterproof it.
Always remember you can ask for professional help if you need it.