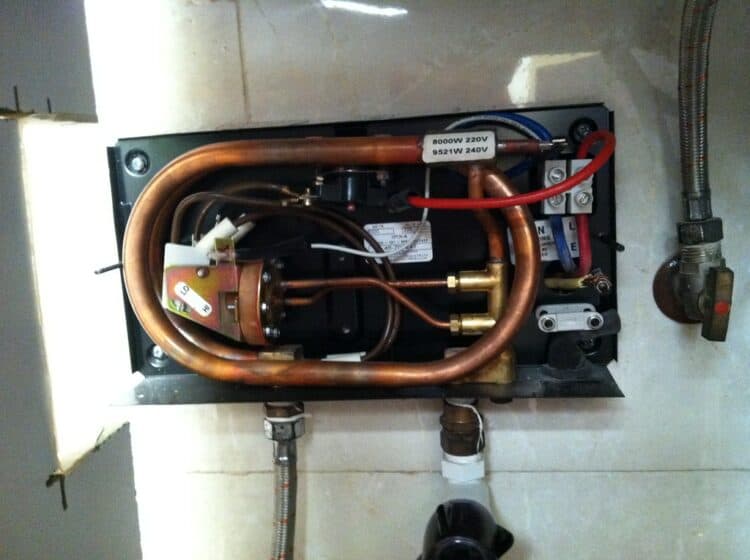 "Tankless Water Heater" by Kevin Shorter is licensed under CC BY 2.0
Why does water take too long to heat? One of the things that could be ringing in your mind is how to get hot water faster. Did you know that the average homestead wastes as much as 12,000 gallons of water per year? How? This wastage is what happens when you don't have an efficient heater at home. You turn on the shower, and then you have to wait for a few minutes to wait for the water to get hot. This waiting will waste your time and money. So this is not an effective way to get your water hot. The best way to conserve your water is to get it to heat faster.
Why does water take so long to heat?
Why does it take so long for hot water to come out of the showerhead and other faucets at home? There could be many reasons for this. It could be the diameter of the water pipes, the rate of flow of water, and the diameter of the piping. If your hot water has to flow over long distances, it will also take longer to heat the showerhead. It is a common problem with larger homes.
There is another reason why hot water takes a long time to heat. If there is cold water currently sitting in the pipes, hot water will take longer to come out. The presence of cold water in the water pipes prevents your water from heating faster. The reason for this being that you have to wait for all the water in the pipes to flow out. If your home is big, waiting for all the water to flow out before the hot water reaches the faucet can take a long time.
Bigger pipes result in a longer heating period. Larger pipes cause water to heat slowly because there is more water per inch. Another cause for the slow heating process is the rate of flow of water in the pipes. The slower the flow rate, the longer you will have to wait for the cooled water to flow out of the water pipes.
So if your water is taking too long to heat, do not ignore it. Ignoring it means more expenses and more time wastage. This article discusses how to heat your water faster and save time.
How do you deal with low heat and pressure?
If you are struggling with the slow process of water heating at home, it is time to deal with it. If it feels like it is taking a long time to heat your water, there is a solution. You could solve this problem because a few solutions already exist in the market. But, the most appropriate solution you may need is a water heater supplementer/booster device.
How can you define a hot water heating booster?
This device can also be called a water heater supplementor. It is an electric tool that is attached to the existing water heater. It is small, portable, efficient, and less costly. Some people call a hot water booster 'tank booster'.
Others may call it a hot water heating booster. They all mean the same thing. Hot water heating boosters work like tankless water heaters. They instantly heat water. But the only difference is that they are supposed to supplement existing water heaters. Tankless water heaters but work as water heater tank replacement.
If the booster detects that the temperature of water has dropped, it will boost the heat. It does so by activating the heat to the required temperature. Water heater boosters can increase the capacity of your hot water by 70%. Hot water boosters are also known to improve the recovery time of your hot water by up to 380%. So that means that you can experience a long shower without worrying. You don't have to worry about experiencing fluctuation in water temperatures. It also means that members of the family can enjoy hot showers in quick succession. You don't have to waste extra time waiting for the hot water to get replenished.
A water booster is the best thing to invest in if you require a lot of hot water at home. Adding a water boost at home will ensure that you will never run out of hot water during usage. It also means that you will never have to wait for the water to get hot for a long period.
A water heater booster is the most ideal. If you are struggling with getting hot water faster, consider this device. Water heater boosters are good investments. Better yet, they don't need you to replace your water heater. They are only supposed to supplement the existing water heater. They are not supposed to replace it.
What are the advantages of the heater boosters?
The work of the hot water heater booster is to ensure that you have plenty of hot water. These devices have been proven to boost hot water availability by 70%. Some models can give higher increases. Heater boosters are important in homes that are struggling with maintaining hot water. Apart from this obvious benefit, there are other benefits. They include the following.
Saves energy

Hot water heater boosters can mean that your energy bills will be much lower. There is no more wastage. Some models come with an Eco Mode feature. The function of the feature is to switch off the power connecting your hot water tank when you are not using hot water.. This will save you a lot when it comes to utility bills as you don't have to heat water when you don't need it.

Saves Space

Are you worried that you don't have extra space? Worry no more. Hot water boosters don't need a lot of space. They only act as small attachments to the existing water heaters. They give increased hot water output without needing corresponding space. This is better than installing a larger water heater tank.

Saves money

Get a water heating boost instead of purchasing a larger water heater. Water heaters don't come cheap. So if you find yourself needing more hot water, the solution is to get a hot water heater booster instead.

Easy to instal

Have you ever tried to replace a water heater? It is very costly and challenging. But with water heater boosters, installation is very easy and straightforward. They use one water supply used by the water heaters. You can fix a water heater booster by yourself. There is no need to call a plumber or electrician. It takes a few minutes.

Anti-freeze

Most heater boosters can detect when the temperatures of water fall below some level. They have an antifreeze feature. This will protect your device from malfunctioning due to freezing. They also have a scald protection feature that lets you fix the highest temperature to be heated.
How to choose the right hot water booster
You might not be familiar with the water heater booster. So you might need to ensure that you are getting the right heater booster. Here are the most important things that you need to consider. Cons when choosing a water heater booster.
Process of Installation-Depending on their design, you will discover that some hot water boosters are easier to instal than others. Others may need an elaborate installation process, but they are efficient and powerful. For example, some boosters should be hard-wired separately into their own circuit. Others use the power that is already being used by the existing water heater.
Consumption of energy- If you need a hot water booster that performs better, be prepared to use more energy. This can increase your utility bills, but you get better results.
Warranty-Before buying a water heater booster, look at the warranty terms. A water heater booster may cost significantly less than a new heater, but you still need money to buy them. That is why it is important not to overlook the warranty terms. The average water heater booster comes with a warranty of 5 years. Others provide a warranty of 7 years.
How to install a water booster
The good thing about a water heater booster is that anyone can install it. You don't need the services of a professional. Unlike a water heater system, installing a water heater booster is easy. If you have no problem engaging in Do-it-yourself projects, you can install a water heater booster. But you need to remember that you will be handling electricity. Therefore you need to be careful and do it right.
The following installation instructions show how to fix a typical water heater booster. The instructions will give you a rough idea of how to install the booster.
Prepare

First, check and confirm that the box contains all the right items. You will find the water heater booster, registration card, warranty information, and wires. You can also look for a stop-sheet and installation manual.

Once you have confirmed that everything is in place, gather the tools you will need. You will need things like a measuring tape, a screwdriver, and Teflon tape. You may also need a pair of tweezers, a cutter for the pipes, a marker, and an adjustable wrench.

Next, clear the space where the booster will be installed and turn off the power. It is an important safety measure. Also, ensure that the pipe supplying water to the heater is turned off.. It will be impossible to install the water heater booster with water still running.

After that, connect a pipe from the water heater tap to an outward drain and open the drain valve. Now release all the hot water taps in the house and disconnect the outlet pipe of the hot water

Plumbing and installing

The first thing is to connect the outlet of the reservoir to the NPT. You can see it at the bottom of the water heater booster. Once this is done, ensure the hot water connecting wire is connected to the exit wire. This can be found on the top side of the water heater booster.

Ensure that the water booster is firmly secured. If it is let loose then chances of accidental fall are high. Once it is secure in place, shut the drain valve of the tank. Now ensure to turn on one or more hot water valves.

Next, it is now time to open the cold water supply spigot. After that, you can now open all the hot water valves in the house. Allow the hot water to run for about 3 minutes. This is done to remove the trapped air from the hot water pipes. If you fail to do this, you risk damaging the booster.

Electrical Installation

Now that you have done the plumbing part, it is now time to complete the installation process. Now let us look at the electrical installation. Follow the following steps to complete the process.

First, make sure that power is turned off at the fuse or circuit breaker. This is a safety measure to avoid electrocution or shocks. Avoid working when power is on. Next, you should trace the fuse or circuit breaker wires from the current water heater tank. Direct these wires to the back piece of the water booster heater.

Next, the wires from the water heater tank should be connected to the fuse or circuit breaker of the booster. Depending on the type of water heater booster you have purchased, they should be L1or L2. After connecting the wires, it is now time to connect the cord that looks like a pig tail to the booster. Next, connect it to the other side of the tank. It is good to check that the connected wires are tightly connected. Loose wires can easily cause problems and even destroy your device.
Now you have successfully installed the hot water heating booster. You can switch the power on and enjoy the constant flow of hot water. No more need to worry about long waits.
Conclusion
A water heater booster will be useful if you are having problems with getting hot water quickly. Sometimes it takes a long time to get hot water and this can be frustrating. Although you could undertake several changes with your ductwork to get hot water faster, a heating booster device is the best choice. With a water heater booster, you will get a constant flow of hot water. Follow the right installation procedure to realize the advantages of a water booster. The other thing you could do to get hot water faster include using thinner pipes. A thinner pipe gets water to heat faster compared to a thicker pipe. Thicker pipes means larger surface area of cold water to heat.