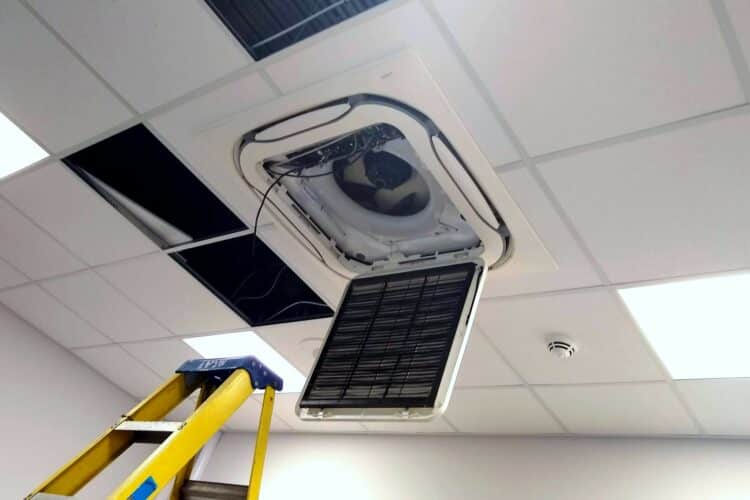 Wall-mounted mini-split units are incredible, yet a ceiling cassette is classier and provides a flawless look.
There are numerous perks to choosing a ceiling cassette unit. For one, installers install these units in the ceiling concealing the workings from sight.
These units provide a more centered operation and can cover larger spaces, and in some, you can regulate the airflow direction.
Mini-split ceiling cassette units come in various styles, each featuring unique features to meet your requirements even better. But how do you pick the ceiling right cassette unit?
Selecting ceiling cassette units
Ceiling cassette units offer discretion by hiding the bulk components in the ceiling. And grille is the only thing visible.
Still, it provides more coverage than other types of units.
It eliminates cold and hot spots in spacious rooms because of its excellent coverage. In most ceiling cassette models, you can control the direction of the flow of air by closing the openings you don't want air to blow. For instance, in the hallway, it makes more sense to blow air in only two directions.
You can close the other two outlets. Each model has four vents, which blow conditioned air to your house.
It's relatively easy to set up ceiling cassette units in drop ceilings. Even so, they are bulky, and you must see to it that there is enough room in the attic for it or the place above the living space that needs conditioning.
Installation
Because of the four outlets, it's best to fix the ceiling cassette in the middle of the ceiling. You should shut the outlet blowing to the wall, if for one reason, or more you fail to install it in the middle.
It would be best if you had an idea thus far of how to place the unit in its selected space.
For one, the minutest measurements of a ceiling cassette are equal to that of a tile in the ceiling. You need to personalize the roof beam for the system to fit in if that is its designated space for it. That is because the roof beams are merely 16 inches (40.64 centimeters).
A built-in lift pump is a typical feature in these units. And may come in handy to remove the condensate, which is a result of the cooling procedure.
It connects to a firm PVC piping, which is at least 1 inch (2.54 cm) and extends to the outside of the house. You will also require cables and rods to suspend the unit from the structure above it because you must install the ceiling cassette unit above your ceiling.
The smallest amount of space you require directly overhead the ceiling is 10 inches (25.4 centimeters). And, also remember to insulate the mini-split if you plan on installing it in an unconditioned area.
If you fail to shield it, your living space will be prone to drips from the moisture building up on the outside of the equipment. But if you place it in a conditioned area, then insulation is not necessary.
But that is not all. The units feature built-in thermostats, which provide an indoor temperature reading that allows the system to fine-tune the output to meet your requirements.
It would be best if you didn't install the unit in an area that's either too warm or too cold for the rest of your home.
That will cause inefficiencies in how the mini-split conditions your home.
Other components
Wall-mounted units have more components than have ceiling cassette units.
Even so, few features allow the ceiling cassette to condition your home successfully.
Different brands and models have particular features, and you should consider this before settling for one with the components you require for various applications.
For instance, you do not require another unit to condition an area next to the room with the ceiling cassette unit.
With the correct model, you can use a branch duct to supply some conditioned air to the other room hence air conditioning both from a single unit.
Also, you can get a unit with a fresh air opening. That makes it possible to condition and distribute fresh air into the house instead of reprocessing the air in your home.
Different make and models of units have particular temperature control options. You can select a wired-in wall-mounted control or wireless remote control.
Last Word
Selecting the right mini-split ceiling cassette unit isn't such a heinous task. You could use the tips highlighted to make an informed choice.
That way, you can enjoy a conditioned living space with the best efficiency.