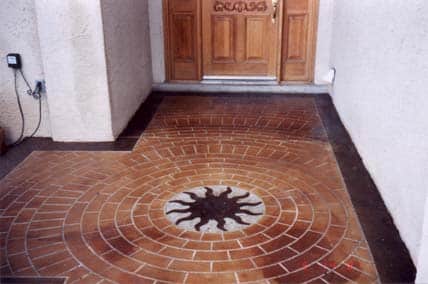 Are you looking for appealing stamped concrete patterns and colors on the flooring of your home? Selecting the right one is not as hard as you think. You only need to be aware of the different types available in the market.
Maybe you like dark grey stamped concrete? Or how about brown stamped concrete?
You might be planning to construct a patio, courtyard, pool deck, or driveway, and you have not yet decided on what type of surface is suitable.
You might consider choosing either stone or brick pavers. However, you have not even thought of a third option, which is cheaper to install, looks grand, and is very durable: decorative concrete.
If you decide on the third option, then you should hire a decorative concrete contractor to construct the best stamped concrete color combinations for your home.
These stamped concrete color combinations, when done right, will get to look like expensive brick, cobblestone, slate, flagstone, and many more. These designs have become popular because of their concrete color options and their inexpensiveness. It duplicates the natural appearance of expensive materials for beautiful pavements, which come in varying textures and colors.
If you indeed hire a decorative concrete contractor, you would not need to do anything. You will only tell him what color and style you want, and he will proceed to do the job for you.
This particular task is a very delicate procedure. Your contractor will need time to plan this correctly. He should not take this lightly.
A long time ago, there were not many finishes available for decorative concrete.
Now there are many you can choose from: like integral, textured, or stamped finish. There are more elaborate: like diamond polish, acid etch, or stampable overlays. There are more options like sandblast, stencil, exposed aggregate, etc.
You can even combine finishes to make the best decorative concrete imaginable.
Few things you need to consider to get the best decoration
For concrete color and release combinations, it provides limitless potential. If the contractor is very creative, then he can create any design he can think of, with as many incorporations. That is why many people choose stamped and dyed concrete for their homes.
Hire a trustworthy decorative concrete contractor
It is an important decision to make since the contractor will be the one who will either make your intended pavement beautiful or not.
The first thing you need is to have enough time for thorough research. A crucial aspect in getting the right contractor is to study his references. Talk to the people that know him the best, like other contractors.
The most prolific contractors have the best reputations and many satisfied customers. They probably have a list of people they have worked with, which you can call and talk to.
Among his references, look for someone that you know whose word you can trust. You can ask that person what their experience was like in hiring the contractor.
Here are some questions you can ask:
Did he act professionally all the time?
Did he finish the work within the budget and on time?
Would you recommend him to other people?
Did he keep the work area clean at all times?
The next thing you need to check is that he has the proper license and permits to do his job in your house. Hiring unlicensed contractors pose a potential danger to you and your home and might even commit building code violations.
Professional and respectable contractors will show you their qualifications and will even tell you how to get the right permits and fees you need to pay.
Next, you need to make sure that the contractor has insurance coverage. Your insurance policy as a homeowner would not cover accidents and injuries that happen on the job within your property. Whenever something happens, you would not be liable.
Check with the contractor if he is properly insured and is still in effect when doing your decorative concrete work.
Tell the contractor what you expect to happen
To get the best stamped concrete pattern colors, everything should be planned. The project should proceed without hitches and as smoothly as possible. So you have to provide the contractor with a detailed vision of what the final result should be.
Then the contractor will evaluate the budgeting, how he will execute your vision, and tell you what can be and what cannot be done.
Having an open and clear conversation with your contractor before doing the job will help in managing your expectation.
Some homeowners will tend to have unreasonable demands and expectations. A great contractor will be truthful and would say the bottom line at all times so that the project would not go out of hand.
A good contractor will focus more on the decorative elements of the concrete. However, since the chief purpose of concrete is to provide adequate pavement or flooring in a home, some priority should be given to this as well.
Mainly, the decorative concrete contractor's chief task is to provide a balance of both the structural integrity of the pavement and the ideal ornamental design that the client prefers.
Know how to protect it to make it last longer
To get the best out of your slate-stamped concrete colors, you have to learn how to make it last longer as it could. Yet, most people assume that concrete becomes stronger over long periods, which is untrue.
As the years go by, concrete becomes susceptible to destruction. There natural elements that interact with the concrete surface can induce chemical and physical alterations.
Your completed colored cement patio must be shielded from harm. This factor should be discussed before construction began.
Installing a vapor barrier is one of the important matters to discuss. The contractor should know not to utilize anything that might stain the concrete surface. Thus protective shielding must be applied.
So to avoid any confusion and to ensure a systematic flow of tasks, the concrete contractor, the general contractor, and the subcontractor must work hand in hand to create not only the best-looking concrete but a durable and long-lasting one.
Set scheduling straight to prevent ant damage to the concrete
As a homeowner that employs workers for beautifying and reconstructing your home, you have to schedule them in a way that the finished concrete slabs are protected from harm. This is done before, throughout, and after the concrete decoration is finished.
Other workers unrelated to the concreting tasks might unintentionally do something that might destroy the delicate curing and ornamentation.
Carpenters, plumbers, and construction workers might spill some harmful liquids, leave their tools, or step on the wet surface.
To prevent any accidents from happening, schedule workers that do different tasks, not on the same day. This type of delicate chore needs time on its own, away from any disturbances.
You can schedule this crew on weekends, where other workers are finished for the week. You can place a sign to let people know of the fragile situation or put a sort of barrier to prevent others from doing something harmful to it.
Set up a contract that both of you agree
Before any work has started, you and the contractor have agreed upon the appropriate terms and conditions of the tasks at hand. It includes planning for the maintenance.
You should agree upon the type of sealant (like epoxy or acrylic) coating that you prefer, which has a way to add something extra to its aesthetic appeal. The reapplication of this sealant is dependent on the approval of the contractor.
Some homeowners do not know how to pick stamped concrete colors. Instead, they prefer a natural look with the semblance of brilliancy. If this is what you want, then there are sealants available that adhere to this preference.
The function of sealants is to shield the concreting from damaging elements and become free of stains.
Different kinds of stamped concrete patterns and colors
Having concrete for your floors and walls is a low-cost yet high-quality means for construction and renovation. But it does not have an appealing exterior.
Good thing you can apply decorative concreting to it to make it attractive-looking. This can be applied over the concrete surface. Here are the different types:
Concrete engraving. When done successfully, it can engender the appearance of unique brickwork or cobblestone. This type is usually applied on car driveways and walkways.
Acid stain. This kind of method utilizes "acid-based treatment," which allows a look akin to wood, leather, or stone.
Concrete stamping. You can bring out stamped concrete colors with the assistance of molds. It allows for uniqueness in the design and texture by using this stamping method.
Concrete dyes. This type adds many tinges, hues, and elaborate patterns to the concrete and adds to the appeal.
Materials used to achieve decorative concrete colors
Picking the right design and product is key to make your concrete flooring attractive. Here are a few of the most utilized materials:
Polyurea polyaspartic coatings. These types are used in surfaces that experience lots of traffic, like people walking and vehicles passing over. These are mostly used in walkways, driveways, patios, etc. It is a very durable material that cures in only a few hours.
Sundek classic texture. It is mostly used as a protective covering to faded and newer surfaces. It is acrylic-based and is impervious to chemicals and stains.
Tuscan, sunstone, and Sundek sun color stain: There are many stamped concrete release colors that you can combine. These are then incorporated into established patterns to create newer ones to make your surfaces look uniquely attractive.
How is the pretty ornamental concrete beneficial?
Having this type of coating protects the concrete surface from scratches, chemical spillage, and other harmful substances.
This concrete type has innate abilities to make your interior space warmer in cold seasons and creates a barrier for loud noises to enter.
It is not harmful to the environment. It does not need much energy to mass produce like other kinds of flooring and does not incorporate any part of trees.
It is beneficial for people that have allergies to dust because this coating is easy to clean.
If you still want the look of stone, wood, or brick for your flooring and do not want to spend much, this is what you want. There are many other design options you can choose from.
You do not need to keep on maintaining it because it is made of durable material. It is also waterproof.
Summary
Now you know everything about how to make concrete look nice. Take care of its beauty, and in turn, it takes care of you.