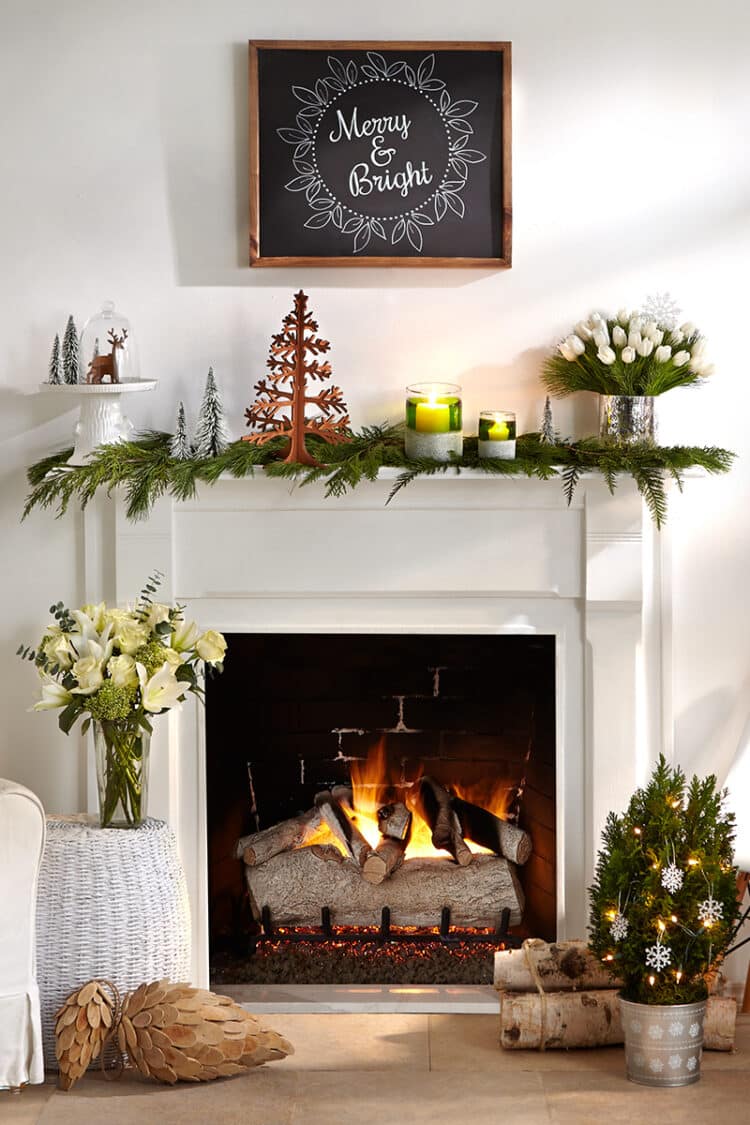 DIY tips in painting fireplace tile and make it look good as new
Are you intending to making over your old fireplace, but you do not know how? How about painting the fireplace tile and make it look brand new?
Can you paint tile around a fireplace? All questions will be answered once you know all the steps.
The entire process is direct to the point, which means that you have to focus on the job at hand and not do anything else. You can paint over fireplace tile in the shortest possible time.
The supplies you need for painting fireplace tile
Detergent soap
Sandpaper (optional)
Paint tray
Paint stick
Painter's tape
Clean rags
Can key
Drop cloth
Paint roller or paintbrush
Top-quality latex paint
Bonding primer
Step 1
You have to be sure your fireplace tiles are cleansed of any grime or stains that may have accumulated over the years. Use water and soap to wash thoroughly every nook and cranny. You can scrub it with a large sponge or brush. Wipe any excess moisture and let it try.
Step 2
You can also sand the tiles so that the paint can bind with the tile surface. If you opt to use bonding primer, then skip this procedure.
Step 3
Clean any dust particles with a vacuum cleaner.
Step 4
Tape off the surrounding area that you do not want to be painted on. If the outer encircling area of the fireplace is carpeting material, either remove it or tape over it.
Step 5
Paint on the tiles with a first coat of high-quality primer, either STIX Waterborne Bonding Primer, or KILZ 2 Latex Primer. You can use a paintbrush, but if you want to get a bettered finished look, use a paint roller.
The primer acts like glue when it dries, so do not apply primer to the same area. If you do paint over the same space, it will begin to come off in flakes because it has not dried properly as it tried to stick to the surface.
Step 6
Give it one day to let the primer completely dry. Before painting the tiles, wipe off the tiles with a dry rag to ensure that there are no dust particles still sticking on them.
Step 7
In painting hearth tiles, apply the first coating of latex paint. Use another roller, but choose a smaller one. It will enable a smoother finish. Even though how careful you are, the roller will still leave a grainy appearance on the tile surface. Yet, it is hardly detectable and would not bother you as much.
Be sure you have chosen your preferred color. Let it dry for a few hours, then apply the second coating.
In case you are concerned about the paint in your DIY fireplace tile getting too much heat, do not worry. According to paint experts, most high-quality latex paint can resist high temperatures up to one-eighty degrees Fahrenheit.
Step 8
Now the tiles are sufficiently painted and fully dried, then the grout needs to be applied. However, this is optional, and this is only used to fill in cracks if there are any.
Other fantastic makeover ideas for your fireplace
Now you know how to paint fireplace tile. Why not get more great ideas in remodeling your fireplace? This way, you have many options available. In case you do not fancy the new fireplace tile design.
Here are a few magnificent fireplace remodeling options:
Glass doors
It is a wonderful feeling to have a fireplace burning on a cold night. The only thing that can ruin a warm and comfortable atmosphere is an unattended fire that can be potentially dangerous.
If you have a regular custom marble fireplace that runs on gas, you can switch it off once you do not require it anymore. For a wood-burning fireplace, the best way to block off the wooden flames is with glass doors.
You can retrofit your fireplace with it with no problem whatsoever. The glass doors are available in all sizes that can fit any fireplace.
Using tiles created by an artisan
These kinds of tiles are created by hand by the most creative of artists. Each does not look alike due to a particular design idea that needs to be followed. You can use them sparingly or make it a central concept of the fireplace.
Gas fireplace
Another type of fireplace that is on par with wood burners is gas. It still provides you warmth of a cold night but has many bonuses: you do not have to tend it anymore, there is no cleanup necessary, and also provide warmth to the entire house.
In place of real wood, there are ceramic-fiber logs made to look like the real deal, with realistic-looking red-yellow flames dancing around.
Build a mantel
You might think that there can be no possible use for a shelf on top of a fireplace. However, well thought out mantel can bring the needed oomph in the overall fireplace design concept.
The mantel not only provides a place to exhibit your family pictures and many prized possessions but an architectural centerpiece.
There are mantel kits that your screw in together with Phillip's head. You can bring a new look to your fireplace in just a few hours.
You can also opt to scavenge old mantels from salvage yards. They usually come from houses that were recklessly torn down. You might find something of an antiquated appeal.
Changing your clean marble hearth to tile
After painting tile around the fireplace, maybe you can jazz up the hearth by adding new tiles. The entire fireplace will have a clean and classy look the porcelain tiles can provide.
Stones as a total design concept
Real stone provides a particular inventiveness and creativity for the surrounding fireplace. There is a cast-stone that looks like the real deal, with many styles that you can adapt, like river rock or stacked stone.
Using tin-tiles
If you want to add some extra flair to your fireplace, try installing the same kitchen tin-tile used for backsplash as a total surrounding design for your fireplace? It would not take a few days to set up and will add to its cozy appeal.
Use MDF as mantel
MDF (medium-density fiberboard) is often used for the manufacturing of bookshelves. You can restructure it to become a fireplace mantel that is a cheap alternative to real mantel wood.
Replace the hearth with granite
Any fireplace hearth will endure wear and tear as time passes. The bricks will soon disintegrate and stain and soon will accumulate. The central component of the room will become an eyesore.
You can substitute the old broken-down hearth with slabs of granite, which is more appealing to the eye and more durable.
Ideas to design the fireplace
The fireplace is the center of attention of a living room. Designing it should be a top priority so that the homey feel would be present.
How about incorporating an industrial drum with coals inside to become your fireplace? It is a unique design idea that you can integrate into your overall interior concept.
FAQ (frequently asked questions) about DIY painting tile around fireplace
Can you paint tile on a fireplace?
Yes, you can. Tiles are made of porcelain, which is a glossy ceramic material created from clay. You can use either high-quality acrylic latex paint or epoxy paint. There are many other paints particularly made for tiles.
Which paint color is the best one for your fireplace?
It depends on your taste, style, and interior design you want to accomplish. If you want your fireplace to appear clean and fresh, then opt for a lighter tinge. You can choose among the many shades of gray or white.
Is there a special kind of paint that can resist fire?
If you have a stone or brick fireplace, latex paint is sufficient to repel heat. The interior of the fireplace where the flame is burning will get blisteringly hot. You have to apply a high-temperature paint that can resist the highest temperatures. This type of paint does not even peel, chip, or blister, and the color remains as vibrant as ever.
How about a cast iron fireplace: can it be painted?
Yes, you can paint cast iron. Before applying latex paint on the fireplace, use an oil-based metal primer. If the fireplace is a rusty mess and was painted beforehand, use first a chemical paint stripper to remove the corrosive parts.
Can a laminated fireplace be applied with paint?
Yes, you can. You can use latex paint to paint on laminate.
Can you paint over the painted tile fireplace surround?
Yes, you can, and with latex paint. You can choose any type of color that can correspond to your trim.
How about an MDF fire surround (medium density fireboard). Can paint be applied?
MDF is often used in fireplaces as an inexpensive substitute for wood. It is composed of wax, fiber, and resin. Latex paint is compatible with MDF, so it can be applied in fireplaces.