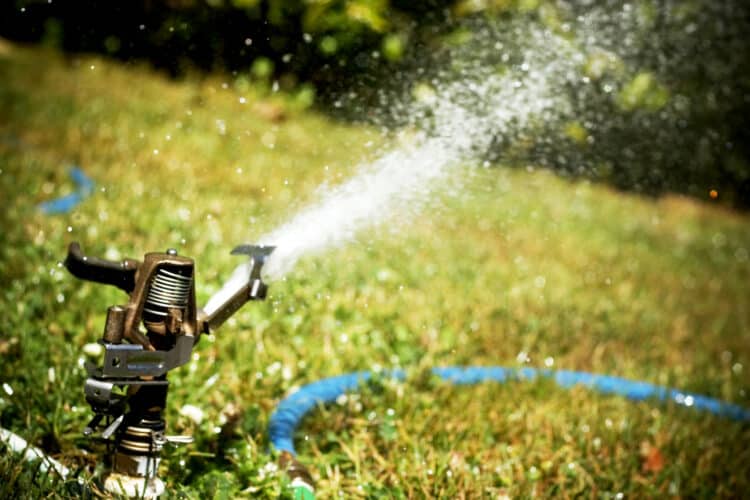 Maintaining a lawn often results in a lot of wasted water. But lucky for you, there's a shortcut to lawn maintenance while conserving water. Simply use sprinkler pumps.
Sprinkler pumps are made to keep your lawn well hydrated without wasting too much water. It saves you the trouble of sourcing water by doing all that for you. It pumps your sprinkler water out from a nearby reservoir.
As pumps do, a sprinkler pump uses enough water pressure to supply an adequate stream of water. It doesn't involve any high pressure that might go wrong with sprinkler heads too. Sprinkler pumps are perfect for you if you have a lawn or garden that needs more maintenance than you can typically manage.
So how do we determine the right sprinkler pump for you and your home? We've cut it down into six simple steps that you just have to follow.
Correctly Size The Irrigation Pump
The first step you need to consider when determining precisely the pump you need will be its size. The crucial factors here are the number of sprinkler heads you use, their water pressure in PSI, and their water output in gallons per minute, or GPM.
This information is essential to your sprinkler head, so you should find the sprinkler head rating information from wherever you purchased it. They may also be engraved on the head itself, or at least known by the technician who installed them. Hopefully, your sprinkler heads are identical and are all of the same specifications.
Getting the specifications of the entire system is a bit different, however. Although the PSI of one sprinkler is the PSI for all, the GPM of the system is the sum of the individual sprinkler GPMs. So let's say that one sprinkler has 3 GPM. If you have five sprinklers, then your system GPM is 15. If each sprinkler's PSI is 30 PSI, you should look for a pump for 15 GPM and 30 PSI.
Although it's possible to oversize the sprinkler pump a little bit, going overboard will damage the sprinkler heads and interfere with the water's actual sprinkle and spray. Simply match your pump to the GPM and PSI of your system as much as possible.
Determine the Power Needed
Like most things around the house, sprinkler pumps need an electrical power source. It's important to know exactly how much electricity they consume, too. It's common for sprinkler pumps to run at 230 volts and 115 volts, also known as being rated dual-voltage.
But if your sprinkler pump is on the bigger end, they might be triple rated at 208, 230, and 460 volts. If such an electrical power source isn't available to you, there are still sprinkler pump models that run on gas. But that might need its gas pump to run.
Determine the Priming Method
Although most pumps nowadays can prime themselves, there are still those that do not. And you may end up with a pump that needs manual priming. If your pump needs to be primed by you, it will come with a priming port and pump housing, which you will fill up to remove the air trapped inside. It's essential to remove that air for your pump to maintain its strength and quality in the long run.
But having a manually-primed pump means accommodating the port and housing into wherever you'll be installing the sprinkler pump. Your pump will also end up needing a foot valve for the suction pipe, which will make the initial priming last longer come installation; with these in place, you supposedly won't have to prime the pump again.
Determine your Sprinkler Pump's Location
The location of your pump will be the foundation of the remaining requirements. Because pumps work by moving water along vertical and horizontal distances, your pump's location is crucial. It can't be too far from the water source; otherwise, it will have a hard time lifting water. It can't be too far from your sprinklers, or else you'll need wider pipes.
Making sure your pump is safe and secure is just as essential. It has to be shielded from any rain or flood-prone areas. It shouldn't be in a hot spot either where it will get warmed up or overheated. Your pump location also has to be large enough to fit in a pump housing or extra fixtures you'll need with it. And it should be accessible to your power source.
Determine the Height of Water Pumping
After determining the size specifications, we move on to elevation specifications, also known as the "suction head." Most sprinkler pumps only accommodate elevations of around 5 feet, but the maximum most go is 25 feet.
Although it may take some physical exertion, it's a simple task to measure the suction head needed. All you need to do is locate your water source and measure how deep it is from your garden or lawn ground level, or wherever you will be placing your pump. That vertical distance in feet is the suction head you need.
Pumps can have difficulty sucking up and pulling in water. You can help this along by placing your sprinkler pump as close as possible to the water source. As long as your pump is in a safe fixture or location, it should be fine.
While pumps have a suction head, they also have a discharge head. Discharge head indicates pushing out instead of pulling in. If you add the discharge and suction head numbers together, that is your total head. The entire head can go up to more than a hundred feet.
Determine the Distance of Water Pumping
So now you know the vertical distance your water has to be pumped upward. What about the horizontal distance the water needs to travel to the sprinkler heads? That distance, called the discharge head, is the third thing you have to consider when finding a sprinkler pump.
If your sprinklers are less than a hundred feet away from the pump, you will only need a regular 1-½" pipe for discharge. Up to 300 feet, you could use a 2" pipe. Past 300 feet, you'll require a 2-½" discharge pipe.
It is the standard measurement for maintaining the right flow to pressure ratio. It also minimizes friction as the flow volume increases. Having the right size for your system prevents any risk of damage that might occur.