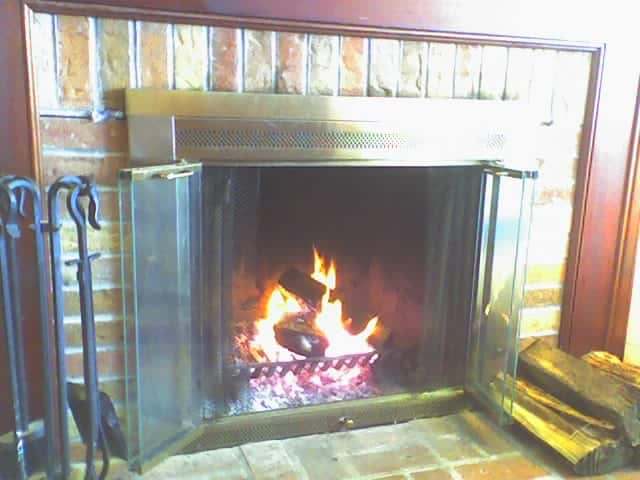 Everyone likes the classic brick fireplaces. It's impeachable and is perfect for any home.
But a couple of years down the line, it all looks different. But not so in the right way.
For starters, you rusty red brick fireplace may start to change its color shifting to red or even a purplish hue. That just about takes the charming and warmth out of your favorite brick fireplace.
Secondly, you can tell the difference between the bricks exposed in the fireplace and the ones covered by the slate tile. It looks like you used two different types of brick.
That is when you start considering to limewashing the brick fireplace. It's an excellent method you can use to give your fireplace the charming, plastered and faded look you so badly want.
But why should you consider to limewash brick fireplace? Read on to find out more.
Why you should consider to limewash brick fireplace
Using lime to whitewash is a natural method that homeowners have been using since forever. It may surprise you to note that even your grandparents and those before them used this method.
So why should you limewash? Here are some of the reasons:
It's a natural method
Unlike whitewashing using paint, this method is all-natural and has little to no environmental impact. It's environmental friendly with no VOCs or other chemicals.
That's because you make limewash by adding water to powdered limestone. When it dries, it forms solid white calcite that can react with carbon dioxide. Simple right?
it's mildly antimicrobial
One benefit of using lime whitewash is its effectiveness to prevent mildew. You can use it in your barn or basement walls if you have a mildew issue down there.
It lasts long
Unlike whitewashing with paint, lime doesn't start peeling or chipping off after some time.
Instead, it can harden your brick fireplace since it absorbs into porous materials. Plus, unless you want to wash it off, it will not do so on its own.
Even so, if you use limewash on the outside of your home, it may gradually wash off with rain.
That's why some homeowners limewash at least twice a year to make it more durable.
How do you make a lime whitewash
Making a lime whitewash is easy with a few steps. Here is how you can create your mixture at home:
Ingredients you will need include:
Five parts (five cups will do) of hydrated Masonry lime or garden variety hydrated lime
One part (one cup) table salt (any will do)
Water (at least three cups)
Instructions to follow:
Mix the ingredients in a bucket and slowly stir. Ensure that you get a thin pancake-like batter that is consistent without lumps.
It is best to wear gloves and a mask While preparing the whitewash. Lime might be nontoxic, but it's still caustic and can cause irritation to your skin or lungs.
How to apply lime whitewash
After preparing the whitewash, it's time to apply it on your fireplace. You will need a spray bottle, gloves, a paintbrush, damp towels and a paintbrush.
However, if there are any areas, you do not wish to whitewash, you need to cover them. That will protect the areas against spills. But in case you miss a place, you can use water and soap to wash it off later.
Now back to applying the whitewash. You need to fill the spray bottle with clean water and use it to mist the area you want to whitewash. You can then dip the paintbrush into the mixture and apply it on the surface.
Ensure that you push it into all the nooks and crannies of the fireplace. After that, please leave it to dry. You can add a second coat (and a third) after twenty-four hours of the previous application.
That way, you get a brilliant white coat of limewash. However, if you are going for the faded and plastered look, you can use the damp towels to wipe off some of the whitewashes as you spray the surface with water.
The result is quite impressive as it exposes the rusty red brick in the spots you wipe. It can take a few days longer than you expect to get the desired look as you re-coat some and wipe other areas.
Can I add vinegar in my limewash recipe
Before limewashing or doing any painting project on your fireplace, it's always great to clean it thoroughly. That is where vinegar comes in.
You can use it with water to remove the stubborn stains from your fireplace for a more impressive look once you complete your limewashing projects. Of course, you should only use it after scrubbing the fireplace thoroughly.
Is limewashing different from whitewashing
In some ways, yes. Whitewashing usually involves using paint to get the plastered look you want and tone down the bricks' natural look.
Limewashing on the other hand uses hydrated lime solution for the faded look. Also, you can remove the limewash after a couple of days (no more than five days) if you do not like the outcome of the limewash. With paint, it's a whole other different story.
What are the pros and cons of limewashing
Limewashing is a great technique. But like all other techniques it has its pros and cons. Here are some of it:
Pros
It's hypoallergenic
Provides a more dimensional look than whitewashing with paint
Inexpensive if you make it yourself
You can quickly remove it
Retains the texture of the brick
Easy to apply
Resistant to mildew, fungi, insects, moisture, and odor among others
Easy to distress the look
It's a natural method
Non toxic
Eco friendly
Cons
The premix can be costly
The color is lighter after it dries (even with multiple coats)
Caustic and can cause irritation
Matching colors is challenging
Needs touching up after at least five years
Needs multiple coatings for best results
What are the alternative options for limewashing and paint whitewashing
If you feel your fireplace deserves a much better painting project and limewashing just doesn't
cut it, you should consider alternative options.
Here are some you can consider:
German smear technique
From the name, you can tell this technique has German origins. Well, you are not wrong in assuming that since it originates from Northern Germany castles. For most parts, this technique
(also known as mortar wash) quite resembles the whitewash technique.
When using this technique, you apply wet mortar to your brick fireplace. This mortar will harden on the surface but not get absorbed into the brick fireplace.
Additionally, if you are looking for a cheaper way of using this technique, its best to prepare the mortar mixture yourself, the pre-mixed mortar can prove expensive and speed up your process.
So what are its pros and cons? Let's find out.
Pros
Requires little to no maintenance
It's more durable
It's cost effective
Provides an old world rustic look
Cons
Hard to remove if you don't like the results
Takes long to apply and its intensive
You can't use this technique if you painted the brick beforehand
Brick-Anew Paint
Whitewashing has several similarities with this technique. However, they still differ in some major ways. For instance, where whitewashing doesn't provide the dimensional look of limewashing, this technique does.
Brick-Anew paint is a product you can use for your fireplace painting project to get a desirable, new and dimensional look. Plus, it still maintains the texture of your brick fireplace.
This technique is for anyone looking for the best of both whitewashing and limewashing without each of these undesirable areas. You do not need a special skill to use it since you get all the necessary step by step instructions.
That way, the project becomes easy and relatively simple to complete. Additionally, the result is marvelous regardless of the color schemes you choose (you can select one of three).
Here are some of its pros:
Easy to apply without requiring any special skills
The kit comes with a month of money back guarantee
The kit includes the tools and materials for the job
Its excellent on previously painted fireplace
Maintain the texture and natural look of the brick fireplace
You can change the color of the brick
Here are some of its cons:
The kit is costly
You cannot remove the painting one you apply since it dries too quickly
Final thoughts
Limewashing is a great way to revive the classic and charming look of your old fashioned brick fireplace. It gives you a more dimensional look than any other technique while still protecting your fireplace from damage by moisture, insects or mildew.
Additionally, you can create any shade you want inexpensively to match your home's theme, look, and design. Since it's environmentally friendly, you do not have to worry about the adverse impacts of using it. If you want to give your fireplace its charm back, you should consider trying limewashing.