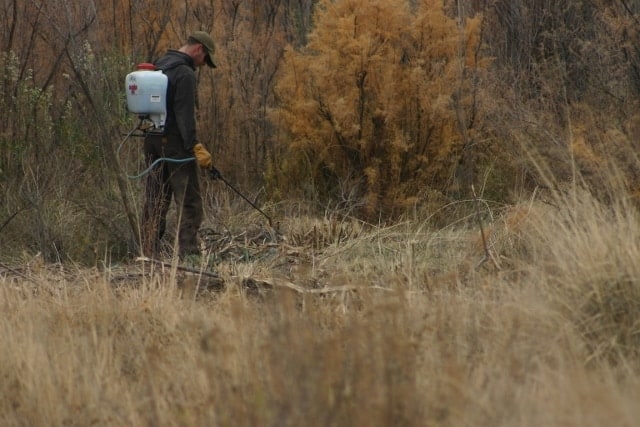 The lawn sprayer is a valuable tool for any gardener. It provides an efficient and easy way of delivering and spreading the right amount of material while keeping you safe.
Lawn sprayers can be used to apply fertilizer, insecticides, herbicides, cleansers, and sealants. The fact that they are affordable makes it possible for every homeowner to own one too!
Lawn sprayer types
There are different types of lawn sprayers available in the market. They differ in the way that they are transported, the mechanism they use, and the amount of material that they can carry.
Handheld lawn sprayers
Backpack lawn sprayers
Wheeled lawn sprayers
Vehicle-mounted lawn sprayers
Tow-behind lawn sprayers
Now, let's go to a more detailed discussion on each lawn sprayer type so that you can easily determine which one is more suited for the outdoor tasks you plan to do.
Handheld lawn sprayers (average price: $70)
The handheld lawn sprayer is the simplest type of sprayer in the market and it is perfect for small lawns and gardens. It is a lightweight device with a tank capacity of 3 to 5 gallons.
You can easily pick it up and carry it around while you work in your lawn. This makes it very portable too and easy to store too.
Handheld sprayers can be powered by gas, battery, or manually. For the manual pump mechanism, the handle is attached to a piston that you pump up and down in order to build pressure for the sprayer's tank.
The handheld sprayer can effectively spray fertilizer and pesticide on a few plants. You can also use it to water your plants.
Backpack lawn sprayers (average price: $135)
The backpack sprayer is great for those who have large yards. They often come with thick, padded straps so that you can carry it around comfortably as you work.
They usually have a tank capacity of 4 to 7 gallons. This is enough for you to work on a large yard without having to do a refill.
Backpack sprayers can be powered by gas, battery, or manually. But since they are designed to cover a large area, backpack lawn sprayers that operate with manual pumps are less common.
Backpack lawn sprayers are perfect for applying pesticides through a medium-sized garden or orchard, fertilizing a large lawn, and carrying herbicide to fix patches of weeds.
The backpack sprayer is a favorite among gardeners and landscaping professionals because having the tank on their backs means they only have to work with one hand. They can easily multitask while going over the lawn. You can also do a more efficient job of tending on your lawn with a backpack lawn sprayer.
Wheeled lawn sprayers (average price: $190)
If you want a tank that has a large capacity but you do not want to carry it on your shoulders, the wheeled lawn sprayer is the better choice for you.
Wheeled sprayers can be powered by gas, battery, or manually. They usually have a tank capacity of 4 to 9 gallons.
The tank rests on a metal or plastic frame that is attached to large wheels for easy pulling and pushing. The wheeled sprayer is best for large lawns, gardens, and orchards. You can also see them being used in public parks, facilities, and small farms.
Vehicle-mounted lawn sprayers (average price: $140)
This is the lawn sprayer that are mounted on vehicles like lawn tractors, garden tractors, ATVs, and UTVs.
Vehicle-mounted sprayers are powered by electricity. The electric motor moves back and forth to create pressure in the tank. They usually have a tank capacity of 15 to 65 gallons.
Same as the first two lawn sprayer types, the vehicle-mounted lawn sprayer dispenses the material through a wand and nozzle. They can be driven anywhere and they can still be used to treat a certain problem spot.
Tow-behind lawn sprayers (average price: $300)
Tow-behind sprayers are also called pull-behind sprayers.
Just like vehicle-mounted gallons, they have a tank capacity of 15 to 65 gallons. The tank is mounted on a wheeled frame that will be attached to a tractor, ATV, or riding mower.
The sprayer gets their power from the towing vehicle. As a result, it gets to spray a consistent stream from multiple nozzles.
Tow-behind lawn sprayers are popularly used for large properties like small golf courses, small farms, and large lawns. Most of the tow-behind lawn sprayer models weigh less than a hundred pounds but always check the weight capacity of your vehicle before you buy one just in case.
Sprayer nozzles
What makes a lawn sprayer different from a hose is the way it sprays – thanks to the nozzle.
The nozzle is the last part that the material goes through and controls the way the material is sprayed. Because of this, nozzles have different kind of shapes and tips.
Here are the different kinds of sprayer nozzles in the market:
Fan tip
Single-cone tip
Dual-cone tip
Shower tip
Below, we do an in-depth discussion about each tip.
Fan tip
The fan tip nozzle is recommended for flat areas. It is also perfect to cover drifts in the surface such as cracks and crevices.
Single-cone tip
The single-cone tip nozzle is best for delivering a fine mist in a particular target spot. This helps wasting any of the material because you have more control spraying it on the target.
Dual-cone tip
The dual-cone tip nozzle is great for delivering a fine mist in the area. The delivery is so fine that it gives out a fog-like effect. It can easily be used if you want to quickly cover a large area.
Shower tip nozzle
The shower tip nozzle is also referred to as the stream tip or droplet tip. It provides a steady and concentrated stream of the material and is often adjustable. This makes it perfect if you need to drench a material that is filled with gravel, bark, or weeds.
Sprayer dispensing mechanisms
The nozzle is attached to a dispensing mechanism that will feed the material from the tank to the nozzle. There are different kinds of dispensing mechanism being used.
The most common one is used on handheld, backpack, and wheeled sprayers. This dispensing mechanism makes use of a long wand with the nozzle at one end and the other is a hose that connects to the tank.
The wand has a button that the user should press to dispense liquid and start spraying. For other models, there is a trigger pull instead of a button. The wand can then be used to navigate and reach into tight spaces while spraying.
For bigger lawn sprayers like tow-behind and vehicle-mounted lawn sprayers, the main dispensing mechanism is called a "boom." This is a long beam that has multiple nozzles attached to it.
There are two kinds of booms: dry and wet. Dry booms carry the material on the tubes that are attached to the beam. Wet booms carry the material through a pipe inside the beam.
Both types of booms are effective enough to deliver the material across a wide area, allowing the user to cover more ground in less time.
Other things to consider when buying a lawn sprayer
Aside from the type of lawn sprayer and nozzle that you want to use, here is a list of other factors that you should consider before making a purchase:
Durability
The durability of your lawn sprayer is one of the most important things you should pay attention to. The materials should be high quality, the design should be sturdy, and there should be UV resistance too.
Lawn sprayers made out of steel are the most durable and because of this, they are also the most expensive. Lawn sprayers made out of plastic are the weakest material but they can last for a good couple of years. It is most suitable for homeowners that have a small yard to work on.
When you are shopping in a physical store, take your time when it comes to inspecting the product. If you are shopping online, make sure to read the reviews and if the merchant has great feedback from previous customers.
Chemical rating
If you are getting a lawn sprayer to handle chemicals, then you should pay attention to the product's chemical rating. Some chemicals can be highly corrosive and you should get a lawn sprayer that can withstand them.
Weight
Lawn sprayer varies in weight. Will you be comfortable lugging one around by hand or by the shoulders? If you cover a wide area, you might want one that has a bigger tank so you do not need to spend so much time stopping and doing a refill.
Maintenance
You should also get a lawn sprayer that is easy to maintain and repair.
Another thing that you should check is if the parts are easily available in case you need to purchase a new one. Take note that a good manufacturer will also have replacement parts available.
Budget
Remember, like most other things, you will get what you pay for. Cheap brands often means low quality.
But you should know that cost is not the only determinant for quality too.
So, you should start with a reasonable budget and see what kind of products you can get on that range.
Lawn sprayer tips
Lawn sprayers make life more convenient but it is important to practice safety measures especially if you are dealing with chemicals like pesticides, herbicides, insecticides, and fertilizers.
Wear protective gear
Chemicals can be harmful when it comes in contact with your skin. It is important that you wear protective gear such as long-sleeved shirts, long pants, goggles, gloves, and closed-toe shoes.
Read the labels
When dealing with chemicals, always read the labels in the package. Follow the directions for mixing, diluting, and spraying.
Take note that all chemicals are different so reading the directions on the package is vital for everyone's safety.
Dilute outdoors
Chemicals can be too strong so some products advise that you dilute them before using. When you do this, make sure that you are in a well-ventilated area so that you do not inhale all the fumes. Better yet, do the diluting outdoors.
Do not mix chemicals
When you are using a lawn sprayer, do not mix chemicals in the tank. The mixture of chemicals can be dangerous and might lead to explosions.
Clean out the tank thoroughly before you use another chemical in it. If possible, get one sprayer each for each type of chemical that you are using since some residue still remain even after a thorough cleaning.
Isolate the area
When spraying chemicals, make sure that the area is closed. Keep your family members, kids, and pet indoors if you are working on your yard.
Do not use on windy days
Wind can be unpredictable. Spraying chemicals on a windy day can blow it to your face or blow the mist in an area that should not be exposed to chemicals.
Make sure that the weather is clear and fine before you bring your lawn sprayer out. It helps to spray early in the morning or late in the afternoon so the spray will not evaporate immediately due to excessive heat.
Don't use on indoor plants
Never use a lawn sprayer inside the house for safety purposes – especially if you are handling insecticide, pesticide, or herbicide. It is best to apply these manually for your indoor plants.
Keep out of reach
When you are done using the lawn sprayer, you should store it properly. Keep it out of reach of children and pets.
Wash your hands
The most important precaution of all, wash your hands thoroughly after using the lawn sprayer.
If possible, take a bath before you do anything else. Eating, drinking, or smoking after you have been exposed to chemicals is not a good idea.
Clean your lawn sprayer
If you want your lawn sprayer to last and perform at its best, make sure that you clean it from time to time. Fill the empty tank with soap and water and then rinse with clean water.
Dirt can damage the pump or clog the nozzle of your spray. If you get a clogging problem, you will have to disassemble the nozzle to clear it and give it a thorough cleaning, so it is best to pick a lawn sprayer that is easy to disassemble and assemble.
You can prevent this from happening if you choose a lawn sprayer that comes with a filter to prevent dirt and debris from entering the nozzle.
Know the right time to spray
The perfect timing says a lot on how effective the material will be. For instance, mosquitoes thrive in the summer so you have to eliminate their breeding places and spray insecticides. Late summer is also the time when bugs and weeds thrive.
Buying the best lawn sprayer
As you can see, choosing a lawn sprayer does not have to be so difficult. All you have to do is be clear on your preferences and know how wide the area of coverage is.
With these tips in mind, you will surely end up with a lawn sprayer that is perfect for your needs.