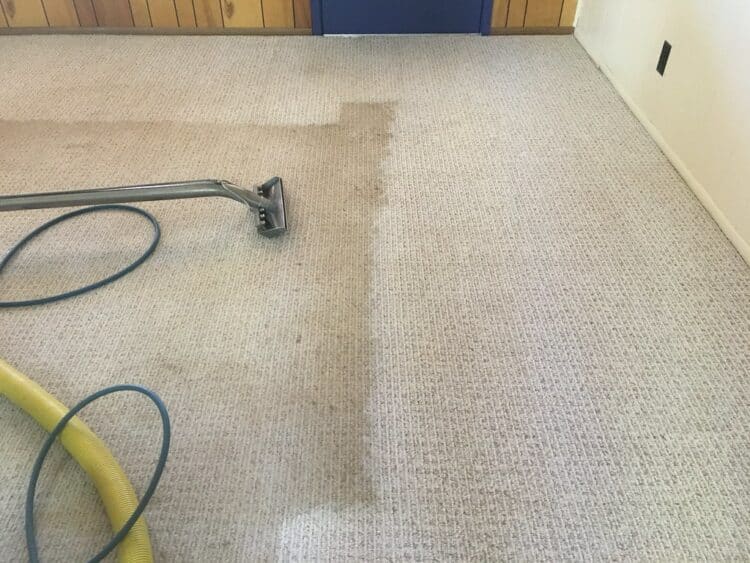 What is steam cleaning?
Steam cleaning is the process of cleaning a carpet by using hot water extraction or, to put is simply—steam. It is considered one of the most effective solutions to dirty carpets.
Nasty stains are easily removed through steam cleaning because it uses a combination of pressurized detergent and hot water to treat the carpet. On top of getting a good scrub on your carpet, the carpet fibres will also look as good as new.
The process of steam cleaning is easy enough to understand. Before you bust out the equipment, the carpet still has to be vacuumed to ensure as little dust and debris as possible is left within the fibres.
A steam cleaner has an attachment that sucks out excess moisture, effectively washing and drying the carpet at the same time. Your carpet will undergo a deep cleanse once it is done.
There are two types of methods commonly used in steam cleaning:
1. Truck mount
A truck mount involves adding a chemical detergent to your hot water and using it on your machine. This is often used in regular homes that are getting their carpet cleaned.
2. Portable extraction
This method is similar to the truck mount but is generally reserved for heavy-duty carpet cleaning projects. It uses industrial-sized equipment and is meant for carpet surface areas wider than your average household carpets.
Pros and cons of steam cleaning
Pros
It is more effective in deep cleaning carpets

Steam cleaning greatly improves the quality of your carpet compared to other types of cleaning methods. It "revives" carpet fibres so that they look brand new.

If your carpet hasn't been washed in a long time and has stains you don't even remember, then a steam cleaner can give it the deep cleansing it so desperately needs.

Bacteria, dirt, pet scents, etc., are lifted once your carpet undergoes a steam cleaning. Not only does it clean and disinfect your carpet, but it also restores it to its natural beauty.

Reduced exposure to harmful chemicals

Once a steam cleaner cleans your carpet, it sucks out the moisture it leaves behind. Not only does this give your carpet a quicker drying time, but it also removes traces of the harmful chemicals it used during the cleaning.

Other carpet cleaning methods usually leave behind larger residues of chemicals that can prove harmful to people who have allergies.

Leaves behind no residue

We've said it before, and we'll say it again: the only residue a steam cleaner leaves behind is the smallest amount of moisture. Say goodbye to the carpet stains that have been in your carpet so long, you've given them a name.

Allergy-friendly

Some households have family members who are sensitive to certain scents or have allergies. Thanks to the deep cleaning you get from using a steam cleaner, you can rest assured knowing all scents, dust, and bacteria in your carpet that contribute to the allergies will go away.

It takes less effort

You can hire professionals to do the carpet cleaning for you. Since steam cleaners usually require specialized equipment, not everyone is willing to do it on their own.

By using a carpet cleaning company to steam clean your carpets, then you can sit back and chill as they do all the work for you.
Cons
Expensive

Hiring a professional carpet cleaning company doesn't come cheap. Although you are no longer burdened with the task of cleaning your carpet, a hefty price will have to be paid.

Costs usually depend on the size of the carpet you want to have cleaned and how deep the cleaning should go. Sometimes, the damage is so great that you need to have it steam cleaned twice.

Expect to shell out money anywhere between $175 to $650 to have all the carpets in your household steam cleaned.

Regular steam cleaning wears down carpets

We don't recommend steam cleaning for carpets with natural fibres because they are generally more sensitive to chemicals than synthetic carpet fibres.

Using a steam cleaner on natural fibres can degrade their quality, and add a replacement carpet bill on top of your steaming services bill.

Because of the deep cleanse steam cleaners can do on your carpets, they can wear down even synthetic carpet fibres if you regularly have them cleaned this way. They are best meant for carpets that have severe staining.

Longer drying process

If you are DIY-ing your steam cleaning, expect a longer drying time. Professional cleaning companies usually leave you with a drying time of 3 to 6 hours, but this can take longer if you did it yourself by renting out the equipment.
What is dry carpet cleaning?
Dry carpet cleaning is another method of cleaning your carpet. In contrast to steam cleaning, dry cleaning your carpet only uses small amounts of water to either supplement or remove the chemicals you are using.
Below are some ways to dry clean your carpet:
1. Bonnet pads
Using bonnet pads involves the same process as applying the dry foam, but as you vacuum up the residue, you add a bonnet pad below it. While vacuuming, the add-on bonnet pad absorbs any dirt that your vacuum was unable to pick up.
You can reuse bonnet pads, which makes them a cost-effective cleaning option.
2. Dry foam
In this method, you apply shampoo to your carpet and then let it dry out. After a specific amount of time has passed, you can run a vacuum across your carpet to remove the dry residue left behind.
This is often the most common dry carpet cleaning method because it's quick and easy to do with little to no mess at all.
3. Dry compounds
Just like the dry foam method, you spread a biodegradable compound across the entire carpet and give it some time to absorb the dirt. To finish this method off, run a vacuum on the carpet to remove the compound and the dirt it has latched onto.
4. Oscillating pads
You need an oscillating machine to do this method of dry cleaning. First, a balanced pH solution is sprayed across the entire carpet and left to dry.
The solution is meant to react with the carpet fibres to loosen and agitate dirt. Once you're done, you have to run an oscillating machine across your carpet to give it a deep clean.
Pros and cons of dry carpet cleaning
Pros
Affordable

This is one of the most cost-effective DIY carpet cleaning projects you can choose for yourself. You can either buy the chemicals you need from the store or hire a company to do the work for you.

Since it doesn't require specialized equipment, rates can be as low as $30 per hour. Other materials involved in dry carpet cleaning include carpet compounds and shampoos that can last you months, depending on how often you clean your carpet.

Quick and easy

Since you aren't using a lot of water to clean your carpet (sometimes you don't use it at all), you don't have to torture yourself over an hours-long drying time.

A lot of options

We outlined a few options for you to choose from above. Go with what you believe your carpet needs. You don't have to rent equipment because most methods are achievable with your common vacuum cleaners.
Cons
Exposure to chemicals

This is the most obvious drawback of dry carpet cleaning. Since you don't use any moisture to dilute the compounds or chemicals, traces can still be left behind.

Residue can build up over time

As you keep on dry cleaning your carpets, trace amounts of residue are left behind after every cleaning—it's unavoidable. This residue can build up over time and damage your carpet.

It can also trap dust within the carpet fibres, making the carpet dangerous for people with allergies or children.

Doesn't clean as deep as steam cleaning

If your carpet is one big stain, don't expect the problem to solve itself with this method. It isn't powerful enough to give your carpet the deep rejuvenation it needs.
Steam cleaner vs. carpet cleaner
Overall, it depends on what kind of carpet you have and how much time and effort you plan on dedicating to your carpet cleanse.
If you only want to target a few stains or you don't have the time to keep your carpets untouched to allow them to dry, then opt for a dry cleaning method.
However, if you have thick carpets, allergies, or sensitivities to chemicals, then the steam cleaning option will suit you best. You have to remember that steam cleaned carpets need a few hours to dry and must not be touched within this timeframe.
Conclusion
In the argument of steam cleaner vs. carpet cleaner, the final decision falls on you, your budget, and how badly your carpet has to be cleaned.
Most people would opt for the steam cleaning method because of its deep cleansing properties, while others prefer a dry carpet cleaning method because it doesn't take as long and affordable.
To cut down on costs, we recommend having your carpets cleaned by professionals at least once a year.