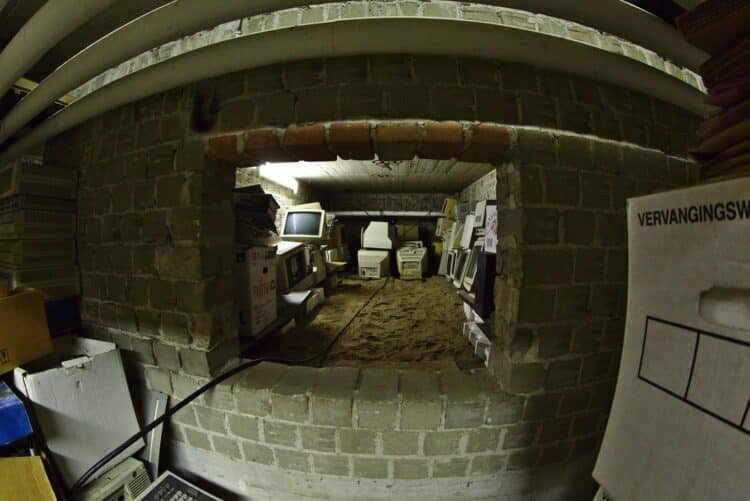 Do you have water in crawl space areas of your home?
Below many houses in their basements are dark and creepy places that are often not given any attention and cause massive headaches: crawl space problems. If you refuse to acknowledge its existence and not think about its potential danger, then something worse is bound to happen.
If you ignore it, undetected leaks might seep in from unknown sources, which might cause standing water.
Some homeowners have yet unfinished crawl spaces where there is ground soil, electrical wiring, and water pipes going across each other. The liquid will find a way to get through, and the piping containing water might also break apart, adding to the problem.
Is water in crawl space normal?
Every below the flooring crawl space is going to have some form of water in them. It is a common occurrence, especially in places with humid weather conditions.
Getting a handle on moisture in your home is essential in avoiding any water-related issues. It will always happen in homes because rainfall will happen one way or another.
However, when it becomes standing water in the crawlspace, then it will be a problem.
It will then lead to more issues. The crawl space location is within the foundation of a particular home.
If there is too much water there, it will cause harm to any of the housing component made of wood and greatly diminishes the strength and shelf life of the foundation.
Water will lower your home's structural integrity, thus making it unsafe to live in.
Is standing water in crawl space under the house not good?
There are many answers to this question because lots of issues come into existence because of it.
Concrete walls are similar to sponges, wherein it is porous. It would be very apparent in areas where it should not happen, like underground basements, the concrete support in the foundation, and the walls in crawl spaces.
As time passes, concrete will lose its durability and strength and becomes softer. It will allow any form of liquid matter to pass gradually in. As it goes through, it will cause compression and expansion of the walls, which will lead to fractures and cracks.
If the foundation supporting structure in your home lies in a marshy ground for a long time, it will begin to bend out of shape, twist out of shape, and eventually lose the structural integrity.
Creepy-crawlies are attracted to wet crawl space like moths to a flame. Standing water is the ideal breeding ground for them. Even the tiniest of plant life can find a way to make it a home.
The most terrible of the pests—termites—will find that area a wonderful place to live and wreak structural havoc on your home.
A crawl space full of water can also be inviting for mildew and mold to grow and reproduce. The two are harmful, but one more than the other.
Mildew is less harmful because its lethality is only superficial and does not cause too much damage. With mold can reproduce and become a fungi infestation.
Both can destroy any wooden component of your crawl space and the rest of your house and can also incur catastrophic effects on your health.
What are the reasons why there is water seepage in crawl spaces?
What usually happens when there is standing water under the house is because of heavy rain. It will pool and find a way on the crawl space.
Another is due to having an inclined soil formation, which results in the creation of puddles on and around the foundation walls and finds a way inside your house.
Before water is absorbed into the ground, it will form into large pools around your home. Once the soil is infused with water, it does not disappear. It will find a way into the crawl space location through concrete wall fissures and the flimsy foundation.
Water under crawl space has many ways to get there. Here are the reasons:
A water pipe either breaks apart or leaks
Condensation
The floor, walls, and joints of the mortar mixture has cracks within
Raised water table
Malfunctioning water heater
Water sewage has backed-up
Below the house condensation has become a major issue for many homeowners. It can come from leaky ductwork, bad ventilation, or air for the outside invading through the vents.
The air below is always warm. Whenever the air is systematically cooled by the vents, it becomes dewy and condensates. It is where the temperature in the atmosphere reaches a saturation point.
The average air outside is always cooler compared to the stagnant air in the crawl space. Cooler air passes through the ventilation and goes below. Condensation occurs and becomes a problem.
Wall fissures are a chief reason why there are puddles in crawl space. The same thing with flooring, If it is either cracked or damaged, the liquid could look for a way towards the crawl space.
A water table is a surface below the ground that is water-saturated. When it increases, it emerges into the soil and becomes wet dirt in the crawl space. It will then form into water pools that will cause harm to the foundation.
Heavy rainfall is a usual reason for a water leak in crawl space. The soil will saturate and becomes like a swamp. It will create a pool, which will find a way inside your home.
Lastly, flooding on the surface is the direct result of hard rain. It will become a problem if it is not channeled away from the house. A downspout is an appropriate tool for the task of directing water away.
Finding out the source of the watery issue
The first thing you need to do is make sure that there are puddles in the crawl space, which means that standing water is also present. You will need to find a solution to this.
There a few methods to determine where the accumulated water comes from. Once you check and there is no water pooling under the crawl space, and excessiveness of moisture can be a start of a major problem in the future.
To know where the problem is, you need to ask yourself these questions:
Can you see with your own eyes that liquid leaks are dripping from water pipes? Can you hear the sound of drippage?
Go upstairs to your house and check the faucets and pipes. Observe the condition of your flooring. Do you see watery spots on the wooden floor or carpeting?
If you have gutters and downspouts outside your home, also check on them. Can you see anything defective, broken apart, or missing?
If you cannot see or hear any small puddles of water in the crawl space, but you are still suspicious that it is still present, then use your nose. Do you smell something strange?
If the smell has a particularly strange and musty odor, then the root cause might be mildew or mold. Look at the wooden components. Do you see any furry coating that has blackish, greenish, or grayish coloring?
To comprehend the full extent of the situation, the best thing you need to do is make an overall inspection of your home. Go to any room, check on any corner and look for any sign of moisture that is not supposed to be there.
It is specifically done to aid your imminent crawl space issue. You can also consult with professionals. So you will know where exactly the problem is.
Water in crawl space solutions
If you do not intend to hire a professional and want to handle this issue on your own, there are a couple of DIY solutions that you can try out. These can either slow down the course of action or stop it from happening.
Thorough moisture cleaning
A wet-dry vacuum will do the job of cleansing the crawl space from any potential moisture from occurring.
If you hardly see any water present, then the wet-dry vacuum is especially handy for this situation. Its house will look for any water present and sucks it out and disposed of elsewhere.
After the water is extracted, do not permit the crawl space to dry out with the air present. Concrete holds moisture for long periods because of its cold nature. Wood also has a way to absorb liquid quickly after coming into contact with it.
Even if you have cleansed the area of all the liquid refuse you can find, moisture will remain because of the damp environment.
In this situation, a dehumidifier will dry out the area in record time. It will take out the dreaded air moisture and halt the proliferation of mold and mildew.
If your solution is to only clean the crawl space of any liquid, this will not stop the matter from happening again in the future. There are other issues you need to examine and likely find a solution to prevent it from resurfacing.
A sump pump does not always work for water in crawl space
The sump pump does not work in all situations. One thing that is not useful is when flooding happens in the crawl space.
It is equipment that needs to be in the proper conditions for it to work well. If the crawl space puddle has a large and deep enough water hole where it can submerge, then it can do the task that it is meant to do.
It needs to have water that reaches a particular height, which it drains with its float arm. If the puddle has these conditions, then you can use the sump pump to remove the water from the crawl space.
Ventilate it properly
Most homes have ventilation that reaches the crawl space. However, if your home is not well-ventilated or does not have any ventilation whatsoever, this is an invitation for moisture to make an appearance.
Most crawl space water issues like moisture come from the wetness in the soil. Proper ventilation will permit the moisture to leave the premises and bring fresh air inside.
Sometimes, in doing this process, cold air will come in, which will form water as the temperature lowers. To avoid this from happening, your ventilation system must be of a dependable kind and stops this from occurring.
Encapsulating and waterproofing
Another option to halt groundwater in crawl space from occurring is the methods of waterproofing and encapsulating. It is a way to seal off the location from hazardous elements coming from the outside and going inside.
Waterproofing professionals will likely evaluate the crawl space and find out where exactly it comes from.
To solve this, they will suggest that you either need to dig drainage ditches, drain any puddles formed near concrete walls, or setting up a sump pump with a crock for the passage of water.
If the water is encapsulated crawl space has become extremely bad, you install a "basement waterproofing system," which includes (as mentioned above) the drainage system and the sump pump.
Benefits of waterproofing and encapsulating
There will be structural integrity in your home because it keeps the crawl space adverse to water and keeps the ground dry. Soil that is not wet can support the weight of the house.
You can save on electricity. When there is moisture in the air because of the hot and humid climate, it will be harder to make your home cooler and will take up more energy. If your home has already been waterproofed and encapsulated, humidity is lowered, thus also lowering your electric bill.
Mold, mildew, and pests would disappear. Once your home has been equipped with both preventive measures, those deterrents will disappear and discouraged from ever appearing again.
Vapor barrier
The best solution to halt the moisture from coming into the crawl space location is to set up a vapor barrier. It is a type of material that is resistant to water.
The material for this either foil or plastic sheets, which are blanketed over the whole crawl space area to seal it out from any moisture coming in. It is another form of encapsulation, but more effective than the others.
The vapor barrier does not only protect your brick crawl space from issues with wetness, but it allows for the area to look clean and properly finished.
Support piers
If issues are coming from the structural foundation, the best option is to support piers for your crawl space. There are great products available in the market today, like "Steel Push Pier" or "Helical Pier" which will function especially great to help carry the weight of a weak crawl space.
Both work efficiently by being driven deeply into the shifting soil that is causing the issue. Helical piers, instead of merely being driven, are screwed tightly into the soil to allow for stronger support.
After the piers are planted firmly into the ground, the weight of the structure is directed towards them. The weight is distributed, allowing for the structure to return to its original place.
Wet crawl space repair cost
If the water in the crawl space after the rain has done much destruction to the structural foundation, the cost will directly be related to the issue at hand.
Standing water is an especially troublesome issue that needs to be resolved immediately. However, the expense of fixing this will range from a few hundred dollars to more than a thousand. The exact costing would depend on your house, the problem, and the materials and tools needed to fix it.
The job entails the removal of the troublesome water, fixing the entry source, repairing any damage to the foundation or wood, and stripping away any growth of mold and mildew present.
Waterproofing is the best option for fixing this, which will have an incurred cost.
What you need to know about insulation
If you decide to renovate the crawl space, you should think about installing proper ventilation. It will turn out to be advantageous because it can remove moisture.
Beneath the subfloor right above the crawl space, fiberglass insulation can be installed. Make sure it is secured and entirely blanketed with a vapor barrier. This process is crucial to prevent the growth of mold and mildew that is likely to follow.
If you opt not to ventilate it, the crawl space walls should have proper insulation instead of insulating the subfloor on the above room.
A summary
If you are a homeowner, it is of utmost importance to maintain a crawl space in your home. Even though you might think that it has no use, you still have to protect it.
The electrical wiring, plumbing, and whatever items you own can be stored there. So your job as a responsible homeowner is to keep the area as dry as possible.
Now you know of the kinds of crawl space issues that can potentially happen in your home. You have the proper know-how on the many solutions in what your house may need.
Whenever anything happens that might result in your crawl space being flooded, then you are prepared to deal with it and fix the problem immediately.