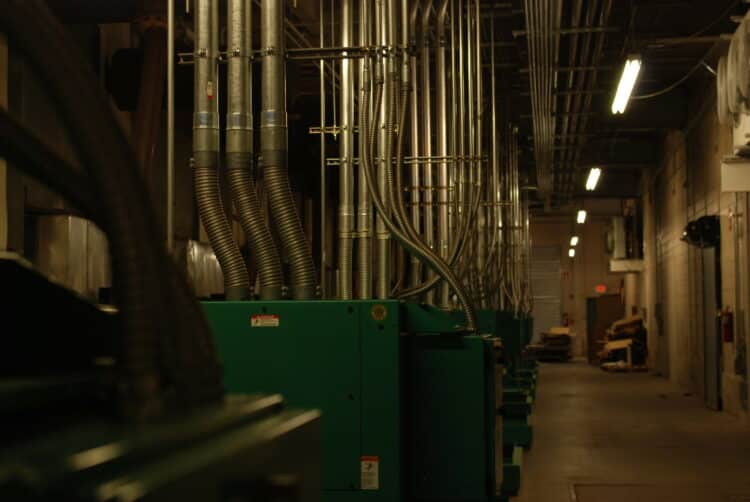 Every year, there is at least one season that is more prone to power outages than usual. During a huge storm, losing power often results in a heatless house, fire hazards with candles and lamps, the hassle of recharging devices, and the danger of food spoiling in the refrigerator–not to mention the absence of the internet.
Many people have turned to using portable generators in tight emergency spots. However, nowadays, a portable generator won't cut it anymore. Especially if it relies on gas, you may not have enough fuel reserve waiting in your garage. Even once your portable gas generator is up and running, it only permits you the refrigerator and a couple of other appliances. It's not the ideal situation to put up with during a storm.
If you don't want to put up with this kind of inconvenience, it's time to look for your very own standby generator for your home. A standby generator remedies most of the inconveniences of a gas portable generator. The best kind will be a perfect fixture for your home.
Finding the Right Home Standby Generator
Here are some advantages to shifting to a home standby generator.
Convenience: While portable gas generators force you to fuel up, untangle cords, and plug-in, a standby generator bypasses most of those steps and turns on once your power goes out. If installed correctly, it automatically begins powering your refrigerator, aircon, and most house circuit systems such as the internet.
Safety: Like we said, no cords or gasoline. It means much fewer risks and hazards too. If you make sure everything is safely installed before a blackout, you have much less to worry about during the actual moment of need.
Value: The upfront payment for a standby generator may seem hefty, but think of all the time, effort, and money you save with it in the long run. You no longer have to buy gas and expend stress making sure it will work once a storm hits. The right generator will show you again and again just how worthy of an investment it is.
How To Choose the Perfect Standby Generator For Your Home
If you're confident a standby generator is the best choice for your home, it's time to start looking for one. Here are the essential things to consider when looking at standby generators.
Know your fuel type
Although standby generators won't require you to gas up every time, they still have to run on something. If you're looking at a generator under 22kW, it likely runs on LP or NG, liquid propane and natural gas, respectively. Some generators do use diesel, but they are more expensive.
Aside from fuel source, consider how large a tank your generator uses and the gas lines and meter involved. The contractor is likely to inform you about this before they help you with the installation.
Know your electricity needs
Your generator has to be big enough to accommodate everything you want to power during a storm. Do you only want to power up the essentials like heating or cooling systems and your fridge? Or do you want to power everything from lights to wifi to your PC as well?
Generators are usually classified by kW, which stands for kilowatt and is equivalent to 1,000 watts. Your appliances also have their own wattage ratings. If you add together the wattages of all the appliances you want to be powered during a blackout, that sum is the minimum kiloWatt amount your generator should have.
Some other appliances, such as central aircon systems, use Tons or BTUs in their data plates to equate for power usage. 12,000 BTUs per ton is equivalent to 3.517 kW of electricity. Some air conditioners will be labeled on their data plate as 3-ton or 36,000 BTU. Converting that into kiloWatts, you will end up needing a generator of at least 11kW just to power the aircon system.
Pick Your Transfer Switch
Generators still need switches. But switches can be automatic. Compared to a manual one, an automatic transfer switch can be installed to turn on if it detects a power outage. It detects this through a sensor that continuously checks whether power is being brought into your home systems. If it senses a power disruption, the switch disconnects the generator from the main power line and connects your house's electrical panel.
Of course, there are many transfer switches to choose from. The thing you have to pay attention to most is your electricity panel's amperage. If you look at your electrical panel, there is a pull-out panel near the top. It will have the amperage information you need to choose a transfer switch.
If your panel says it has a 200-amp main breaker, try to match the transfer switch to 200 amps directly. It will give it a smooth transition from line to switch to electrical panel.
Remote Detection and Monitoring
Some new standby generators now have wifi built into them. Being on standby, the wifi will automatically activate once a power disruption is detected. There are even ways to install this remote wifi feature into older generators that don't have it yet.
Find a Standby Generator Now
As with most disaster preparation, you don't want to wait till the last moment, and especially not until the disaster happens, to prepare. Having a standby generator in your home way before a storm occurs is a smart move to make. It means safety, security, and convenience. Remember that buying a generator can take weeks of canvassing, delivery, and even a bit of a wait for installation. To prevent further delays, it's best to start looking for one now.
We've shown you what you need to consider when choosing a standby generator for your home. With this information, we hope you'll also know how to install and maintain it. All you need to do is read our guides and posts on generators. Stay informed about the best generators on the market.
If it's time to get one for your home, we're sure you'll be able to find the perfect one. Losing power during a storm will soon become the least of your concerns.