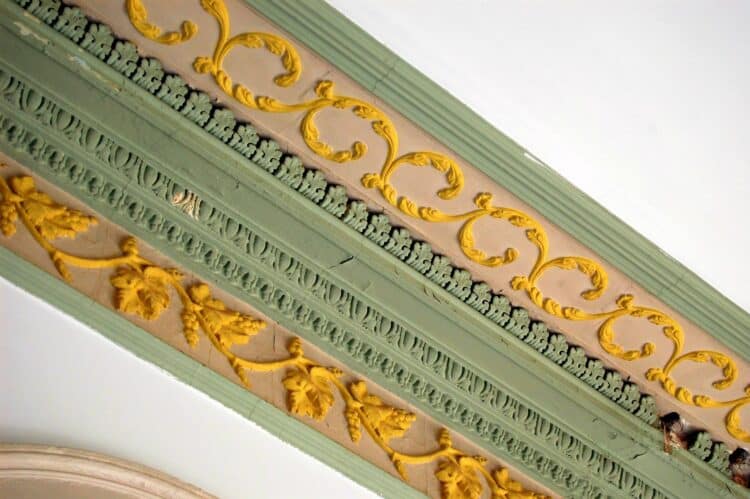 You have always heard of this before, but you do not know what exactly it is. What are crown molding profiles, anyway?
It is a kind of cornice made from ornamental molding that is set between the ceiling and wall. It provides a refined appearance, which contributes to the elegant style of an interior space like a hallway, bedroom, or dining area. It offers a majestic connection between the wall and ceiling and allows for a break from sharp corners.
A short history
Ancient Egyptians have the distinction of inventing the first ornate crown molding carved from large rocks. They used it to adorn their building columns and exteriors.
The ancients Romans and Greeks followed suit. The difference is, aside from stone, they also utilized marble.
Architecture historians also found out that the first-ever decorative crown molding was not installed but painted on. The Greeks were responsible for carving out the patterns for cosmetic purposes.
In the 14th century, the French people elevated the art of crown molding decorative designs. Their particular style was carved wood crown molding paneling.
Before the 18th century, all types of molding was manually created piece by piece. It was a costly and tiresome process, which is the reason why only the wealthy upper crust could afford it.
Then, the invention of massive "planing" machines made the task of creating elaborate crown molding easier and more affordable.
Molding and crown molding
The term "molding" refers to any ornamental flourishes done within a living space. But molding done on the edges of the ceiling is categorized under "crown molding."
However, "millwork" specifically means woodworking done by a machine mill, including molding, furniture crafting, etc.
Does decorative ceiling molding have a purpose, or solely for ornamentation?
From its inception, adding intricate crown molding to the interior of a living area was for pragmatic purposes. But people wanted it for decoration later, yet the practicable functionality remains.
From the start, it was utilized to cover the spaces where different construction materials were incorporated together. There were always small gaps where the ceiling and the wall link up, so one creative worker thought of adding a piece of wood to cover the glaring cracks.
As time passed, someone thought of making an intricate design out of traditional molding.
Its other benefits
Aside from its original function, it has other ornamental flourishes that are beneficial in the overall picture. It provides a pleasant distraction from any unfit elements appearing on the decorative crown molding corners like peeling paint and cobwebs.
It has a way to trick the eye making the ceiling appear to be higher than it is. It will make an old faded house appear antiquated and purposefully old-fashioned.
Types of decorative crown molding based on material
Wood
There are a few wood crown molding profiles, which have traditional uses. It is a material that is not difficult to set up and does not have problems with cracking.
Hardwoods like mahogany and oak are used most of the time. It gives off a natural look and adds warmth and color to a living area. You can make any crown molding designs out of it because a router can cut out intricate patterns.
Softwoods like aspen and pine are a cheaper option because of their abundant supply. They are also used as an alternative to hardwoods. It is not as difficult to cut and shape and looks great when painted. A router can also create intricate patterns out of it.
The outward appearance of wood is often imitated by other materials with crown molding patterns. It can firmly hold the edges and permits an elaborate visage with hardly any difficulty encountered.
If you prefer the natural wooden appearance, some hardwoods can be easily stained, which can add to the rustic ambiance of your home.
Yet there are a few disadvantages. Wood can sometimes be infuriating when cutting since it can be a little complex in making elaborate designs. Places with unstable weather conditions should not use wooden crown molding options because they will shrivel up and swell.
Medium density fiberboard (MDF)
MDF is a great and cheaper substitute for wood. It comes from a resin material, wax, and sawdust. It is a stable material for creating crown molding shapes and does not break and splinter when fitting it in your home.
It is available in different profiles, so many homes use it. Some even can be stained, which can be ideal if you do not want to paint it.
Resin crown molding is used typically for cabinet doors, kitchen areas, and bathrooms. It accomplishes a better finish due to the resin material.
If the type of MDF you have purchase does not include veneers, you have to paint it. If you have a very light variety, you have to exercise caution because it is sensitive and can easily be dented and broken.
It can easily be scratched and damaged. When this happens, you cannot sand it down like wood, so you have no choice but to let it remain. It also can be damaged by sunlight, which makes them disadvantageous for outdoor use.
Polyurethane
This all-around material is mostly utilized in many homes for crown molding styles and designs. It is cheaper than wood and has the advantages its wooden counterpart does not have, like the stability and repellence to rotting and damage from insects like termites, beetles, and woodworms.
It is also resistant to liquids, which is perfect for rooms where there is a lot of water passes through, like bathrooms and kitchens. It is a lightweight material, which makes it very easy to set up.
It is also resistant to the weather elements and from erosion and scratching. It makes it more durable than other regular crown molding profiles.
It can imitate wood and can be installed and painted similar to it. It is already primed when you purchase them, so you only have to put paint.
It is softer compared to wood, and it can nick and dent. It is usually manufactured in the color white. You can only paint it and cannot be stained, so you cannot mimic the wooden coloration.
Polystyrene
This kind of flexible crown molding is ideal if you are in a rush to finish a particular interior setting that needs minimal work. It is relatively cheap and made of a foamy and lightweight material, which can be cut with scissors and a sharp blade. It can be set up with ease without the use of nails and only adhesive.
Since it is easy to set up, that means the edges could not be finished, in a way that other molding types could. It can look appealing from afar, but upon closer inspection, you can tell that the texture is not quite similar. Mistakes can be glaring.
Plaster
Plaster is a solid crown molding selection if you are free to spend as much as you want, without the constraint of budgeting. You can cut and design it to anything possible since it is very pliant.
You can adapt the pattern of Greek crown molding or Rococo and Baroque themes without any difficulty. This material would not shrink and bend out of shape.
It is a very durable material and ideal for people that live in harsh weather conditions.
There a few disadvantages: for one, it is expensive. Another, it is made to order, which is the reason why it is costly.
Plaster molding is not available at your local hardware store, and making it is a learned task, so you need to look for someone who knows how to make it.
Also, it is a weighty material and breaks easily. So if many people know about plaster, then they would know how to handle it.
Vinyl
There are types of vinyl trim that you can use for your home. It is relatively inexpensive to purchase and especially suitable for places where water and moisture are apparent.
This type of plastic polymer material is ideal for installing in bathrooms where you would not be concerned about damage due to rotting or warping.
You are not able to create intricate crown molding designs and also make painting hard because the paint has a difficult time sticking on it. Yet you still have to paint it since you can see its luster of plastic.
Plastic
Crown plastic moldings are necessary for homeowners that worry about moisture in their living space, which mildew can appear and cause rotting. It can easily crack and might cause installation difficulty.
Since it can easily fracture, you have to drill openings on them because without doing it, hammering a nail through them will cause breakage.
If your ceiling and wall are uneven, you have to choose different types of crown molding because plastic will break in two if you try to bend it too. A flexible molding type would suit this situation.
A disadvantage for this molding type is that paint is not compatible with plastic and has a hard time sticking to its surface. However, if you still intend to use it, you should be aware that plastic emits harmful gas once heated.
The best thing that you can do is to use it sparingly, as a central portion or in an interior block and not the whole surface wall area.
Polyvinyl chloride (PVC)
This material is also made from plastic and is ideal for areas that are often exposed to wetness and humidity, like kitchens and bathrooms.
It is relatively inexpensive and does not have elaborate designs, so you should paint it to look appealing. It is very tolerant to mildew growth, rotting, and warping.
Exterior crown molding styles are limited for PCV because of how it is made. It only allows for a small range of design options. Even though paint hardly sticks to it, you still have to paint it to cover the plastic sheen.
Metal (aluminum, steel, copper)
These types of molding styles are not used often. However, if you want a non-traditional look that may look unconventional, then the metal is the right one for you.
Stainless steel crown molding has an atypical appeal, unlike the other types. It is mostly used for its ornamental accent for the interior, and exterior corner surfaces to do away with miter joint cuts.
Steel cutting blades are utilized for cutting, which can be done easily. This material is featured in many living areas like workshops, retail stores, kitchens, garages, trade shows, and offices.
However, installing it yourself will cause you difficulty, so you need a professional to do it. You have to ensure that no damage will come to it so as not to ruin the overall effect in your home.
Metal tends to tarnish due to oxidation. So you need to think about your environment, the type of weather you always have, and your overall home design before setting it up.
Composite
There are many kinds of this molding type that are readily available for sale. It is a cheaper option compared to the others because of availability.
Other kinds mentioned above, like vinyl, PVC, polyurethane, and polystyrene are included under the "composite" type. So if you are looking for trim that would not warp and rot, the "composite" term will grant you a wide array of selections.
Prominent attributes of crown molding profiles
You might be asking: "What type of crown molding should I use?" You have to know its many features so you can make the right decision.
Flexible
This flexible crown molding type is ideal for home areas that have window bays, doorways, and curved walls. It can be bent and do not break without resorting to cutting.
The material used is a kind of polyurethane that comes from a polymer resin. It is specifically created to be able to bend and curve into allowable shapes to fit the general design of the room.
This material is utilized by builders that are in a hurry and do not have time and money for cutting and shaping it.
It is a costlier option than the others because of the kind of material it is derived. Also, it is made to order and has to be customized to fit whatever the homeowner requires.
For decorative purposes
If you are looking for a way to add some pizzazz and personality to your living space, then you should consider using crown molding profiles that are highly ornamental.
Although this option would incur a massive expense compared to ordinary and functional ones, esthetically designed crown molding ceiling designs will draw attention. It has a way to make a once ordinary-looking room into an extraordinary one.
A good interior designer can choose a decorative crown molding that would fit the overall home motif and make sure it would not clash with the other elements. Or else, it might run the risk of looking out of place.
Utilizing recycled trim
Environmentally-conscious homeowners will opt for simple crown molding profiles made from recycled materials or were previously utilized.
It is a great cost-cutting measure if you still want your living space to look great and not cheap-looking. It is also a great way to help the environment.
Already pre-primed
If you are in a rush to finish the interior of your home, then you need snap on crown molding that was previously pre-primed. It will allow you to paint it immediately without putting primer beforehand.
Previously primed craftsman style crown molding profiles are usually available in a lighter color. So if you are opting for a darker motif, then this option might not fit you.
Made by hand
The advantage of handmade crown molding profiles is that they are unique to your specifications and are made to order. Due to that, it will come at a high cost. However, the uniqueness will set it apart from the other types.
If you select this type for your home, then you are not bound by the constraints of the usual decorative ceiling molding. You are free to get whatever conception you desire and not to adhere to any standardized décors.
Since this option is more expensive than the others, it is advisable to have this in smaller spaces because of its complication in creating. Also, fewer but beautifully carved crown moldings in a limited area will deliver maximum impact to the overall motif.
Crown and trim design to hide wires
This type is ideal for homeowners that have entertainment or sound systems, which are essential fixtures in their houses. Along with it are ugly-looking electrical wire that needs to be hidden.
These kinds have a built-in space behind for the wires to pass through and therefore hide them. You can let wires run wherever necessary with minimal effect on the overall motif. It has the added benefit of keeping the potentially harmful wires on the floor that may cause accidents.
Types of molding styles based on design
One-piece crown
This design type is the most basic and is available in 1 crown molding in its entirety. It is on purpose for homeowners that are in a hurry to finish the installation.
It is usually made with MDF and commonly utilized in homes to create accents in an inverted ceiling, thus adding more depth and making it look grander.
Two-piece crown
The 2 piece crown molding has a unique traditional look that people adore for their homes. It gives an air of comfort and majesty that is attractive to people who do not want the appearance of extravagance.
To make the design look more appealing, take two pieces and install them on top of each other. Be sure to put a small space in between that you can paint on.
Three piece crown
Elegance is the best description for these crown molding ceiling designs. You have many pieces to assemble to create a visually-arresting and refined presence within the home.
Some homeowners go as far as incorporating five molding pieces to accomplish the appearance they prefer. Professionals are hired to do these kinds of designs to ensure what the homeowners like are properly done in every detail. It to ensure that everything is parallel to each other and there are no glaring gaps.
Craftsman style crown molding profiles
If you want people to notice a particular area in your homes, like a door frame or something central to your room, you need trims that craftsmen design to be your focal point crown molding.
These are particularly designed pieces that you can assemble around a window or door to highlight how great-looking the crown molding frame is. These are set up by specialists and craftsmen due to the intricacy and the work involved.
Where does crown molding go?
On the wall
You can accentuate the wall with crown molding since it is usually set up there. It will assist in framing out the living area and make it appear appealing.
These are the most commonly available for purchase in hardware stores. So you can choose from a wide array of design types, which usually are found to be fortunately on sale.
On the ceiling
If your preference for crown molding options is located on the ceiling, then be sure the ones that you get are particularly installed on the overhead surface.
It will create an appearance of the wall to be thicker with an elegant feel that others could not provide. These are usually cut in a particular fashion, so you do not have to worry about them setting in flush on any surface.
On the corners
Some crown molding patterns are cut specifically for an ideal transition from surface to surface. Corner molding edge types make sure that all the pieces are connected and not gaps will be present.
These types are inclusive to all kinds, depending on the homeowner's preferences. So you have the option of painting or staining them to fit the overall theme.
They are useful in concealing errors done in corners, which are the area most construction and installation mistakes occur.
Accents
Accent wall with crown molding might be a more expensive option than the regular ones but it has the potential to add value to a room unlike no other. It can very much increase the elegance in a room due to its old-world appeal.
You would want to use these sparingly because they can make a sparse room look busy and decorated. You should disseminate it across many areas that you want people to look at.
Getting your interiors ready for setting up ornate crown molding
Before thinking about ceiling corner crown molding ideas and visiting the hardware store, you should acquire the right measurements of the space you are about to set up. You can make a drawing and write down how long is the surface of the wall.
When you arrive at the store and found the right type and design that fits your home, tell them the wall measurements and have them cut to that length. If they are not able to cut them, get the longest ones available.
Do not paint them before installation. Mistakes and scratches may happen once setting them up, so it is ideal to paint them after everything is finished.
Installing crown molding on plaster walls
Instead of a pencil, use chalk to indicate on the walls where the moldings will be situated. Chalk is easier to erase than pencil marks.
Get the right tool to cut them, which is the miter saw. Adjust it to a forty-five-degree angle and set it at the level of the fence of the saw. (Before proceeding, you should practice cutting with scrap wood first so you can get the hang of it.
If you think you will have some difficulty specifically cut them to fit the corners, you have the option of pre-ordering crown molding backing blocks to your specification. They can conceal mistakes and provide an additional cosmetic display.
With a coping saw, cut the ends in curves to fit each other like pieces of a jigsaw puzzle. This kind of cut will enable the pieces to fit perfectly together and not leave spaces between them. This cutting style is very handy when setting up pieces on the corner walls and with long pieces together. Making sure the linkage is seamless and balanced.
At this stage, you are about to install the pieces on the plaster wall. Make sure they are snugly fitted by gently pound on the sides (be sure not to nick them). Then hammer them with finishing nails onto the walls. After everything is steadfastly installed in their places with no loose pieces, carefully examine if there are gaps. If there are, load up a caulk gun with either latex or silicone and fill in the openings.
Conclusion
Acquiring decorative crown molding for your home is a magnificent way to add additional style and make it have a unique appearance that people would always remember. It increases the homey feel and adds warmth to the home, allowing families to live in comfort and harmony.