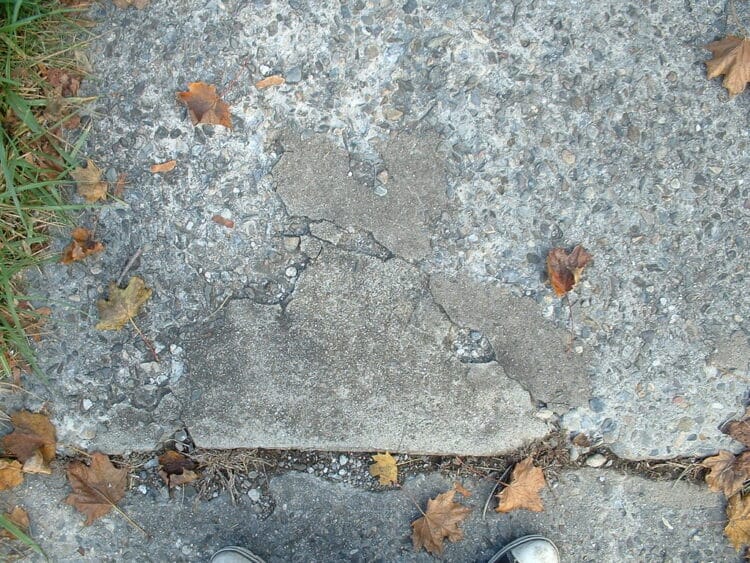 Wouldn't it be a bother to walk on uneven concrete sidewalks? Imagine you are home from buying groceries, carrying a heavy bag when you tripped on it and fell. One of the ways to address this problem is by grinding concrete sidewalks.
Uneven concrete slabs take form slowly over years.  They are usually caused by cracks, plant growths, moisture, or changes in the foundation. Uneven slabs can be a hindrance to your day-to-day tasks, or worse, be a recipe for disaster. Thinking about fixing that problematic slab but don't know where to start?
Here we'll discuss methods focusing on grinding concrete sidewalk and other tips to level concrete. Some of them are easy enough for a do-it-yourselfer to follow. But others require more technical knowledge from concrete experts.
Find ways to level concrete.
There are various methods to level concrete – each option will require different materials, equipment, and processes. You can find which one best fits your needs.
Use a self-leveling compound.
A self-leveling compound is a product used to smoothen the surface and cover the slab. It can typically flow to areas that have depression or the low points of the uneven concrete. Several types of self-leveling compounds are available, some containing Portland cement or gypsum.
It is probably the easiest way to fix uneven concrete. But it has its limitations, like fixing problems with the underlying foundation and its durability. Self-leveling compounds are more suited for concrete floors in the house.
Do concrete-pouring.
Concrete-pouring is the same in principle as using a self-leveling compound. The process involves pouring over new concrete to the uneven slab.
But unlike self-leveling compounds, concrete is unable to flow to lower areas of the slab. Use tools like a rake to level the wet concrete manually.
Do slab jacking.
Slab jacking is the most suitable fix you can do to even the concrete sidewalk if a void is present in the underlying foundation. It requires equipment and technical know-how to perform it properly.
Of course, you can learn more about it if you are determined to do it yourself, or you can hire some contractors or companies to do the job for you.
Technicians drill holes through the concrete slabs then pump them with a mixture to raise them to their previous level. There are different substances used to fill the void. Some use mud, concrete, grout mixture, polyurethane, foam, etc.
Do concrete grinding.
Concrete grinding, from the name itself, uses a grinder to level the uneven slab. It is a cost-effective method for removing raised portions of the concrete – best used to remove trip hazards.
When two concrete slabs adjacent to each other shift in position, they might no longer be level. Concrete grinding can provide a solution by sanding down that elevated part. This method is also suitable for smoothening ridges, removing sealed surfaces, and leveling out cracks.
In the next parts of this blog post, we will be elaborating more on grinding concrete sidewalks.
Find out why grinding concrete sidewalks is the solution for you.
Homeowners who have walkways, patios, driveways or even the floors in their houses might, later on, have issues with unlevel concrete slabs. The same goes for business owners with shops in front of sidewalks. As we mentioned earlier, it could be due to various reasons, i.e., cracks, a shift in the slab, a hollow foundation due to the change of soil underneath, plant growths, etc.
The best advice I can give you is to know why the slab was not level in the first place. If there is a void underneath, grinding the concrete might not be the best solution.
Use this checklist to see if you are the perfect candidate to use this method.
Is the subsurface foundation intact and stable?
Is the problem found in the joint between two concrete slabs? Like one of the slabs is higher than the other?
Is the problem due to a crack in the slab?
Are there ridges or high spots in the slab you want to remove?
Are there dried mortar or coatings you want to smooth out?
If your answers are mostly yes, then get ready. You are probably about to do some sidewalk grinding soon.
For the interior of the house, concrete grinding is also possible to refinish the concrete floor or to put new flooring on top of the unlevel concrete. You would not want to put tiles over an unlevelled base. So, be sure to grind down the raised side to the same level.
Check out some of these concrete grinding tools.
Equipment is a must before starting your sidewalk grinding project. There are rental stores where you could rent grinding equipment for a day. The price may vary depending on the type of equipment and the duration of use. So, it's best to call or ask about a quote beforehand and budget your expenses.
Another approach would be to contact or find concrete grinding contractors near you.
Walk-behind floor grinder
Choose to rent this equipment to ground down large areas. They can have single, dual, triple, or more discs. More discs mean a larger area of coverage.
Check if it has a vacuum port to suck dust produced by dry grinding. Others incorporate water to moisten dust, preventing spread in the air.
They are primarily for the body of the floor.
Handheld grinder
Use this equipment to grind concrete corners, areas near the walls, or other tight spaces that are hard to reach. It is different from the usual angle grinder since it comes with a dust shroud and has a hose for extracting dust.
Diamond Grinding Wheel
The diamond grinding wheel is the disc attached to the floor grinder or handheld grinder. It has diamond grains (super abrasive diamonds, also called Lavina grinder diamond) used to chip away the concrete.
They usually come with your floor or handheld grinder rental. If not, you can inquire about a diamond grinder rental or opt to buy a set you can use with your grinder.
Heavy Duty Vacuum
Grinding away at concrete produces fine silica dust. So, you must have a heavy-duty vacuum that can suck these harmful substances. These are different from the vacuums used for cleaning your homes and are more industrial.
Safety Gear
It is a must to wear safety gear when doing this project. Equip yourself with a mask ( an N95 ), safety goggles, and hearing protection (if you are bothered by loud noises). Also, use industrial gloves when handling the equipment.
How to grind uneven concrete sidewalk
Read a step-by-step guide to grinding concrete sidewalks. The steps outlined are ideal for heaved or cracked sidewalks.
Mark the spots you need to grind. An elevation of 1/4 inch to 2 inches is the optimum displacement you can fix.
Tilt the grinder slightly towards the raised slab and position the disc on top of the raised concrete.
Attach the floor grinder to the vacuum before turning it on. Ask another person to hold a second hose since the dust shroud might not get all the dust.
Move it in a side-to-side motion until the raised part has leveled down.
For sidewalks damaged with tree growth, use a handheld grinder to reach a tight area.
How to grind concrete corners
Read a step-by-step guide to grinding concrete corners.
Mark the spots you need to grind.
Use a handheld grinder instead of a walk-behind floor grinder. Another tip is to find one with a convertible dust shroud. That way, you can adjust it when grinding corners or edges near a wall.
Position the grinder against the area you will grind.
Attach the handheld grinder to the vacuum before turning it on.
Move it in a side-to-side motion until the raised part has leveled down.
Avoid grinding the wheel too close to the wall.
How to grind concrete floors
Read a step-by-step guide to grinding concrete floors.
Mark the spots you need to grind. On a floor, put an x to the higher areas.
Position the walk-behind floor grinder and the disc against the elevated spot.
Attach the floor grinder to the vacuum before turning it on.
Move it in a side-to-side motion until the raised part has leveled down.
Use a straightedge to find other areas that are not yet level, and repeat the process.