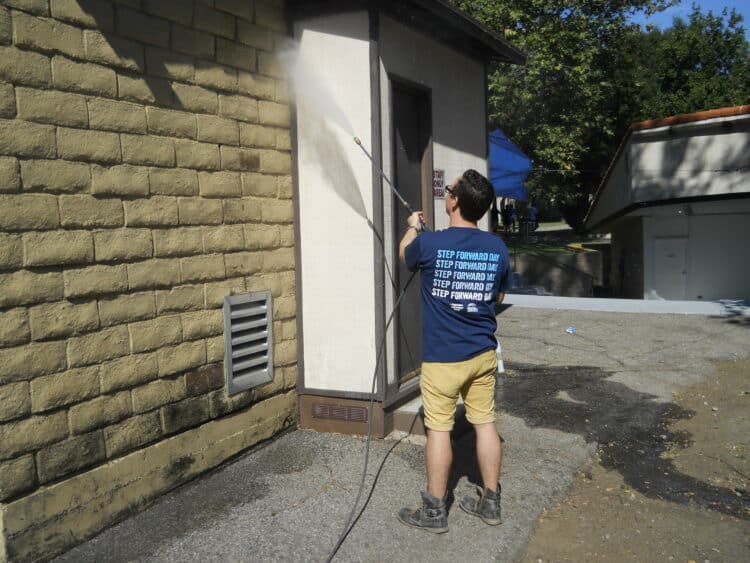 Cleaning your home's siding doesn't have to be the challenging, tedious task it used to be.
And better still, you do not have to hire a power washing company for the job.
You can save a lot of extra cash if you handle the task yourself.
Don't know how to do it? Well, we got you covered. And don't worry.
You can clean your siding with a power washer without damaging it or hurting yourself.
What you need to know about pressure washers
A lot of people are apprehensive about pressure washers. And they make a point of staying away from these useful machines. But, contrast to popular beliefs, pressure washers are not that difficult to operate.
Plus, they can make your work all the easier and more effective. When you are cleaning your siding, the process will be both quick and safe.
And regardless of the type of material used for the siding, you can still use a power washer.
The trick to use a pressure washer is to always start with low pressure and building the tempo as you go.
That way, the water will not damage the surface of the siding. While pressure washers are effective cleaners, using the right detergent would help. Water alone will not do the job you need to get done.
At the same time, it is best to avoid using any corrosive detergents and bleach. Unconventional cleaners like degreasers can also destroy your siding.
It would be best if you stood at a distance from the siding. If you are too close, you can damage the siding. Or you can shoot water to the walls of your home.
That will, in time, allow molds to grow. Still, standing 5ft (1.52 m) from the surface is the perfect distance to hold the wand and spray the solution.
You can then move closer when you need to clean a spot again. Here is a detailed guide to help you clean your siding.
Mix the water with detergents
As mentioned earlier, a combination of the two will do a better job than water alone. Even so, the type of detergent you use matters. The best detergent to go for is a pressure washer detergent.
But if you don't have one, then you can use pressure washer approved solvents. You will see this on the label of the detergent.
You can then use the injector that comes with the pressure washer to mix the cleaning solutions. Permitted solvents are not the best idea for several reasons. One is that these detergents are not friendly.
And it could be corrosive to the pressure washer and your vinyl siding too.
Apply the cleaning solution
Now that the solution is ready to go, you can apply it. But, you need to spray it in a specific method to ensure that you don't miss a spot. For a start, you can apply the mixture with even and overlapping strokes.
And ensure that you set the power washer at low pressure. It would be best if you started from the bottom of the siding on your way up.
That will prevent shooting the water. Random spraying or applying the mixture will not be productive. A particular method will give you a chance to get to the most stubborn of stains.
But, low pressure will not work if you want to clean the siding of a multi-story building. A high-pressure washer will spray the cleaning solution as high as 25ft (7.62 m).
A gas-powered washer is an excellent option for reaching hard spots as it is more powerful. But don't worry if you are still finding it challenging getting to those spots. You can extend your reach by using extension wands.
Brush off stubborn stains
A utility brush is an excellent idea when you haven't cleaned your home for a long time. It releases a foaming solution when cleaning. It is easy to use because you only have to attach it to the other end of the power washer.
While cleaning, it dislodges the stubborn and thick layers of stain.
Let the solution work its way in before you rinse the siding.
You can take a 10 minutes break to let the solution work. But, don't let the solution dry off. Instead, you can keep an eye on the siding.
And ensure that the solution is breaking down the grime and other tricky stains.
Rinse the siding
While spraying high water pressure, it is best to hold the wand at an angle that points down. That way, you will cut the risk of shooting water below the laps of your horizontal siding.
It would be best also if you were careful not to knock down the eaves and light fittings. The last thing you want is to dislodge your siding. It would also be best to start from the top going down so that there is no soap left on the siding.
The Final Word
Power washers make cleaning super-fast and easy. Plus, there are several pressure washer uses.
From scrubbing your sidewalk to cleaning your car, there is no end to the fun of working with a power washer.