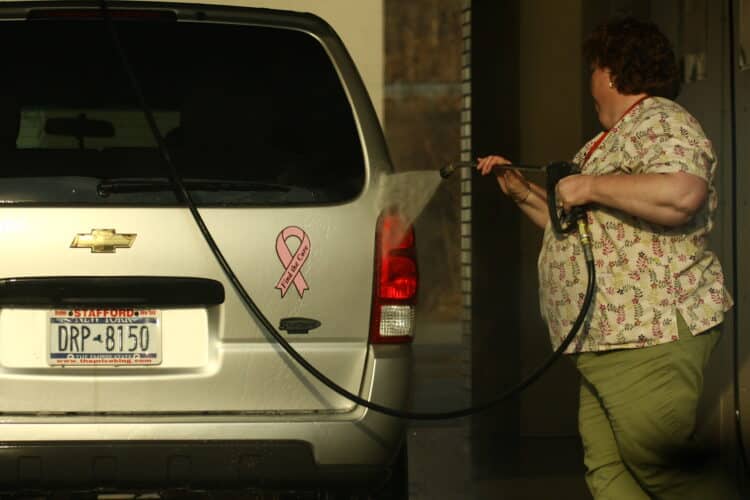 Cleaning with water alone has never been effective. A little detergent can help you achieve superior outcomes.
And sure, a pressure washer is an excellent way to get rid of all the dirt ad mild stains. But what do you do when you fail to remove the mold and mildew from your siding?
Wait, you know the answer to this; chemical injectors.
Using detergents
Do you ever feel like detergents work like magic? That's because they do! If you have algae, mold, mildew, greases, and oils, or any form of stubborn stain, apply detergents.
Then use a brush for a couple of minutes before letting the detergent work its magic. You can then use a pressure washer to spray it away.
If brushing sounds like too much work, then you certainly require a chemical injector. You can choose any chemical injector with your power washer to apply the detergents minus scrubbing the area.
However, you will still need to use clean pressurized water to finish cleaning the area after the detergents settle. This time, you do it minus the injector.
Detergent tanks
Nowadays, onboard detergent tanks are a common feature in numerous pressure washers. The onboard tanks release the detergent into the pump with water.
The two pressurize at the same time before shooting through the spray gun.
However, not all detergents are correct to use. You should only use detergents that have 'pressure washer allowed' written on the cover.
Others can damage your pressure washer.
Avoid using bleach with pressure washers at all costs
Indeed, bleach is effective in ridding your home of all the stubborn stains and mildew. Still, running bleach in your pressure washer is not a good idea.
Bleach can destroy your pressure washer by corroding the pump's seals. But that's not all. Bleach is a hazardous chemical, and whenever you spray it, it pushes into the air.
Breathing it as well is toxic to your health, and the last thing you want is mist blowing into your plants and vehicle. But that doesn't mean that you shouldn't use bleach.
Only use it when it's necessary by scrubbing it in the area with a brush before allowing it settles for several minutes. A pressure washer brush is excellent for the job for better results.
Spraying from onboard detergent tanks
What makes an onboard detergent tank excellent for the task is its ease of operation. All you have to do is turn the switch on before applying the solution.
And when you complete the task, flip the switch back off, and the flow of the detergents will stop.
After the detergents settle, you can switch to clean water and rinse the area. For more ease and efficiency in handling the pressure washer, the tank is usually firmly fixed to the frame of the power washer. Even so, these tanks have a downside.
That is, the detergent solution sprays through the pump. Plus, not all pressure washers feature these tanks, and you will need a siphoning hose to pull the mixture into the power washer.
Other ways of spraying detergents
If spraying detergents from the pump is a deal-breaker for you, then soap shooters and foamers are an excellent alternative. Both of them can connect to the ending of the spray lance and apply the detergent into the pressurized water as you spray it.
Soap shooters and foamers are quite similar but still differ in significant ways. For instance, foamers provide you with a thicker foam when you spray it on a surface because it uses low pressure.
However, soap shooters use higher pressure. And they can come in handy when you need to apply detergents across longer distances.
You can get foamers in two different styles. One is more flexible to use because you attach the detergent or chemical bottle to the spray lance. You will need an adapter to connect it and fill the bottle with the solution before screwing the bottle.
The second requires a spray nozzle to pull the solution from a bucket and attaches it to a siphoning tube.
Soap shooters also use siphoning tubes, and you can get them as a spray tip. You can easily adjust the nozzle before connecting it to the ending of your spray lance effortlessly. The siphoning tube goes into the container of solution. And you can change the spray pattern whenever you are spraying.
Soap shooters are perfect when you need to pressure wash your siding and will help you with hard to reach spaces because of the high pressure it uses.
Final say
Using detergents with pressurized water will make your work all the easier. And the correct detergent is essential in ensuring that you don't corrode the pump's seals in the process.
A chemical injector makes your work effortless even when dealing with tough stains as you do not need to scrub.