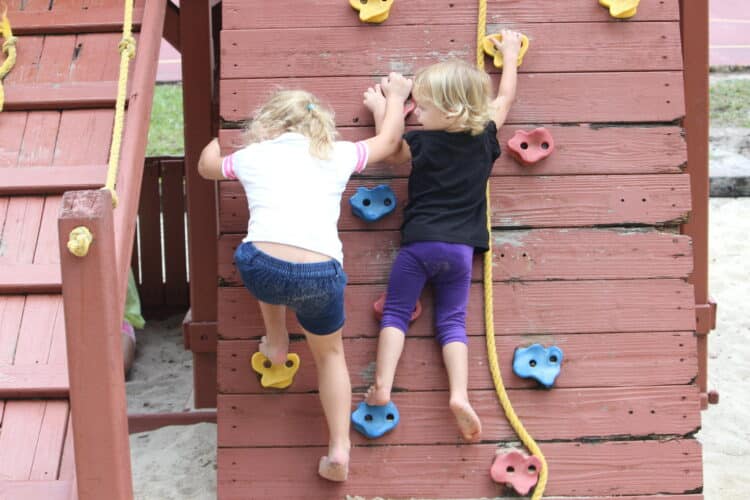 If you have kids, the biggest worry (or maybe the second biggest) you can have is not providing them with enough activities to engage them all summer. Sure, play dates can save you that worry at least momentarily.
But with the new stay at home directives, it's up to you to provide entertainment for them. That is where a DIY kid climbing a wall is such a welcome idea.
But how do you go about it? Here is a guide to get you started.
Why make DIY kids climbing wall?
Most kids love strenuous physical activities, and they love climbing. It's common to find your children climbing trees or anything climbable – from fences, cares door frames.
If your kids are anything like that, it's easy for you to always worry about how safe it is for them to climb everywhere. So why don't they make them a safe climbing wall?
It will keep them entertained while getting some great exercise. Plus, it may help nurture your kid's healthy competition spirit.
Are DIY climbing walls safe for kids?
Of course, every parent wants their children to be safe while having fun. And although these climbing walls sound as fun as they can be, are they safe?
The answer is yes. Climbing walls is safer than having your child up a tree or door frame. That is because you can add a couple of safety measures to ensure that your kids are safe.
For instance, if you decide to create the climbing wall inside the house, you can add mats on the floor. Although unlikely, if your kid stumbles and falls, the crash mats will protect them against the impact.
However, this DIY project is for those parents who remember climbing trees and fences was like without breaking necks.
If you feel it's too dangerous a project, then it's not for you.
How to make a DIY kids climbing wall
Now, it's time to start your DIY project to secure your kids summer activities. But before we start, here are some of the materials that you will need:
¾" plywood (you can get a 2×4 sheet and a 4×8 sheet for the job)
Lag screws
Floor mats
Climbing holds
For the tools, you will need:
Tape measure
Drill
Level or straight edge
Nut drivers
Jigsaw (or you can get a circular saw or a table saw)
When you have all the tools and materials ready, it's time to get to work. Here are the steps you can follow:
Sketch the climbing wall
Anytime you need to sketch and plan your designs, Google SketchUp is the tool to use. It works great with any design while keeping it simple for DIY enthusiasts like us.
You can figure out the dimensions you need for your project. And best of all, it's free. But if you'd instead use a pen and sketchbook, that will work too.
Once you complete the planning and sketching, you can draw them out on the plywood. I used a higher grade of hardwood plywood, but you can choose a much rougher material if you like.
Either way, you can sketch the plywood dimensions such that it looks like a complete puzzle. And don't worry. The sketches don't have to be perfect. You need to do your best.
Also, don't forget to label all the pieces to make it easier for you to remember which piece goes where.
Cut out the pieces and attach them
You can use a table saw for the task. It's quite simple, and it won't take you any time at all to
do it.
Attaching the pieces is the tricky part, though. First, you will need to mark out the studs you will use to stick on the details before putting them up on the wall.
To ensure you do not miss the stud, you can draw light lines with a pencil the entire length of your wall.
The next step involves you screwing the pieces to the walls using at least three screws per piece. It's best if you have another person to help you with this step.
One can hold the piece while the other screws them. As a pro tip, you should pre-drill your plywood to ensure it won't split when you do.
You can use the drill to make the pilot hole and then set the screw using an impact driver. Now let's move on to the next step.
Attach the handholds
It is best to get the 11/4″ lag screws instead of the 11/2" for this step. But before you attach the handholds, you need to consider a couple of factors.
Firstly, what size are your kids? Answering that question can help you know how to space the holds. If your kids are younger, you may need to attach more grips with little spacing.
The older your kids are, the bigger the spacing between holds. That way, your kids can have fun depending on their level of difficulty. But don't make it too challenging for them to climb the wall.
Just moderate on that. You can use painter's tape to lay outlay out the pattern the holds can follow. Here is an example:
The first row of handholds can be at least eight inches from the floor mat. It can have two holds, each at least 12 inches apart but not more than 14.
From there, ensure that the other holds are at least eight to ten inches up from the previous row of grips. But you can adjust where you put the handles and put some in the middle of the route.
That will give your kids more flexibility as they climb the wall. However, if you are still unsure of the spacing, you can take a test run.
It is how the test run goes, hold your kid up to act like they're holding the first handholds and let them reach out for the next ones. If they reach the handholds successfully, you have done a fantastic job with the spacing.
If not, you can readjust the spacing until you get it right. You can then start installing the handholds where the tape lies.
Make the climbing wall safe
With the climbing wall finished, your kids will be ecstatic at the thought of trying it out. But considering that you may not always be there to reign on their eagerness to climb the wall, you should childproof it.
That way, the kids can only use the wall with your supervision. All you need to do is drill a hole on the outside layer of the floor mat and put an S-shaped hook through it.
While drilling the hole, you need to ensure that it goes through where the seam is rather than through the mat itself. You also need to put in a couple of screw eyes on the wall. That's where you will hook your floor mat on every time you are not around.
No matter how hard your kids try yanking at it, it won't unhook. That translates to success.
Besides, when you unhook the floor mat, it will act as an extra safety measure to protect your kid if they fall while climbing. That is why it's crucial to create the climbing wall in a spacious environment.
The extra room can be the fall zone, equipped with mats and crash pads for a crash landing and falls.
Another way to ensure that the climbing wall is safe is by securing the screws once more. Loose screws or screws sticking out can create a much bigger mess or hurt someone severely.
Check every single screw before you allow your children to climb the wall. But that's not enough.
It would help if you also got rid of splinters if you are using wood to make the climbing wall.
If there are any splinters left, they can stick on your child's hands while climbing, and that may cause them to let go of the holds.
They may then fall and hurt themselves badly. Ensure that you smoothen out the plywood by sanding it in all the splint areas.
Can grownups also use the DIY kids climbing wall?
If you create a sturdy climbing wall, you can use it. However, the wall was for your kids, and it's best to leave it to them. It certainly won't hurt, will it?
where is the best place to build DIY kids climbing wall
There are numerous places you can decide to build your kid's climbing wall. You can choose to make it indoors, like in the playroom, the attic, garage, or even a basement you hardly ever use.
It all depends on your home's size and layout. Plus, it would be best to keep in mind that climbing walls need enough space for the kids to maneuver.
The place you build it in should not be crammed up or stuffy. Besides, if you don't have enough room inside the house, an outdoor climbing wall will do just as fine.
You can build it in the garden or your backyard. Additionally, you can spice up the place to exude more fun.
For instance, you can include a tent, add a couple of camping chairs, among other comforts. It will undoubtedly be fun.
How much will it cost me to build a climbing wall
Building a climbing wall is not a difficult or expensive project. However, it all depends on how big a climbing wall you want and how complex you want to make it.
Additionally, if you plan to build one yourself, you need to plan every detail, including the cost materials and tools you will need.
On average, it costs just about $30 to $40 for every square foot.
What wood type should I use for the climbing wall
If you are going to build a climbing wall, you will need structural plywood for the job. You will get plywood in sheets measuring 2400mm by 1200mm.
To top it all, the sheets you buy should be at least 17mm thick.
Is it necessary to use wood for the climbing wall, or any other material will do?
No, you can use any wall material for your climbing wall. However, wood is often the most available material, and it's easier to build with it.
You can choose between plywood and Oriented Strand Board (OSB). If you are on a budget, OSB will be more appealing. It's cheaper and more robust than plywood.
The only downside is, it's bulkier than plywood, and it is not the best choice for you if you live in more humid areas. That's because it has a higher tendency to trap moisture, which can weaken it in the long run.
Additionally, you can use concrete walls to make the climbing wall. All you need to do is attach the handholds to the concrete wall.
You will need drop-in anchors to mount the holds on the wall. Also, you can use a composite board to build the climbing wall. The choices are limitless.
How do I make my DIY kids climbing wall more interesting
Kids get bored quickly. That is why the climbing wall you build should be able to mesmerize them for long periods. So how do you achieve this?
There are numerous ways you can get the effect you want out of your climbing wall. Let's start with something simple.
Before you install handholds, you can paint your wall material. There are numerous exciting colors and patterns you can choose from, but it's best to pick the ones your kids can relate to while playing.
Whether it's a superhero or one of their favorite animation, there are a dozen ideas you can choose from any time.
Another way to make your climbing wall more interesting is balancing between uncomplicated and complicated. For instance, you can create one side of the climbing wall easy but not too much so and the other side more complex.
If you have room, you can add an intermediate stage before you include the tricky step. That will give your kids something to work towards achieving.
How to make your outdoors kids climbing wall safe
It's easy to make an indoor climbing wall safe with floor mats. But how do you achieve the safe level of safety outdoors?
Well, there are several ways you can do this. The first way is by pouring sand on the fall zone. Sand can help your kids break the fall unharmed.
However, it's always best to go with play sand. Plus, you will need to check the rules for the maintenance, depth, and moisture distribution.
Additionally, you can use rubber mulch for the job. It's useful because it's shock resistant.
Even if your kids fall from a seven-foot-high climbing wall, you can trust the mulch to protect them.
Besides, all you need is three inches for the task. The last option you have is installing playground tiles.
Possibly, you have seen these at the playgrounds of preschoolers. The tiles are made of rubber, and it's thick.
However, always make it a point to pick the thickest and compare the kinds of rubber recycles to make it. That way, you can get the most effective play tiles to install.
Which climbing handholds are suitable for kids
When building a climbing wall, handholds are one of the essential materials you need to buy.
However, each of these handholds differs from the other depending on what you will use the handhold.
Since the climbing wall is for kids, you need to consider bigger handholds and the most colorful ones. You can recognize the shape since it looks like a jug.
However, it would be best if you also considered the pricing of the handholds. Most are usually pricey, but you can get a good deal if you buy the holds as part of a climbing wall kit.
Even so, if you like taking your time when purchasing stuff, you can buy the holds bit by bit as you stock up for your wall.
How high should kids climbing wall be
If you are building a climbing wall for your children, you should not make it too high. The highest it should go is at least ten feet.
Although it may not look as high to you, it's like a skyscraper for your kids. A fall from the climbing wall will be farther for them than you can imagine.
Besides, ten feet is just as high but safer than a twenty feet tall climbing wall.
Final thoughts
Building a kids climbing wall is one of the most fun DIY projects you can take. Plus, it's pretty fulfilling and worth every second of hard labor to see your child's smile.
With the right tools and materials, you can create one of the best there is for your children.
Plus, you can childproof it to ensure your children are safe when you are not at home to supervise their climbing.
Happy climbing.