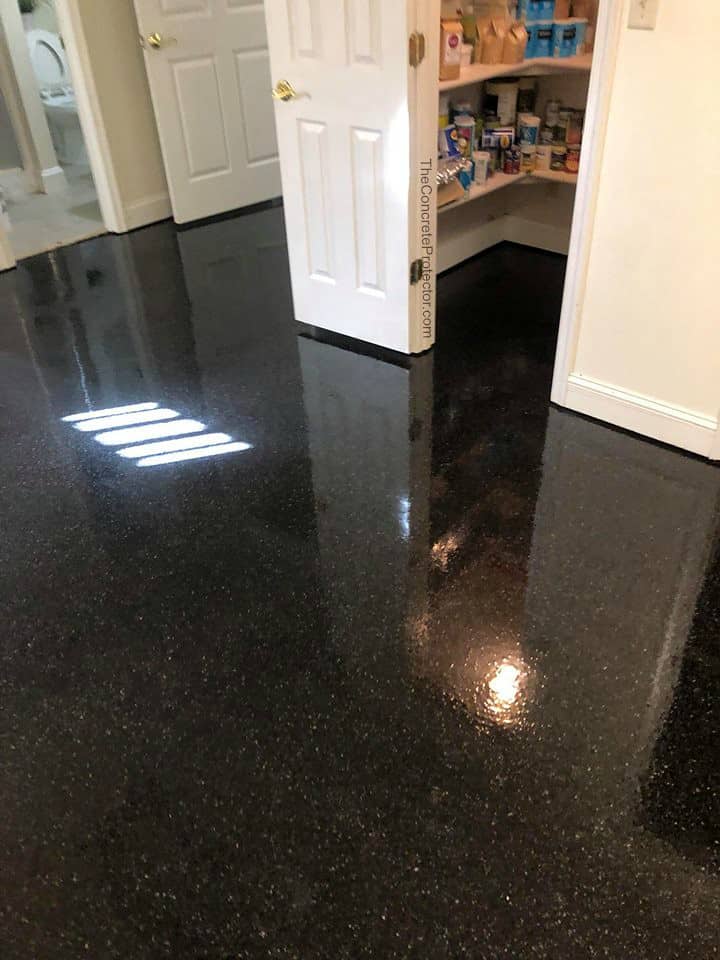 Are you intrigued about the types of basements and flooring? Do you want to modify yours to be a better one?
It is not as hard as you think. With the proper knowledge and the right mindset, you can transform your basement floor decking into a masterpiece of style and design.
It is a tricky business when selecting a breathable floor covering for your basement. This room is usually located below ground level of a particular house and is prone to dampness, flooding, coldness, and the absence of light. Pests, mold, and mildew tend to thrive in this environment.
Building contractors do not usually focus too much effort on cellars, resulting in uneven flooring made from slabs of concrete. It would invalidate and limit your options in choosing the best one that you prefer.
Also, most homeowners do not want to spend any more cash on their basement. They usually think of it as a storage space and focus any possible refurbishments on their ground-level rooms.
If you do decide on flooring renovations, it will turn out to be more expensive than regular floors because there are limited options.
It is better to know the negative aspects first before embarking on total flooring renovations. You also have to make tough budgeting cutbacks and alternatives because this endeavor will likely burn a hole in your pocket, so to speak.
Along with redeveloping the floor, you can add other accouterments to make the below-ground space more livable. You can include superior illumination, a heating system, correctly insulate the walls, add furniture, etc.
Ground level types of basements
Before any modification is attempted and deciding on durable commercial flooring options, you should know first about the status of your cellar. You have what is known as "below-grade flooring," which does not mean that it is of inferior quality.
It a term utilized by professional builders in referring to the level of the house that is below the ground and has a risk of taking in water. The "above-grade flooring" is safe from water migration and seldom gets flooded.
Here are some basic info about below-grade basement floors:
Concrete and tile are made from sturdy material and will last longer than soft carpeting.
Since cellars are damp and dark places, organic matters like hardwood flooring would not function well in this environment. Mold will grow and multiply. They will start to decompose it.
Inorganic matters like vinyl or concrete can operate better. However, mold can still grow but could not disintegrate.
One-layered floors like concrete will get dry very easily. It is considered advantageous because of its hardness and being an inorganic material. And it does not have many layers, which enables water to seep through.
You can set up ceramic tile directly on slabs of concrete.
You also can install laminated floors in concrete with the aid of foam underlay material.
Some cellar floors need a raised sub-floor system (also called a sleeper system) constructed from two-by-fours and plywood. Carpets work best with this kind.
Laminated flooring's functionality will increase by setting up a sub-floor system.
Usage of basement space
Before embarking on creating the best natural stone basement flooring for your home, you should think about what your purposes are.
Is it for a home gym, kids' playpen, or movie room? How about an office area for those family members who work at home? Or maybe a guest bedroom? Laundry and storage space only?
There are many things you can do to your underground home space. Along with that, you have to choose the appropriate flooring to go with it. You have to effectively match the basement purpose to the floor type.
Important questions to narrow down you cellar flooring choices
You have to be familiar with your under-the-ground space to make the right choice in flooring. So you have to ask yourself these:
Do you want hard or soft flooring?
Is your current cellar floor uneven or smooth?
Does water always seep down and create pools on the floor?
Do you have a subfloor, and what kind is it (plywood, concrete, etc.)?
How much are you willing to spend?
What is the temperature in your basement? Is it always cold or hot?
Does moisture tend to appear?
Once you have answers for all of them, then you would choose from the options mentioned below.
Types of basements floors
Vinyl
Is vinyl flooring warm? Yes, it is because of its thick layering, which makes it ideal for basement use. It is also waterproof, which greatly adds to its usability.
It is better known as engineered vinyl planks or sometimes resilient flooring. In other circles, people call it luxury vinyl plank, LVP, or EVP.
It always ranks high on the list for most knowledgeable homeowners and professional contractors because it gives a certain perception of hardwood but has none of its disadvantages. This type is a newer discovery and was made in the 1930s by a US floor manufacturer called Corotec, which is the credited inventor.
This type comes in the form of either sheet or tile. Both look the same but have a slight difference.
If your floor is made of sheet vinyl, it establishes a perfectly seamless façade on the floor, this making it imperviable to liquids.
With tile or plank type, it enables the appearance of multiple creases that might increase the likelihood of water percolation if left on the surface unnoticed for a long time.
There is an underlay material made of cork below the vinyl surface. It adds an extra layer to absorb sound, makes it softer to walk on, aids in insulation, thus making it water-resistant.
If you consider yourself an avid DIYer, you can install vinyl on your floor. It will take a great deal of elbow grease. However, it is a doable process since it is a "floating floor" and does not require either glue or nails to hold it down on the surface.
You can lay it down directly on the basement concrete and do not need to make any special prep work or leveling it out. The difficult part will be the edges.
This type is not exclusive to basements only. It can be utilized in areas in your home where a possibility of moisture and wetness occurs, like in the kitchen, entrance passageways, or women's restrooms.
Even though it can be installed on uneven floors, you should still find a way to flatten out any bumps. Because it is still a floating floor and you would feel them on the soles of your feet once installed.
If your cellar has a concrete surface and you want to refurbish it to vinyl planks or tiles, before laying it down, you have set up a vapor barrier on the foundation.
Even though it is waterproof, there might be hydrostatic pressure beneath the basement soil and forcefully moves water up to the foundation, thus gets locked in between the vinyl flooring and the foundation.
However, this would not happen often, and only one certain weather conditions. So you should be aware that this occurs in the early part of springtime, after harsh storms or any major weather disruptions.
When this occurs, the trapped liquid would enable mold to flourish and will deteriorate the cork underlay material. So the vapor barrier is very necessary and discourages this from happening.
Advantages
It is not too expensive.
It can mimic the appearance and feel of hardwood and has its advantages.
It is resistant to any liquids.
It is designed to be thick layering and makes it durable and last long.
It has the capability to feel bring warmth to a cold space like a cellar.
Disadvantages
If your original floor is not even and has many bumps, once installed, it will fell bouncy on your feet. It is always a crucial task to level it out before laying down the vinyl groundwork.
More expensive that other vinyl materials, but comparatively cheaper that other types of flooring. Installing it is less expensive and no adhesive material is necessary.
Rubber
This type has become frequently used by homeowners who like to exercise. Basements have been renovated to become home gyms for doing many kinds of workout activities like body-building, yoga, boxing, etc.
These are interlocking tiles made of rubber, which is very convenient for any physical activity. It functions well in absorbing any force that happens, like jumping up and down or dropping dumbbells. These actions are expected would not cause any damage.
The best thing about rubber flooring is that it is water-resistant. Also, it is very easy to install and only has to connect the pieces like a jigsaw puzzle.
Whenever it gets wet for some reason, you just have to take them apart and hang them outside to dry. Once done, you can put them easily back together.
These pieces are also made thick and are available in 3/8 inches and eight-millimeter. However, there are thicker brands available that you may prefer for your basement.
It also brilliantly works well with uneven and bumpy surfaces because they can cover the imperfectness and make it functional.
It usually available in black only, but there are other colors available, which you can mix and match to make a unique pattern.
There is a cheaper option made from rubber foam, which are utilized for little children, especially babies. These come in a bright and colorful designs, but are not as durable. These are also handy and put atop cold tiled surfaces to make it warmer.
Advantages
It is quite east to install by just interconnecting the pieces.
It is water-resistant.
They are very soft to walk on barefoot, without feeling any discomfort.
It is very ideal for home gyms.
Disadvantages
it weighs a lot. So if you have purchased it online and would have it delivered to your doorstep, think first about the price of shipping before you make a bulk order.
As mentioned before, these mostly come in black. Black flooring can absorb any light source and make the whole room darker.
Porcelain or ceramic
Breathable tiles come in the form of either ceramic or porcelain. Each is functions wonderfully well as flooring in its own right, more so in cellar surface.
Like the others, it is waterproof, which makes it ideal for potentially damp spaces like basements and should always be a priority in choosing the preferred one.
Since the basement is cold all the time, tiles will especially react to it being colder. So you will end up walking on a frozen lake.
Despite that, any dirt can be cleaned off easily, either by mopping, sweeping, or just wiping off. This way, it will last for a long time with seemingly nothing happening to it.
Currently, tile plank floors are the most popular type that homeowners use. It is because it functions well as cellar flooring and capable of looking stunning as well.
However, because of the preparation and intricate labor needed, this type is more expensive compared to the other. Even so, that will ensure it will last long in that condition.
To install it, you have to be sure you any laying it down on a cement board or a concrete surface. If you lay it down in any type of wood, the tile will fracture. It is because wood can contract or expand if affected by humidity and temperature extremes.
A level floor can also make a big difference in the functionality of the tiles. If the surface is uneven or bumpy, the installation would look haphazard, and the tiles would eventually crack. It would no feel smooth beneath your feet and end up stubbing it.
Advantages
It designed for durability. It will last longer if you properly take care of it.
It is resistant to water and is ideal for frequently damp basements.
It greatly improves the value of your house because it is an expensive acquisition and can last for a long time.
Disadvantages
It becomes too cold to the touch. The best way to counteract it is to install heat radiant flooring but adds to the costing.
It costs a great deal compared to the other types and necessitates extensive preparation work.
Not soft on the soles of your feet and uncomfortable to sit or lie on and does not work as flooring for kids' playpen.
Does not function well as flooring for a movie or entertainment room because sound can bounce off and create echoes.
Carpet
If you are looking for the best synthetic carper for the basement, maybe that is the right one for you. If saving money is your priority, you have made the right decision.
It is the most pliant and adaptable among the floor types, and you can shape and fit it to any space and corner in your basement. You can lay it down in uneven and bumpy areas and hide some unappealing portions that you do not want others to see.
They are the most comfortable on the soles of your feet, feeling warm and soft to the touch. Also, they can be adjusted to fit stairways, which makes the procedure especially safe for people.
However, it can get dirty easily and needs to be constantly cleaned. As time passes, wear and tear occur, and soon, you would need to substitute it with another one.
Since it is made from natural or synthetic fibers, which are not especially compatible with any liquids, it is not waterproof. So if your underground space always floods, it might be a bad choice for you.
If it always gets drenched with water, mildew and mold might spring up and reproduce. Even pesky dust mites might grow to love it and develop quickly.
So if you have a problem with wetness in your cellar and you do not want to replace your precious carpeting with different water-resistant flooring, it is not the end of the world. You can still do something about it.
You can upgrade it and have a moisture barrier included. It will fix the problem so that you can let your carpeting as is.
You should not utilize carpet cushions on concrete surfaces because it serves as a breeding ground for bacteria and fungus, and do not adapt well on concreting. If you still want that, then be sure to install a moisture barrier first.
Advantages
It is the least expensive choice compared to the others on this list.
Soft, warm and comfortable to the touch.
It can cover up unappealing and uneven surfaces.
Disadvantages
It is not resistant to water and does not bode well with liquids.
You have to substitute it frequently due to the wear and tear, and will spend more cash as time passes.
It tends to become grimy easily and can be a chore to get it cleaned.
Carpet tiles
This type hast the advantages of carpet and minimizes its presumed disadvantages. It seems to take in less water because of how it is made.
It is also easily replaceable when it gets wet because you can only remove the problematic portion out and then leave the remaining carpeting behind. It has tile's functionality without its cold demeanor.
Homeowners tend to appreciate carpet tile more than regular carpeting because it can look more fashionable and behave like hard flooring. They come in a variety of designs, which is the epitome of a quilt-look.
If you want to make it a colorful as possible, then you can do it. There is no limit to your imagination on how you want it to appear on your basement floor.
The negative aspect of this type is that it is more costly than regular carpeting. Yet compared to the other non-carpet kind, it is still relatively cheaper.
You also cannot use it for stairway surfaces and still need the regular ones for that. Also, they get an adverse effect of wetness and their adhesive sealants will disintegrate.
Advantages
Easily replaceable portions if grime and damage occurs.
It has the potential of become stylish by mixing and matching different colored sections.
Compared to regular carpets, it tends to take in less wetness. It means that mildew, mold and mites would not make a appearance.
Disadvantages
You cannot install it on stairs.
Costlier that regular carpeting, but still cheaper compared to others on this list.
The of adhesive is sensitive to liquids and easily disintegrate.
Stained or acid-etched concrete
This type has become popular in commercial establishments and is considered very stylish. The intricate design created by acid-etching adds a unique brilliance that looks appealing and unparalleled.
It is a different appearance from paint, which does not allow light to pass and is steadfastly opaque. With staining, it permits light to go across, therefore creating a semitransparent and amazing appearance.
It is up to you to make your preferred design from etching, and there will be no limit to your creativity. This process allows you to make it look as outrageous as possible or just look ordinary.
Advantages
It tolerant to liquids and prohibit water pools from occurring.
It does not need a sub-floor to function correctly.
You have the option of creating wonderful and never-before-seen designs, with unique patterns, hues, and tinges.
Disdvantages
It becomes cold to the touch, even colder than tile. And unlike it, there is no way of adding radiant heat below the floor.
It also does not have the option to make it less hard on your feet. Even though it looks good from a distance, it is one of the most uncomfortable types on this list.
It is the same as tile and cannot absorb sound vibrations. So it is not ideal to have a movie room there or any home entertainment system because it produces echoes.
It necessitates lots of preparation work and intricate workmanship and will end up as labor-extensive and costlier than the others.
Vinyl sheet
This vinyl-type is different from the previous one, where it is in the form of tiles or planks. It comes in the form of sheets a couple of inches thick and about in twelve-foot rolls.
However, it is comparatively cheaper compared to the others on this list but a bit costlier than carpets. So it is affordable and does not necessarily overspend.
It is also called "resilient flooring," because of its perceived durability, which makes it ideal for areas, like basements, whose conditions are not conducive.
It looks like linoleum but is a vastly different material because it is relatively dense in consistency, ecologically-friendly, and more expensive. However vinyl is not because it is made from a plastic material.
It is also water-resistant and an almost impenetrable surface, and would function well in a damp environment like a cellar. If moisture tends to form in your basement, this type can fight it off and keep the flooring dry at all times. All you have to do is wipe it off.
Since it is usually available in rolls of twelve feet, if the dimensions in your basement are more than that, you purchase extra sheets and seams to cover and connect the extra spaces.
It is also difficult to install and most handymen do not have the proper tools to do the job correctly. So it will end up not looking great as it should be.
Advantages
It is cheaper compared to the other flooring types.
It is resistant to water and does not allow seepage to go through.
It is warm to the touch compared to other hard flooring types like tile or concrete, which makes it comfortable.
Disadvantages
Its installation is difficult to do and if you are an avid DIYer, you would lack the necessary tools and cannot set it up correctly.
It has an old-fashioned look and may appear cheaply-made but it is part of its aesthetic. So if some people consider themselves tasteful and stylish, then this would not be right for them.
A lot of preparation work needs to be done before the installation process.
Glued-on engineered vinyl
This type is in a separate category because of its adhesive format, even though the material is still vinyl. You will be utilizing this material in the form of planks and tiles.
But this type, which utilizes planks and tiles, only function properly if the surfaces are even. So what can be done on bumpy and uneven flooring?
You can still lay it down, but it tends to bounce on unequal footing. It can cause minor accidents and can be annoying.
The best thing you can do with vinyl planks or tiles is to glue them on the surface. It will particularly work on uneven and bumpy floors.
However, if the sub-floor is not on a level surface, even though it is glued-on, the unevenness would not disappear. You can still feel the bumps on the soles of your feet.
So you have to get rid of the bumpy surface and level it out. Yet this task is an expensive venture because you would need to rent special equipment to flatten the surface.
There many of these you can choose from. The best ones are the top-quality glue-on vinyl. They are especially resistant to water and capable to withstand wear and tear.
There are also cheaper kinds, but they are made of less durable material, whose adhesive would not last long. This one is called VCT or Vinyl Composite Tile.
They usually come in sizes of twelve-by-twelve tiles that are thicker than the other non-sticking vinyl. These are often utilized in old-fashioned facilities like Laundromats, Chinese restaurants, and old schools.
These types require extensive floor preparation. You do not necessarily have to flatten the floor, but you have to apply a good deal of skim coating to level out the problematic area.
Also, this type comes in a variety of designs, styles and colors. So of you want to mix and match, you can purchase different sections and link them up on the floor. It also works well as flooring for kids' playpen, which can be soft to the touch and be colorful at the same time.
Advantages
It can still function well in bumpy floors and minimizes the unevenness.
Compared to concrete and tile, it is warmer to the touch.
The top-quality and higher-grade glued-on types are water resilient.
Disadvantages
the low-quality and less expensive ones are not water-resilient and their glue can lose its stickiness immediately in wet surfaces.
Installing it can only be done by a professional and not an uninformed DIYer.
Some types of this material does not look elegant but cheap.
It can feel colder to the touch compared to EVP (engineered vinyl plank). However, it is still warmer that the other non-vinyl types like concrete or tile.
Engineered hardwood
If you want hardwood flooring for your below-ground space and would find it difficult it set it up there, there is a way to get it down there easily. How? By utilizing engineered hardwood.
It is specially created in the perpendicular style. It is done this way to minimize the difficulty in bringing it below and setting it up. You will hardly get to expand and contract it.
With this type, you can either opt to get it glued-on or remain floating on the concrete surface. However, you still have to ensure that it is on the level and without any bumps.
If you attempt to glue it on an uneven surface, the hardwood will eventually crop up, and the adhesive sealant will lose its bonding capability during humid occasions. If you are intending to use the floating method on uneven ground, it will become bouncy.
However, even if it is better than laminated flooring and can hardly become larger or smaller in time, moisture can still affect it. So you have to be aware of your basement if it has a possibility for liquids to be present in the future.
You use a moisture meter to check on the moisture content of your basement. Or you can also purchase a dehumidifier to control the humidity in your below-ground space.
If knowledgeable homeowners and contractors are given the choice between engineered vinyl or engineered hardwood, they are going to choose the former majority of the time. It is still the more pragmatic and affordable choice.
Advantages
It can look expensive and might be ideal for homeowners who have particular tastes.
Compared to tile, it is warmer to the touch, ending up more comfortable.
It adds to the aesthetic appeal to your house and is a good investment.
Disadvantages
It is a bit more expensive compared to the other types on this list.
It necessitates a lot of preparation work beforehand.
It is not water-resistant. It can even be affected by a small amount of water.
You cannot sand or refinish it if you see some rough portions.
Interlocking vinyl and carpet tiles
You can have the option of getting vinyl and carpet tiles to be able to interlock with each other, which means you can mix and match the two different types with each other. Each section only needs interlocking joints to connect.
It can also be taken to a raised platform by pegs to let air disseminate below. It allows for any possible wetness that seeps in to dry up.
It is also especially water and mold tolerant. It can also resist any possible flooding and remain dry.
There are connecting mechanisms to snap each segment into place and can be easily removed when cleaned. It can be especially handy and efficient for large gatherings where liquid spillage can happen and have not worried cleaning them off.
Since it is on a raised platform, an air pocket will get to form, which acts as insulation and make the place cozier and warm. It is better than concrete or any hard surfaces because they tend to be hard and cold to the touch.
Being elevated has the benefit of covering up any perceived unevenness and bumps on the surface. It is raised for one-fourth inches only, so you still need to prepare the floor so that the tiles will be properly connected.
However, these kinds of modular tiles are patented and are not available for purchase in stores. These can only be utilized and brought to use by professional contractors.
Yet, some companies try to mimic them and sell subpar tiles. You can still try them out but they are not advisable by experts since they tend to be easily damaged.
Advantages
It can be installed easily on a concrete surface.
It not as expensive as the other types, but may be difficult to get it for your home.
Disadvantages
It can look cheaply made and might not be ideal for homeowners with high tastes.
It is hard to look for and made to be your basement flooring. It depends if your contractor has the right connections to be able to get it for you.
Kinds of flooring you need to stay clear from
There are a few kinds of flooring that should not be made installed or even attempted in any below-ground room. Strangely, some reputable internet websites even recommend and suggest them.
It makes you wonder who wrote them in the first place and if they are experts in their fields or merely writers with no architectural background.
Bamboo
Bamboo is not even wood, but grass and would be the worst flooring option. However, it is used by third-world countries as floors for their dwelling huts. But not for expensive mansions for their basement.
It is included in this list because of its inexpensiveness and some eco-friendly people somehow recommend this for others, which is a big mistake.
It is very brittle, bents and scratches easily, does not last long, and sensitive to moisture. It is an overall bad material for flooring, and no one should use it.
Solid hardwood
This type is also bad for basements. Contractors will advise that it is not good for cellar floors because you need three-fourths inches thick plywood as a subfloor for hardwoods to be nailed to.
Since basement spaces tend to draw in moisture, hardwood will be affected and can buckle. Also, if you intend to use it for your basement, its warranty will be voided because it will be one of their conditions. So do not risk using it.
Laminate
This type comes from recycled wood, which has HDF (high-density fiberboard) or MDF (medium-density fiberboard) core-boards. These materials are especially bad because they are very porous and can absorb water.
If you still insist on installing it in your basement, it will start contracting and expanding once in contact with moisture. It will eventually be destroyed as the lock joints break, and the boards will buckle.
You will also have a hard time removing or even try to fix it because you have to start for the sides and work your way towards the defective portions. On your way there, you will destroy a lot of pieces.
Some uninformed people tend to use it because it is cheap, but only use it above ground, not below.
Cork
There are positive attributes about cork because soft on the soles of your feet can provide insulation and friendly to the environment. However, what will work above ground, would not work on basements.
Cork is not waterproof and can be problematic if not properly sealed. Its edges are often damaged easily, which is where water can seep in. Overall, it is a risky proposition and should be avoided by homeowners.
Conclusion
In choosing the right one for your underground space, you have to think about your budget and what you need. Not all flooring types on this list is perfect, and there will always be disadvantages.
Do not think short-term and think about the future and how your choice would still be beneficial in the long run. Once you have decided on your preference, make sure it can last for a long time.