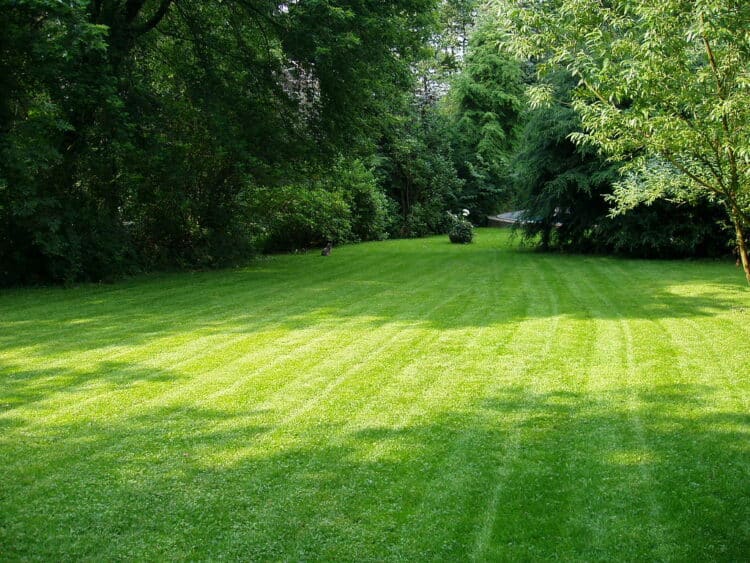 If you're one of the people who believe you only have to take care of your lawn during the summer, then we're going to have you think about that again. Most lawns need round-the-year care, especially if you're in a country that experiences all four seasons.
Right after summer, you're going to have to take care of your lawn during the autumn to prepare it for spring better. It's exhausting, we know, but at least you're going to be the envy of your neighbours when they see how great your lawn looks.
This article contains a few greenkeeper lawn tips and tricks from experts in lawn care. From watering your lawn to identifying moss, we've got you covered.
Tip #1: Water your lawn
Soil usually gets drier around autumn because of the changing temperatures. So that your root systems stay intact throughout winter, make sure you keep your soil moist by watering your lawn.
Just because it's cooler doesn't mean soil retains its moisture. A thinning lawn is one of the signs of a dehydrated lawn, so watch out for thin areas in your lawn.
Tip #2: Rake up those leaves
Dead leaves on your lawn encourage the growth of mould. Not to mention they smother your grass and prevent them from getting the sunlight they need to stay healthy.
Regularly rake dried leaves off your lawn and dispose of them either in a compost heap or whichever method of disposal is best for you. It's also so much fun to rake up dried leaves during autumn because they're easier to move around.
Tip #3: Aerate your lawn
If the soil in your area is considered "heavy", then it is the best time to aerate it during autumn. When aerating your lawn, we recommend that you do it before laying down your fertilizer.
Ensure the soil is moist before loosening it. Doing so encourages the spreading of roots and the spread of oxygen.
Tip #4: Fertilize, fertilize, fertilize
Although your lawn will start turning brown because of the dropping temperatures, the roots are hard at work storing nutrients so that they can last throughout winter and revive themselves once again in spring.
Help your grass and other plant matter out by adding fertilizer during autumn, which is the most important time to fertilize.
Tip #5: Trim the grass one last time
Go through your grass with a lawnmower one last time, and this time, you have to cut it short. We recommend setting your mower to only leave about 0.5 inches to 1 inch of grass.
This discourages the growth of snow mould in your yard during winter, which in turn keeps your lawn healthy.
Tip #6: Reseed bald patches
The best time to fix any bald or dead areas in your lawn is between late summer and early fall. This timeframe has the best temperature conditions for most plant life.
If you plant seeds too early in the summer, you expose them to extremely hot temperatures, which doesn't allow them to thrive. The same logic stands for planting them too late into autumn, where the weather is starting to get colder and colder.
Once you've planted in your new seed, water it a few times each day until the grass is about 0.5 inches to 1 inch high. Normal fertilizers are not recommended to encourage the growth of grass.
Instead, use a fertilizer that is meant for new grass. Ensure you don't overcrowd your new grass seeds by planting about 15 seeds in each square inch of grass.
Tip #7: Drain garden hoses before storage
Most people don't think to drain their garden hoses before storing them in the shed for the rest of the season. Don't be one of those people.
Although it generally isn't that big of a deal, it can ruin your garden hose when temperatures go down to freezing. Remember your basic Science lessons. Frozen water expands.
This means any water left inside your garden hose can expand when it's exposed to freezing temperatures. As it expands, it can tear through your hose and cut it open. At the very least, it can stretch out your garden hose and affect water pressure and such.
If your hose was cheap, then you can easily replace it. But if you are into buying expensive hoses, then it's going to hurt your wallet. It's better to stay on the safe end of the spectrum and just drain your hoses before storage.
You can either use an air compressor to blast out any water stuck in the middle, or you can just stretch it out on a sloped area and let the water flow out naturally.
Tip #8: Prepare your lawn tractor for storage
If you store your lawn tractor the wrong way, you may find yourself with a couple of headaches once spring comes calling. But the good thing is, you can avoid these headaches completely by taking a few minutes of your time to prepare the lawn tractor.
Spray an oily mist into each cylinder so that you can avoid corrosion. Any moisture that remains inside an engine that's not going to be used for a long time can lead to rust or corroded metal.
Take out the spark plugs and "fog" the engine with aerosol fogging spray to avoid this and reinstall the spark plugs afterwards.
Don't forget to keep the battery at full charge before storing it. Not doing so can cause permanent damage, especially during winter. Your battery should have a charge of at least 12.7 volts before it's ready for storage.
Keep an empty gas tank or, at the very least, add a fuel stabilizer to your fuel tank. If your gas contains ethanol, then we don't recommend using a stabilizer. Just drain the gas by keeping the engine running until it runs out to stay on the safe side.
Failure to properly prepare the gas tank for storage can result in hefty repair prices because the whole fuel system could be ruined by stored gas.
Finally, use aluminium foil or plastic wrap to cover up any openings such as the exhaust and air intake on your tractor. This prevents critters and other small creatures from using your tractor as a temporary home during the winter.
You don't want your wiring to be ruined all because a couple of bugs found their way into it.
Tip #9: Don't forget the sprinkler system
If water stuck in a garden hose can ruin it once it freezes up, how bad do you think it'd be if your entire sprinkler system still has some leftover water?
We recommend hiring someone to blow out any remaining water in your sprinkler system, but you can also do this yourself. However, it will take some calculations on your part because no air compressors can effectively blow out the sprinklers.
Tip #10: Use weed spray
Autumn is the best time to give your lawn one last bout of weed spray. Some weeds are extremely resilient despite freezing temperatures, and you don't want them to choke out your grass and other plant life over the winter, where you can barely see because of ice and snow.
What is lawn moss, and how do you kill it?
Lawn moss is what we call non-flowering plants that decide to grow over soil that has been undisturbed for long periods. There are three main categories of moss, and within each category are even more types of moss. These categories are:
Upright moss
Cushion moss
Trailing moss
Moss is bad because it acts as a weed and competes with your grass for space and nutrients. When left unchecked, moss can kill out your entire lawn or, at the very least, leave behind bald patches that you can only start filling during late summer.
Lawns that are having issues with drought or waterlogging are more susceptible to moss growth. If you find moss in a newly created lawn, then the site was probably not prepared well.
Reasons for moss growth vary between compacted soil, poor drainage, too much shade, too much thatch, or poor feeding of your lawn. They can also be a little tricky to get rid of.
Prevention is better than cure, and we recommend keeping your lawn as healthy as possible to avoid moss growth.
However, if you need to get rid of moss growing in your lawn, you have to start treatment as soon as possible. This involves mowing your lawn and subjecting it to a few chemical treatments that encourage healthy grass growth.
Your lawn will have to be scarified then aerated before you can start planting new grass seeds to replace what the moss killed. After that, you can start taking care of your lawn as normal by watering it and helping it recover from the moss ordeal.
Conclusion
If you find yourself a victim of moss growth, don't take the easy way out with a moss killer. A moss killer can only eliminate moss for a short time. It won't help you out in the long run.
These greenkeeper lawn tips are highly recommended when you're hitting the autumn to winter seasons. Just because summer is over does not mean you can slack off on your lawn-keeping duties.